Kingston's Wi-Drive With A Twist
Kingston has had much success with their Wi-Drive wireless portable drives they began showcasing at CES 2011. They are a very handy way to carry a large amount of content for your tablet or smart phone without the need to spend a pretty penny for an upgrade in internal storage for said devices. Since then, a number of other companies have followed with similar products, each with their own unique design.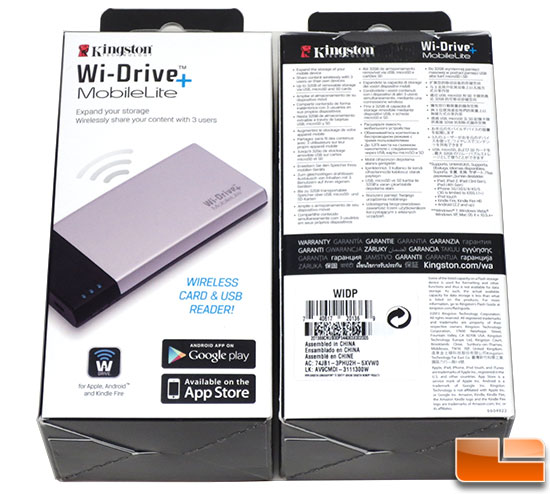 While at CES 2013 last month, Kingston shared with us a new but related product that they'll be rolling and asked if we could give our feedback prior to going live with production. It puts a twist on the Wi-Drive which comes with its own built-in solid state storage, by substituting this self-contained storage with SD card slots and a USB port so the user can add their own storage – effectively making storage capacity options limitless. From this plug and play media, you can access or stream content to your iOS (5.1.1+) or Android devices.
While our beta unit is labeled Wi-Drive+ MobileLite, it looks like Kingston will just settle on just applying the MobileLite Wireless (MLW, as we'll refer to it) appellation since it technically has no default built-in storage and therefore fits under their MobileLite line. Though similar in function, this will not be replacing but rather supplementing the existing Wi-Drive devices. As of now, we haven't been given an MSRP but expect a much smaller price tag since it doesn't carry any expensive NAND like the Wi-Drives. Kingston is targeting a release in Q2 2013 which is just around the corner. The lithium-polymer battery has an estimated run time around 4-5 hours which we've seen to be relatively accurate. This is a 25% improvement over the current Wi-Drive battery life. In addition to the ability to serve up files wirelessly, the MobileLite Wireless device can also serve as a charger for mobile devices by using the USB port to plug in a compatible charger cord. that can come in handy!
Available are one each SD and microSD slots that support up to 32GB per slot. Thus, up to 64GB of storage available simultaneously via the card slots plus virtually unlimited storage on the USB port. It supports SD, SDHC, microSD, microSDHC, plus USB 2.0 and USB 3.0. Above you can see the slots for the media cards and the source of our biggest complaint about this beta product is that there's no indentation to allow easy access to push the cards in for insertion or to pop them out of the spring-loaded slots. Kingston is aware of this and we may see this fixed on the retail units. We should also note that media used with the MLW should be formatted as NTFS or FAT32 to be compatible.
Around the other side we see the USB port as well as the mini-USB port that can be used for charging and/or wired data transfer. The Kingston MobileLite Wireless Reader weighs in at 3.625 ounces and measures 4.93" x 2.32" x .68" (L x W x H) in case you are curious how big the drive is.
While the opposite side of the above is featureless from a controls standpoint, this side houses the power button and a small hole for accessing the reset button to return the MLW device back to default settings. Along the top are three notification lights that we'll look at on the next page.
On the bottom, outside of the product stickers, are four plastic bumps that serve as feet for the MLW device. We'd like to see something a little less slippery for feet to keep it from sliding around, especially if you are somewhere like on an airplane where horizontal surface don't always remain that way. Again, this is a beta unit so this may be addressed on the finished product.
Using the MobileLite Wireless Device
Holding the power button for three seconds gets the device operational and doing the same when on will power it off.
The three indicator lights along the top are very helpful. The first is a battery indicator which is green when battery life remaining is above 50%. An amber light means the remaining charge is 25%-50% and red means less than 25% remaining - or in other words, time to charge it! The middle light (blue) denotes wii-fi status which takes 30-40 seconds to illuminate upon powering on. The light on the right simply shows whether or not it is bridged to an internet gateway. Note that you cannot broadcast Wi-Fi when charging as the radio will be disabled. When connected via USB, the device will then act as a regular media reader.
Before you can actually access the drive, you first need to download the Kingston MLW app from the Apple app store. Rather than using the existing app for the Wi-Drive, the MLW It uses its own iOS application. Sorry Android and Kindle Fire users, there is no app available yet on these platforms but Kingston assures us they will be available at a later date with an appearance first for Android, then Kindle. This generally seems to be the development approach for many mobile apps since it hits the largest user base first.
After installing the application, you need to turn the MLW on (if not already). Once on, look for the wireless network being broadcast from the device (ours appeared as Wi-DrivePlus). This is similar to other wireless storage devices where you must juggle your Wi-Fi connections a bit every time you want to use it. The good news is that you can use it in bridge mode to leverage existing Wi-Fi in the area to connect to the web, etc. Initially, there is no password set up for this network so we strongly suggest this first thing you do is set one up! If you ever forget it, you'll need to hit the handy reset button we pointed on the first page of the article. Other than this, the configuration options are very minimal which makes it easy to use. Once set up, you can access a myriad of supported file types, all of which are shown below.
Supported file types (non-DRM):
Audio: aac, mp3, wav
Video: m4v, mp4, mov
Image: bmp, jpeg, jpg, png
Docs: pdf, doc, docx, ppt, pptx, txt, rtf, xls, xlsx
The range of the device is roughly 30ft depending on the layout of the area and any interference due to other devices/walls, etc. We found the performance to be very good and were able to stream music, photos and 720p video with no issues at all on both an iPad and iPhone. Overall, we had no major complaints about the device outside of the difficulty in adding/removing the SD cards. The app is easy to navigate and configure as well. It will be interesting to see how the final product comes out sometime in Q2 2013, the pricing, and the timing of the availability of the needed app on something other than iOS.
Legit Bottom Line: Kingston should have a very nice product on their hands when they release the final version of the MobileLite Wireless portable media reader giving users of limited capacity tablets and smart phones a way to access a vast library of data.