Logitech G710+ Mechanical Gaming Keyboard
Gaming mechanical keyboards have been the rage in recent years. SteelSeries and Razer were amongst the first to notice. Since then, many brands with a foot in gaming have released their own mechanical keyboards such as Corsair, Thermaltake, Cooler Master, and GIGABYTE. Seemingly absent all this time was Logitech, a giant amongst peripheral makers known for its innovation and diversity. Many including myself were wondering if Logitech would ever release a mechanical keyboard. That came to an end with the newest addition to Logitech's G-series, the G710+ mechanical keyboard.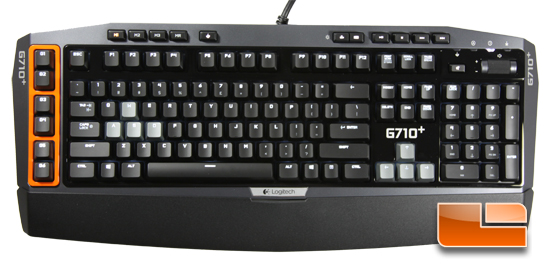 The Logitech G710+ keyboard has a traditional 104-key layout and 6 macro keys, all of which use Cherry MX Brown mechanical switches and damped by a soft rubbery plastic ring to reduce noise. The special keys at the top of the keyboard – the media keys, macro toggles, and light toggles – are not mechanical, but the presence of these keys is welcome as they are normally not found on competing mechanical keyboards. All the keys are individually backlit with white LEDs white except for the macro toggles which use amber and red LEDs. The WASD and arrow keys can have their brightness adjusted separately from the rest of the keys with four brightness levels. A mouse, headset, or other USB device can be plugged into a conveniently placed USB port.
Logitech G710+ Mechanical Gaming Keyboard Features and Specifications:
Tactile high-speed, mechanical keys: With an actuation force and distance of 45 g and 4 mm, respectively, the keys are optimized for rapid command entry.
Whisper-quiet keys: Quiet, non-clicking key switches and a built-in dampening ring underneath each keycap significantly reduce the distracting noise coming from your keypresses without sacrificing responsiveness.
Adjustable dual-zone backlighting: Easily locate keys—even in low light. The entire keyboard is backlit in white LED light and adjustable to one of four brightness levels plus "Off". For better visibility of the WASD and arrow keys, their brightness can be adjusted independently from the rest of the keyboard.
6 programmable G-keys: With three macros per G-key, you can configure up to 18 individual functions per game, including single keypresses, complex macros or intricate LUA scripts. You can also create macros on the fly.
110 anti-ghosting keys and 26-key rollover
USB pass-through: Easily connect your mouse, headset or other USB device via the Hi-Speed USB (2.0) pass-through.
Game/Desktop mode: No accidental interruptions—you can disable the Windows/Context Menu keys when you play.
1-year warranty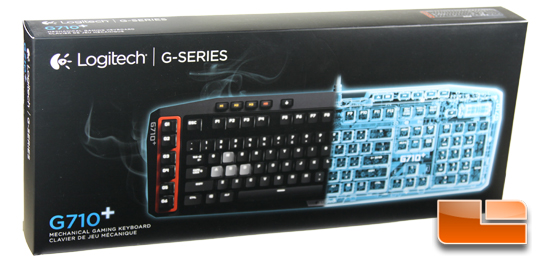 The G710+'s outer packaging box has an image of the keyboard on the front and back face. The back side lists the features of the G710+, but is surprisingly quite barren. It is amusing that the G710+'s web product page explains its features in more detail.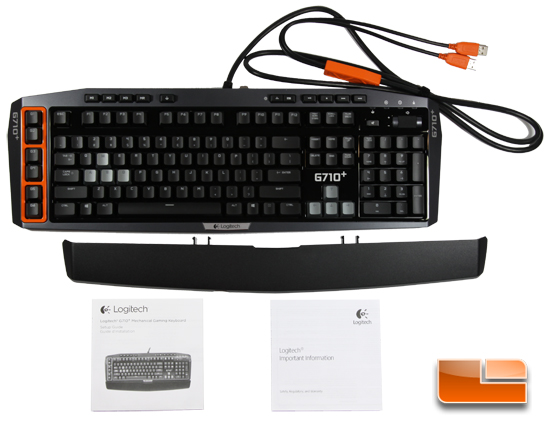 Packaged along with the keyboard are a detachable palm rest, a quick start guide, and a hazard warning that frees Logitech from liability due to personal harm. A CD is not included and users wanting to use the macro keys have to download the software from Logitech's support webpage. The rest of the keyboard including the media keys are fully functional with the default plug-and-play drivers. At this time, Logitech only supports using the G710+ on Windows Vista, 7, and 8. Users running Windows XP, Linux, and OS X are out of luck. The G710+ can be typically be found for $130 shipped.

Next, let's take a closer look at the keyboard!


Looking Closer at the Logitech G710+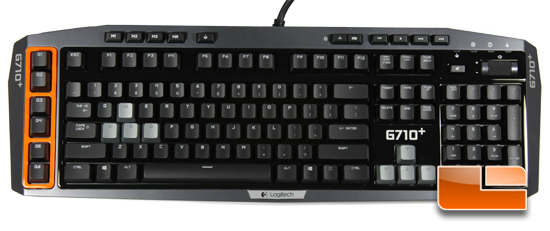 The G710+'s shell is made of black and gray plastic, using both matte and glossy finishes. Its 20" x 8.7" x 1.5" (WxLxH) dimensions are respectable and weighing in at 3.2 lbs., most users should have little difficulty fitting this keyboard on their desks.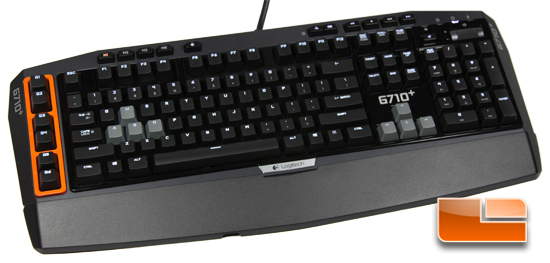 The detachable palm rest is entirely optional and extends the length of the keyboard by about two inches. The palm rest attaches with hinges, but the amount of rotation is more restricted compared to older G-series keyboards and as a result doesn't flop around as annoyingly when moving the keyboard.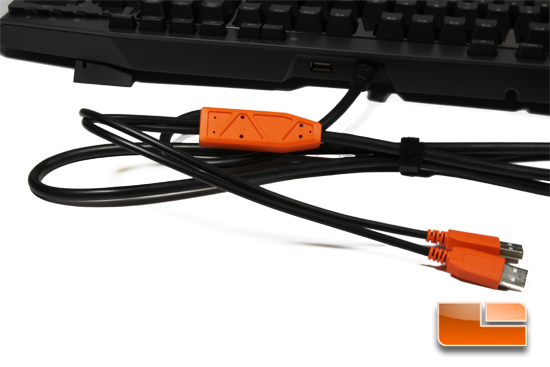 The G710+ uses two USB ports to power its backlights. A single USB port is available next to where the 6.6 ft. long cord connects to the keyboard.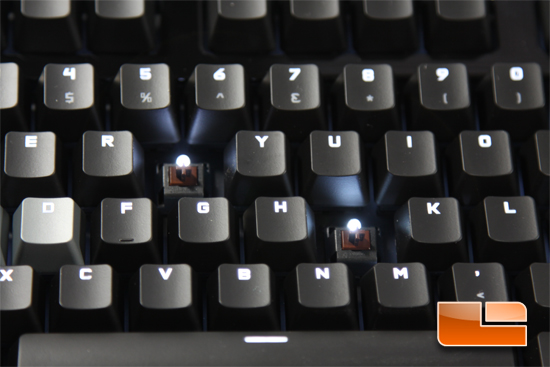 Logitech does not explicitly name what type of mechanical switch is used on the G710+ on either the product packaging and on the product webpage. Finding out was a matter of using a keycap remover and prying off a few keycaps. Each mechanical switch is a Cherry MX Brown, large keys are backed by Cherry stabilizers, and each key is individually backlit by a single white LED.

Brown switches are tactile switches and unlike Blue switches do not rely on a clicking noise to enhance the feedback. Instead, Browns require less force to press and bottom-out. As such, Browns are considered a middle ground between the louder Blues and the two linear switches, Red and Black. A more detailed guide on mechanical keyboard switches can be found at overclock.net which does a good job at comparing the switches in numbers and diagrams.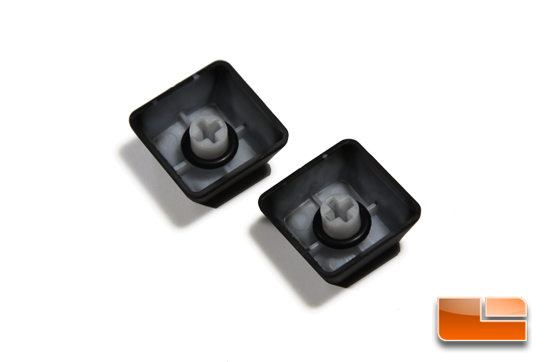 A soft plastic ring on the underside of each keycap acts to dampen noise. This does not necessarily make the G710+ quieter than other mechanical keyboards, but it does change the acoustics compared to other mechanical keyboards that use Brown switches. Despite what Logitech claims, these keys are not exactly "whisper quiet."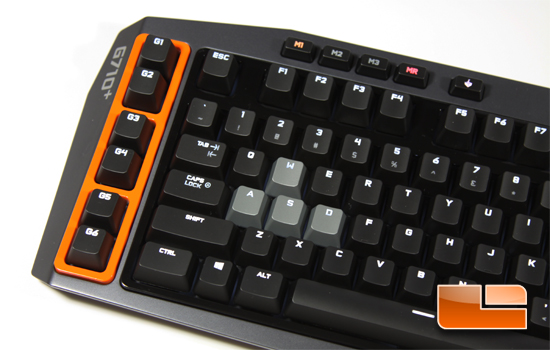 On the left hand side are 6 customizable macro keys with three toggle-able modes and on-the-fly macro recording. The macro keys are bordered by a glossy orange border that accents their presence. The profile toggles are the only keys backlit with a color other than white.

A "game mode" key next to the macro toggles disables the Window keys and the Menu key. When pressed, a light next to the Caps Lock light will turn on indicating that "game mode" is activated. Gamers who press the Windows key on accident and get interrupted by the Start Menu will appreciate this feature.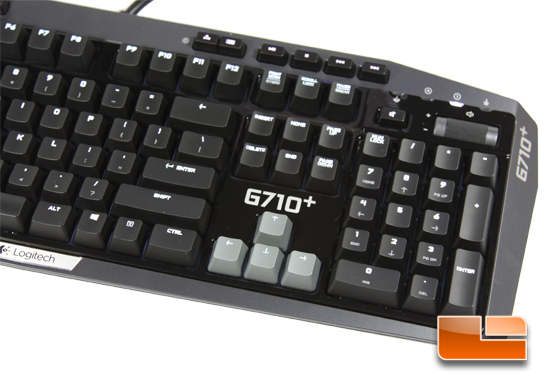 Near the top right edge is a set of media keys and dual backlight control keys. The left lighting key changes the lighting intensity for the WASD and arrow keys, while the right lighting key changes the lighting intensity for all the other keys. There are four light intensity levels and the backlights can be turned off.

Volume is controlled by a mute button and a wheel which are located above the numeric keypad.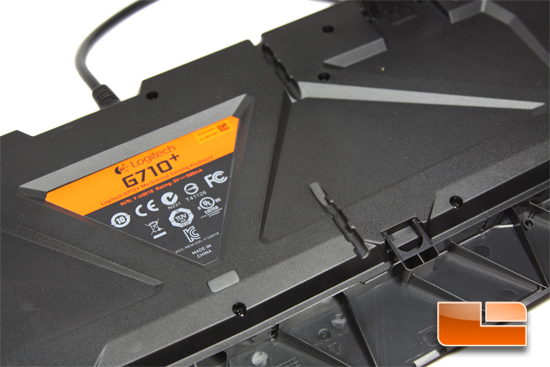 Grooves on the underside allow headphone cables to be routed underneath the keyboard. Also seen in the image above is the palm rest attached by pinching hinges.


Logitech Game Software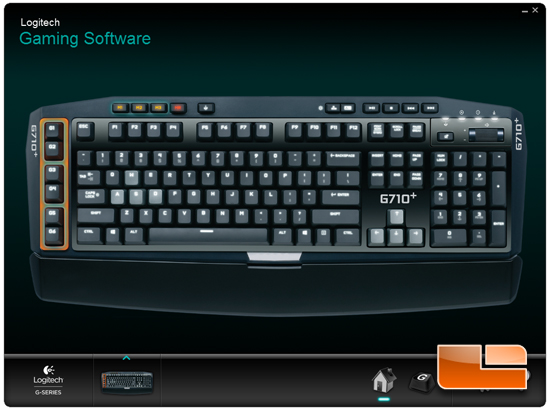 A driver CD is not included in the keyboard package. Default plug-and-play drivers can be used, but the macros will not be customizable and will default to 1, 2, 3, 4, 5, 6 for each respective G-key. Logitech's Setpoint software, used for non-gaming Logitech peripherals, cannot configure the G710+. Gamers looking to use the macros and/or unify the G710+ with other Logitech gaming accessories should download the latest version of the Logitech Gaming Software.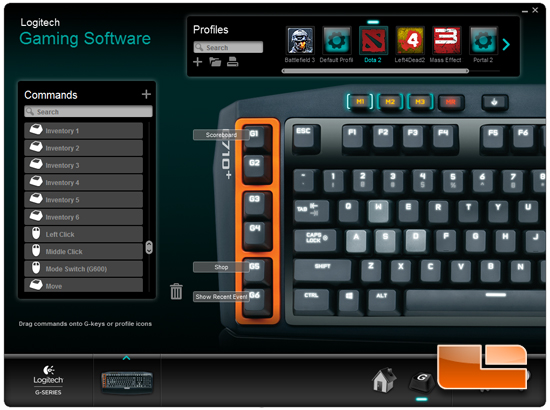 The 6 G-keys can each be assigned macro functions. Each game can have three profiles and each profile can have its own set of assigned macro functions.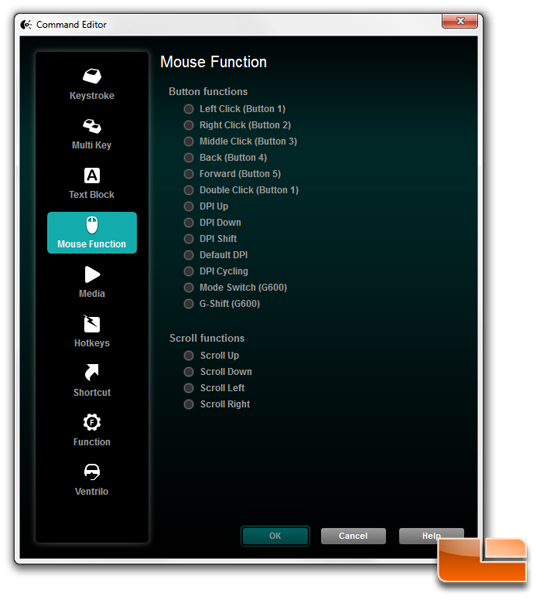 Users can bind key commands, key combinations, hotkeys, open programs, or even have a love letter typed out automatically through the Text Block editor.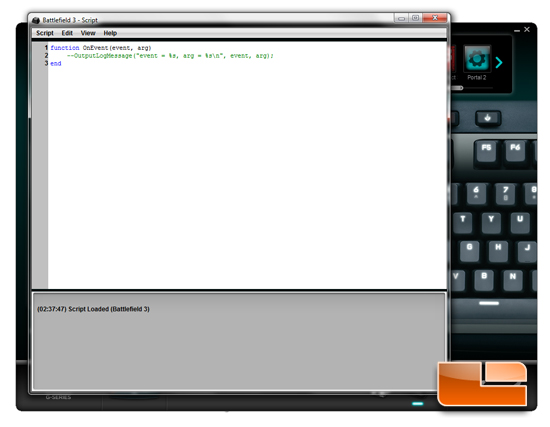 LUA scripts extend the functionality of Logitech Gaming Software. To access the scripting editor, enter the G-key customization tab, right click a profile at the top, and select Scripting.


Using the Logitech G710+ & Conclusion
The Logitech G710+ feels and types like any other Brown switch mechanical keyboard. That's not a bad thing, but rather an acknowledgement that Cherry has done a good job with its mechanical switch technology.
So it's only fair then to compare the G710+ to other mechanical keyboards in other ways.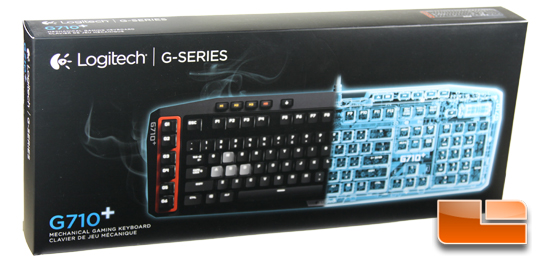 The G710+ joins the few other mechanical keyboards with macro keys and individual key backlighting such as Razer's Black Widow Ultimate, Corsair's Vengeance K90, and GIGABYTE's Aivia Osmium. Additionally, the Logitech Game Software is very easy to use and offers a large set of macro customization options.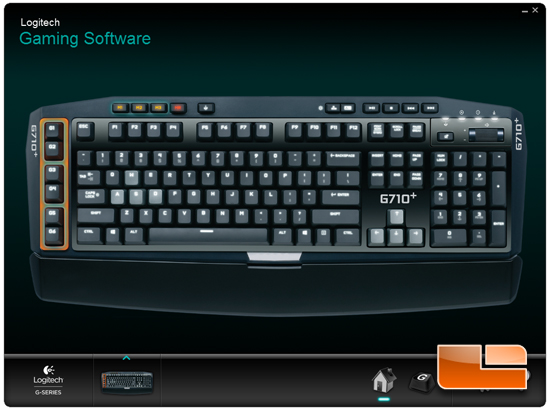 The G710+ has a collection of useful premium features such as underside cable management and a USB port. Furthermore, Logitech is quite generous with the inclusion of dedicated media keys on the G710+, which normally are not found on other mechanical keyboards.

Like most of Logitech's other gaming keyboard, the G710+ has its own style that sets it apart from other keyboards. The glossy black and matte gray complement the keys and the white backlights. The angles and orange accent may not be to everyone's liking, but I can't help but feel this looks like a mean vehicle of some kind – I just don't know if it's supposed to look like a super car, fighter jet, or toy bulldozer.
Unfortunately, there actually is something lacking and that is a 1-year warranty. I would much prefer to see at least 2-years being offered from a company that prides itself with quality keyboards.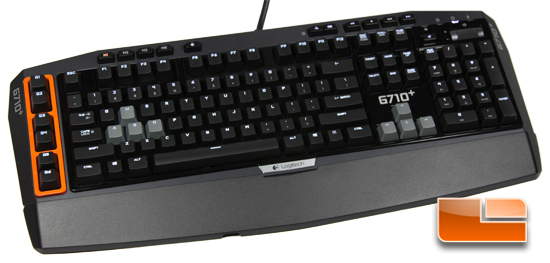 We may never know why Logitech took so long to deliver a mechanical keyboard to the market, but the G710+ is most certainly welcome. Logitech doesn't include the more gimmicky things found on its other G-series keyboard such as the small LCD screen. The G710+ has only functional and useful features while maintaining a unique appearance.
The G710+ debuted with a MSPR of $150 which persisted for several months after its release. It can now be typically be found for $129.99 shipped, which is a more reasonable price and places the G710+ well in line with its competition. Had this come to us when it was more expensive, it wouldn't be deserving of our Recommended Award.
Legit Bottom Line: Logitech's first mechanical keyboard doesn't explore new boundaries nor does it really improve on what's already established. However, a well thought-out form and useful features make the G710+ a very attractive option for those looking for a premium mechanical gaming keyboard.