The AMD Radeon HD 8000 Series Comes to Notebooks
AMD will be launching the Radeon HD 8000 series graphics cards for both desktop and notebook PCs in 2013. AMD will be launching mobile parts first and we were sent over a Radeon HD 8790M to try out. This is the first mobile graphics processor that we have been able to get our hands on that is based on the AMD Graphics Core Next architecture.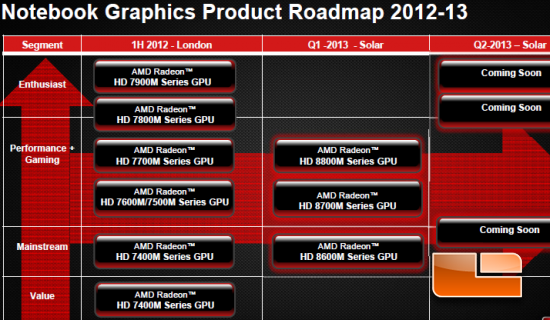 The mobile market is healthier than the PC market and AMD appears to have a strong graphics portfolio for that market in 2013. The AMD Radeon HD 8000M series cards (code named Solar) will be launching in Q1 2013 and will be the start of rolling out AMD GCN-enabled mobile parts into all segments of the market. By the summer of 2013 all of the discrete notebook graphic card solutions from AMD will be using GCN! This means significant performance and power saving gains are coming as AMD transitions away from the VLIW5-based Radeon HD 7000M-series parts.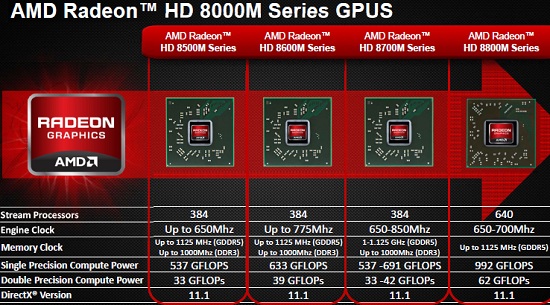 The AMD Radeon HD 8000M series of GPUs that will be launched in Q1 2013 will consist of the Radeon HD 8500M, 8600M, 8700M and 8800M series. These series will feature various models that are differentiated primarily by clock speeds.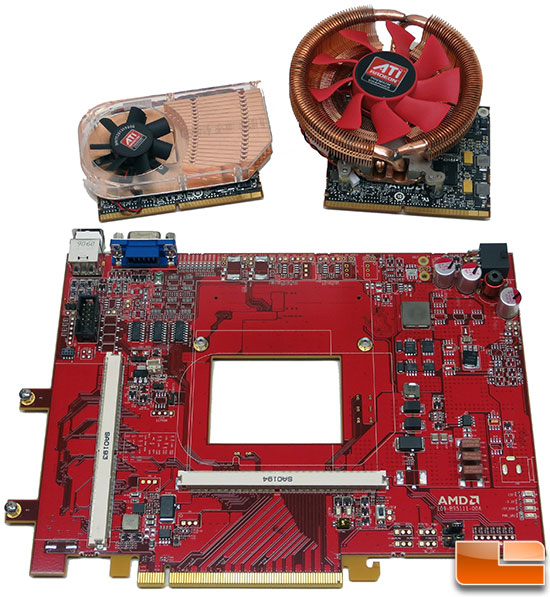 AMD sent over the upcoming Radeon HD 8790M along with the Radeon HD 7690M and an adapter to try the upcoming mobile graphics processors in our lab over the holiday break. The Radeon HD 8700M series will be succeeding the Radeon HD 7600M series, so comparing the 7690M to the 8790M should be a decent look to see where we are at today and where we will be in 2013 when it comes to discrete mobile graphics performance.
Here is a look at the features of both of these mobile parts:
GPU
ALUs
Core
clock
Mem.
clock
Memory
Bus
Memory
Fab.
process
Memory
Bandwidth
Radeon HD 7690M
480
600 MHz
800 MHz
128-bit
1GB GDDR5
40 nm
51.2 GB/s
Radeon HD 8790M
384
900 MHz
1000 MHz
128-bit
2GB GDDR5
28 nm
64.0 GB/s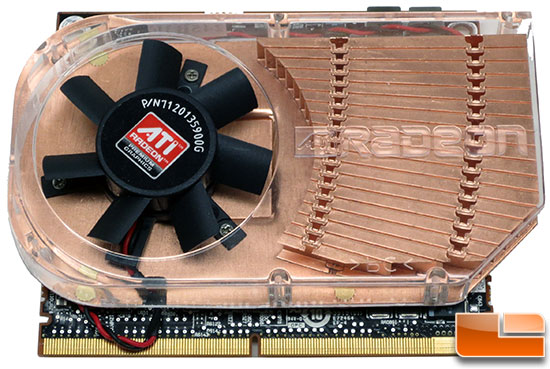 The AMD Radeon HD 7690M that we were sent was used part number 102-C01781-00 and features Thames on the 40-nm manufacturing process. This GPU has 480 ALUs clocked at 600MHz and 1GB GDDR5 memory on a 128-bit memory interface that is clocked at 800MHz.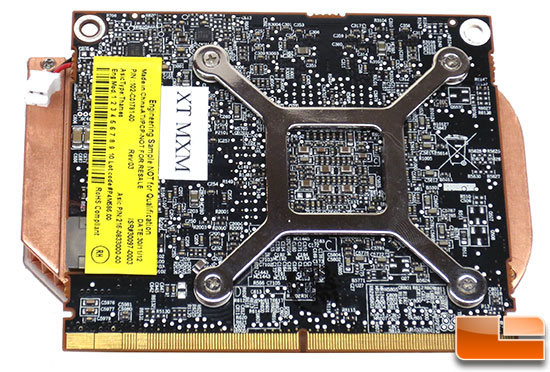 The back of the Radeon HD 7690M MXM laptop card is has no memory on it or anything that deserves special mention.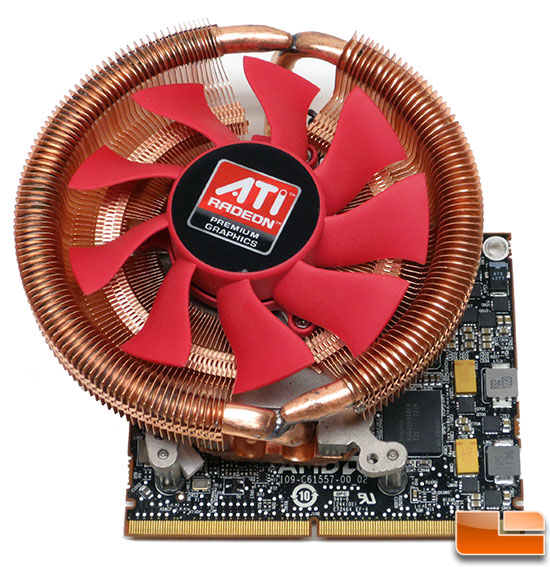 Next up we have the AMD Radeon HD 8790M MXM card that is code-named Mars. This GPU is built using the latest 28-nm manufacturing process and uses a much larger GPU cooler! This Radeon HD 8790M GPU has 384 ALUs clocked at 900MHz and 2GB GDDR5 memory on a 128-bit memory interface that is clocked at 1000MHz. The Radeon HD 8790M has fewer shader ALUs than its predecessors, but remember it is built using the newer GCN architecture, has faster clock speeds and twice the GDDR5 memory.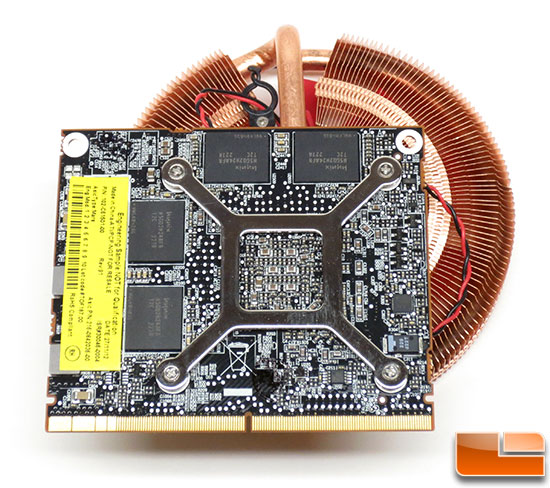 The back of the Radeon HD 8790M MXM module has four Hynix GDDR5 memory IC's on that make up part of the cards 2GB frame buffer.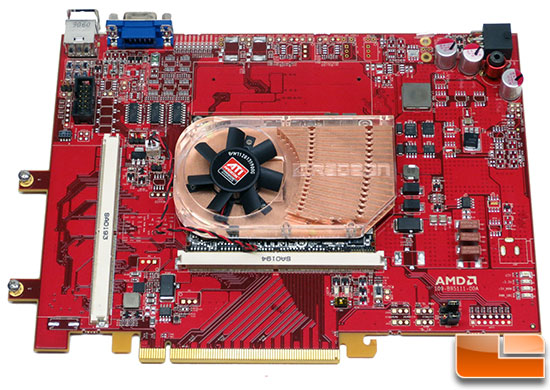 For testing we'll be using the AMD's development board that will allow us to run a mobile MXM video card on a desktop PCs primary PCIe x16 slot. This means we won't be testing anything on a laptop today, which isn't ideal, but it does has some benefits. For example we'll be using a high-end desktop processor, which means that the CPU will not be a performance bottleneck. This might mean the scores of the graphics cards are higher than what you'll see in a laptop, but since we are just comparing two generations of AMD GPU's it should be fine. We will not be covering competing mobile GPUs from NVIDIA as we are unsure if they will work properly on AMD's development board and we want our numbers to be as accurate as possible. That said, let's take a look at the test system and then some game titles to see how the performance looks!
Test System
Before we look at the numbers, let's take a brief look at the test system that was used. All testing was done using a fresh install of Windows 7 Ultimate 64-bit and benchmarks were completed on the desktop with no other software programs running.
Drivers used for testing:
Catalyst 12.11 Beta - All AMD Radeon HD Cards
Intel X79/LGA2011 Platform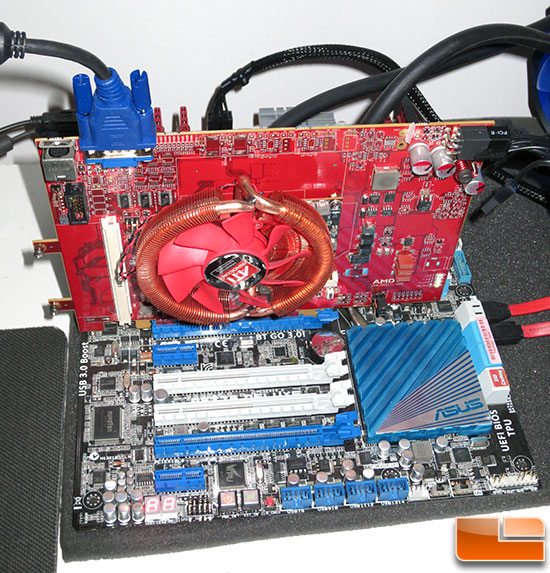 The Intel X79 platform that we used to test the all of the video cards was running the ASUS P9X79 Deluxe motherboard with BIOS 0906 that came out on 12/22/2011. The Corsair Vengeance 16GB 1866MHz quad channel memory kit was set to 1866MHz with 1.5v and 9-10-9-27 1T memory timings. The OCZ Vertex 3 240GB SSD was run with firmware version 2.25.
The Intel X79 Test Platform

Component

Brand/Model

Live Pricing

Processor

Intel Core i7-3960X

Motherboard

ASUS P9X79 Deluxe

Memory

16GB Corsair 1866MHz

Video Card

Various

Solid-State Drive

OCZ Vertex 3 240GB

Cooling

Intel RTS2011LC

Power Supply

Corsair AX1200

Operating System

Windows 7 Ultimate 64-bit
AMD Radeon HD 8790M GPU-Z Information: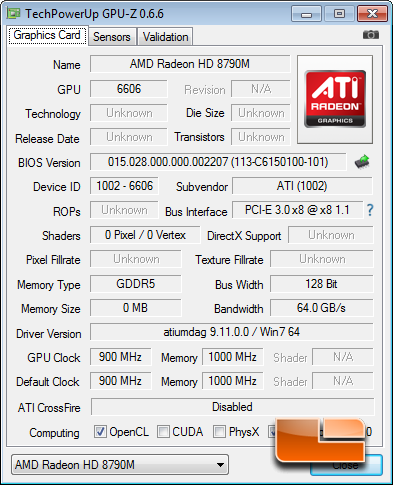 AMD Radeon HD 7690M GPU-Z Information: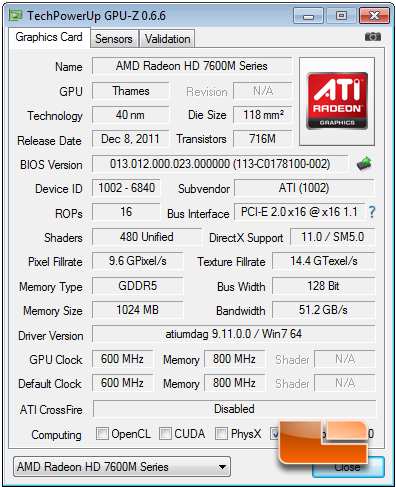 Batman: Arkham City
Batman: Arkham City is a 2011 action-adventure video game developed by Rocksteady Studios. It is the sequel to the 2009 video game Batman: Arkham Asylum, based on the DC Comics superhero Batman. The game was released by Warner Bros. Interactive Entertainment for the PlayStation 3, Xbox 360 and Microsoft Windows. The PC and Onlive version was released on November 22, 2011.
Batman: Arkham City uses the Unreal Engine 3 game engine with PhysX. For benchmark testing of Batman: Arkham City we disabled PhysX to keep it fair and ran the game in DirectX 11 mode with 8x MSAA enabled and all the image quality features cranked up. You can see all of the exact settings in the screen captures above.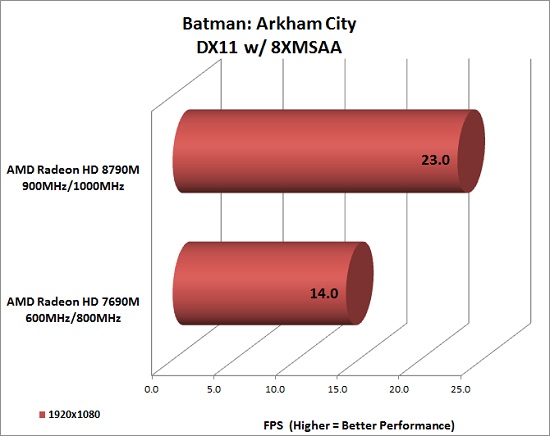 Benchmark Results: We ran Batman Arkham City at 1920x1080 and found that the AMD Radeon HD 7690M averaged 14 FPS and the AMD Radeon HD 8790M averaged 23 FPS. This means we are seeing a 9 FPS or roughly a 64% performance jump between the two cards. The cards differ in core architecture and clock speeds, so a number of factors are at play to get this this nice performance improvement! Mainstream notebooks with discrete graphics are going to be able to run many hot gaming titles in 2013 without any issues!

Battlefield 3
Battlefield 3 (BF3) is a first-person shooter video game developed by EA Digital Illusions CE and published by Electronic Arts. The game was released in North America on October 25, 2011 and in Europe on October 28, 2011. It does not support versions of Windows prior to Windows Vista as the game only supports DirectX 10 and 11. It is a direct sequel to 2005's Battlefield 2, and the eleventh installment in the Battlefield franchise. The game sold 5 million copies in its first week of release and the PC download is exclusive to EA's Origin platform, through which PC users also authenticate when connecting to the game.
Battlefield 3 debuts the new Frostbite 2 engine. This updated Frostbite engine can realistically portray the destruction of buildings and scenery to a greater extent than previous versions. Unlike previous iterations, the new version can also support dense urban areas. Battlefield 3 uses a new type of character animation technology called ANT. ANT technology is used in EA Sports games, such as FIFA, but for Battlefield 3 is adapted to create a more realistic soldier, with the ability to transition into cover and turn the head before the body.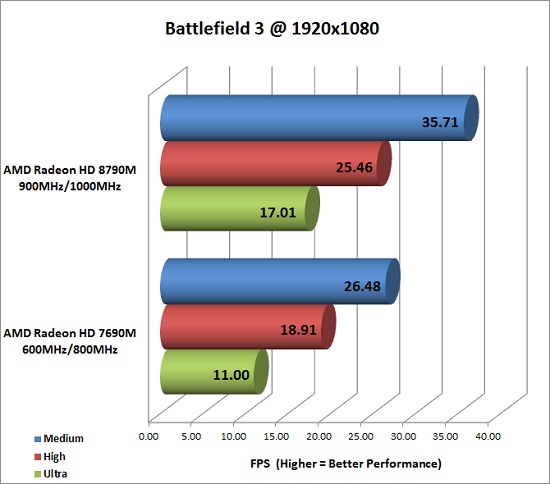 Benchmark Results: We ran Battlefield 3 at 1920x1080 with three image quality presets to see how the two mobile graphics cards could handle a tough game title like BF3. Our testing shows that the AMD Radeon HD 7690M was able to play BF3 with decent performance with medium quality settings. The AMD Radeon HD 8790M was able to run with the high image quality setting and have similar performance to the Radeon HD 7690M with the medium IQ preset. The difference between medium and high is pretty significant in the game, so it being able to run BF3 on the AMD Radeon HD 8790M with high settings was pretty impressive. We still noticed stutters or hesitations in tough scenes with the high preset though. If you want a smooth gameplay experience we would suggest running with medium quality settings as we averaged 36 FPS and everything was great in the game.
Dirt: Showdown
Dirt: Showdown is a video game published and developed by Codemasters for Microsoft Windows, Xbox 360 and PlayStation 3. It was released in May 2012 in Europe and in June in North America. It is part of the Colin McRae Rally game series.
Dirt: Showdown removes several of the gameplay modes featured Dirt 3, and introduces new ones. Gameplay modes can be classified as Racing, Demolition, Hoonigan or Party. We ran the built in Benchmark at Ultra settings to get a true feel of what this engine has to offer!
It is very important to note that Global Illumination and Advanced Lighting have massive performance penalties when enabled, something not seen in other titles in the Dirt series. We disabled this setting.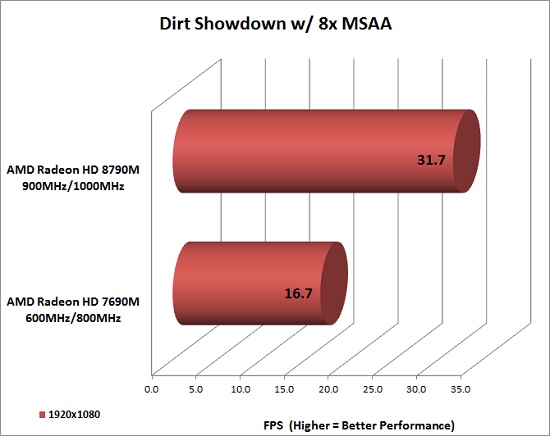 Benchmark Results: In Dirt Showdown saw a major performance difference between the two mobile GPU solutions. The AMD Radeon HD 7690M averaged 16.7 FPS and the AMD Radeon HD 8790M averaged 31.7 FPS. This benchmark has the AMD Radeon HD 8790M being nearly 90% faster than the AMD Radeon HD 7690M!
Far Cry 3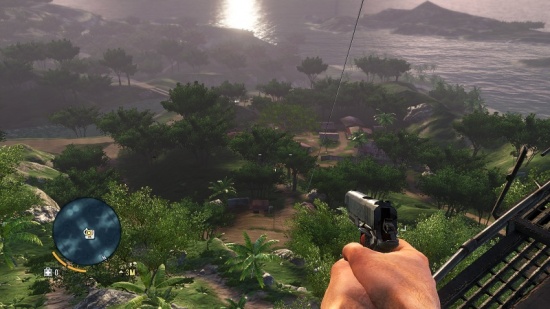 Far Cry 3 is an open world first-person shooter video game developed by Ubisoft Montreal and published by Ubisoft for Microsoft Windows, Xbox 360 and PlayStation 3. It is the sequel to 2008's Far Cry 2. The game was released on December 4th, 2012 for North America. Far Cry 3 is set on a tropical island found somewhere at the intersection of the Indian and Pacific Oceans.[11] After a vacation goes awry, player character Jason Brody has to save his kidnapped friends and escape from the islands and their unhinged inhabitants.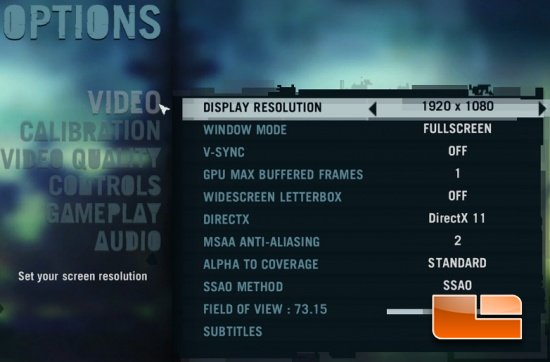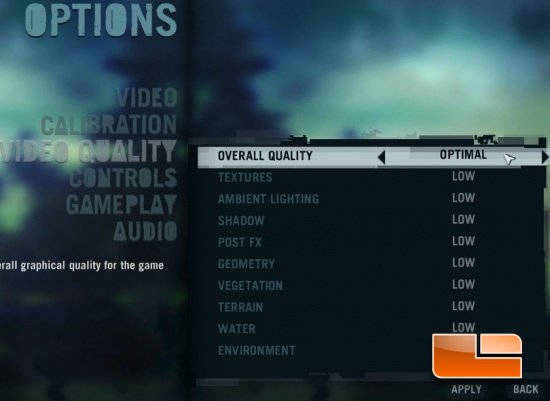 Far Cry 3 uses the Dunia Engine 2 game engine with Havok physics. The graphics are excellent and the game really pushes the limits of what one can expect from mainstream graphics cards.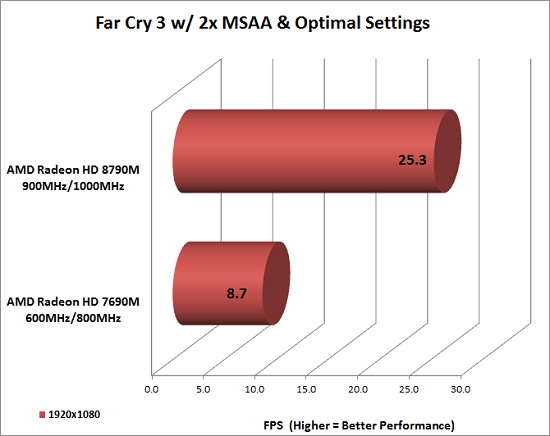 Benchmark Results: The performance difference in Far Cry 3 between these two discrete laptop graphics cards was huge. The AMD Radeon HD 7690M averaged 8.7 FPS and the AMD Radeon HD 8790M averaged 25.3 FPS. This game title has been optimized for the GCN architecture and we found it playable on the AMD Radeon HD 8790M at 1920x1080 with the optimal settings for our configuration.
Metro 2033
Metro 2033 is an action-oriented video game with a combination of survival horror and first-person shooter elements. The game is based on the novel Metro 2033 by Russian author Dmitry Glukhovsky. It was developed by 4A Games in the Ukraine. The game is played from the perspective of a character named Artyom. The story takes place in post-apocalyptic Moscow, mostly inside the metro station where the player's character was raised (he was born before the war, in an unharmed city), but occasionally the player has to go above ground on certain missions and scavenge for valuables.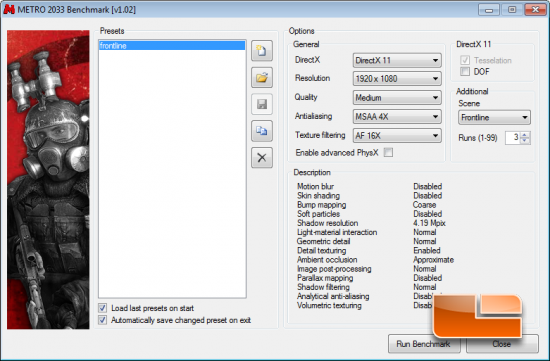 This is another extremely demanding game. Image quality settings were raised to 'Medium' quality with 4x AA and 16x AF. We turned off PhysX and DOF (Depth of Field) for benchmarking.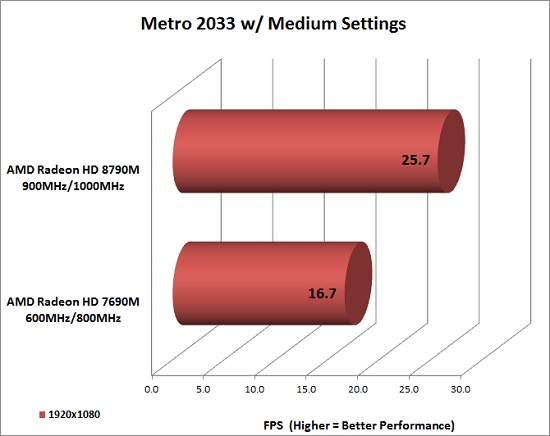 Benchmark Results: The AMD Radeon HD 7690M struggled to run the benchmark smoothly with medium settings at 1920x1080. With the AMD Radeon HD 8790M installed we noticed the benchmark ran much smoother as it improved performance by ~53% over the Radeon HD 7690M. Running Metro 2033 on the Radeon HD 8790M still had a stutter or two at these settings, but this was easily solved by lowering the AA to 2x and keeping the image quality at medium.
Sleeping Dogs
Sleeping Dogs is a 2012 open world action-adventure video game developed by United Front Games in conjunction with Square Enix London Studios and published by Square Enix. The game was released on August 14, 2012, for Microsoft Windows. The game uses the Havok physics engine.
We used the Adrenaline Sleeping Dogs Benchmark tool to benchmark this game title to make sure the benchmarking was consistent. We tested with 'High' quality setting at 1280x1024 and 1920x1024 resolutions.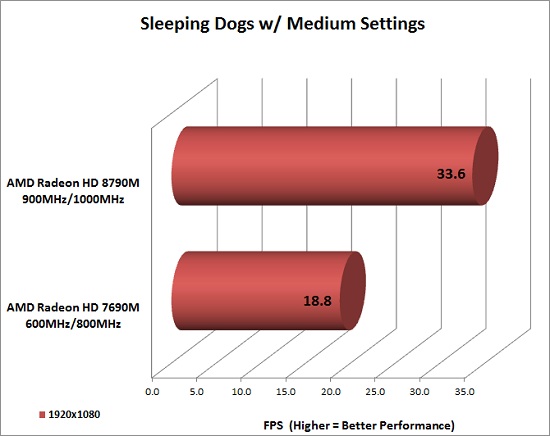 Benchmark Results: The AMD Radeon HD 8790M w/ GCN was able to run Sleeping Dogs at 1920x1080 with medium image quality settings with no problems at all. The gameplay was smooth and everything looked great! The AMD Radeon HD 7690M was only able to average 18.8 FPS with the same settings and gameplay was not smooth. The AMD Radeon HD 8790M made playing Sleeping Dogs more enjoyable as the game looked much better.
3DMark 11
3DMark 11 is the latest version of the world's most popular benchmark for measuring the 3D graphics performance of gaming PCs. 3DMark 11 uses a native DirectX 11 engine designed to make extensive use of all the new features in DirectX 11, including tessellation, compute shaders and multi-threading.
We ran 3DMark11 with both the performance and extreme presets to see how our hardware will run.
3DMark11 Performance Benchmark Results: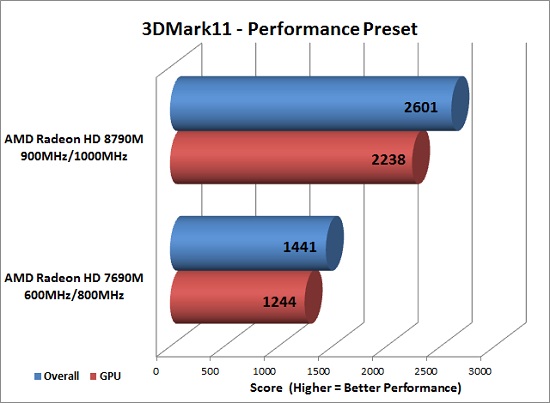 Benchmark Results: The AMD Radeon HD 7690M scored 1441 3DMarks and the Radeon HD 8790M scored 2601 3DMarks in 3DMark11 with the performance preset. This makes the Radeon HD 8790M around 80% faster than the AMD Radeon HD 7690M!
Final Thoughts & Conclusions
After running benchmarks and playing games on both the AMD Radeon HD 8790M and Radeon HD 7690M we can safely say that there is a major difference between these two graphics cards. The AMD Radeon HD 8790M features GCN technology on the 28-nm manufacturing process and it easily outperforms the Radeon HD 7690M built on the 40-nm process with the TeraScale architecture.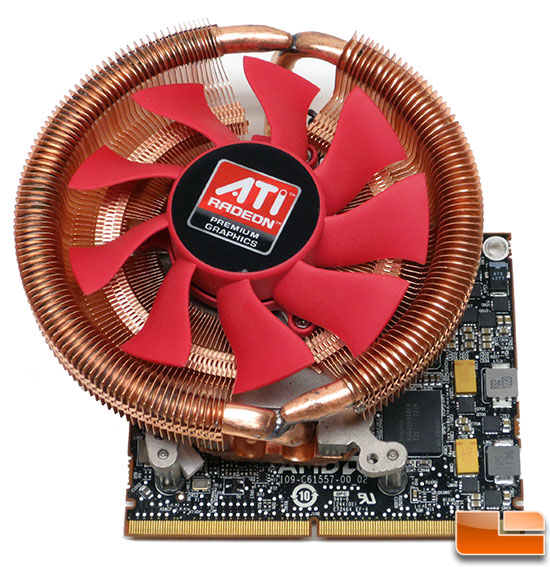 When it comes to gaming performance the AMD Radeon HD 8790M was able to play all the game titles we tried on it and that is pretty impressive for a graphics solution that was designed for mid-range gaming notebooks. We were shocked to see how well game titles like Battlefield 3 and Far Cry 3 performed on a mainstream notebook graphics solution. Being able to play games at respectable resolutions and image quality settings is important to gamers and this card delivers.
When it comes to power consumption we found the test system used 92 Watts at idle with the Radeon HD 8790M and 94 Watts at idle with the Radeon HD 7690M. It appears the power efficiency of the Radeon HD 8790M is headed in the right direction as it was more efficient at idle, despite having twice as much memory. When at full load in the games we noticed that it used a few Watts more power, but the power versus efficiency number is much better as performance is up big and power is up just a tad.
At the end of the day performance takes a huge jump and the power numbers are right where we expected them to be. The move to Graphics Core Next is going to mean much better graphics for mobile users!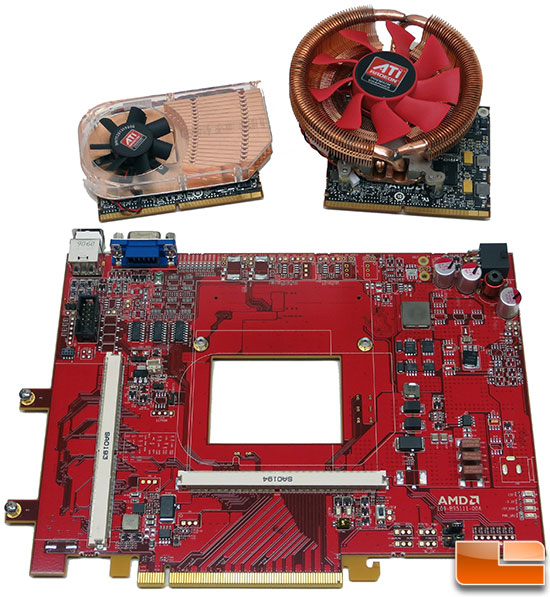 AMD will be announcing more details about the AMD Radeon 8000M series at CES 2013 and we would expect that they will have notebooks on display with the MXM cards installed in them. It will be interesting to see what mainstream notebooks will be using cards like the AMD Radeon HD 8790M and then looking at what resolution and processors these mainstream notebooks are running.
Legit Reviews will be at CES 2013, so be on the lookout for some new information on these new mobile graphics cards during the show here on LR!