Going Mini-ITX on a $650 Budget
Earlier this year I wrote up an article on how to build an Small Form Factor (SFF) PC that could rival nearly any full tower PC on the market. When I started that build I focused on integrating the following components into a tiny PC.
Mini-ITX Mainboard & Case
Intel Ivy Bridge CPU Powered
Intel Z77 Express Chipset
NVIDIA Kepler Video Card
USB 3.0 and SATA III Devices
Water Cooled
The end result was an epic mini-ITX PC, but it ended up costing just under $3000 to build. Since that article was published in May 2012, I have always wanted to do another to show what you can build on a budget. The year is over, so I figured that there is no better time than now!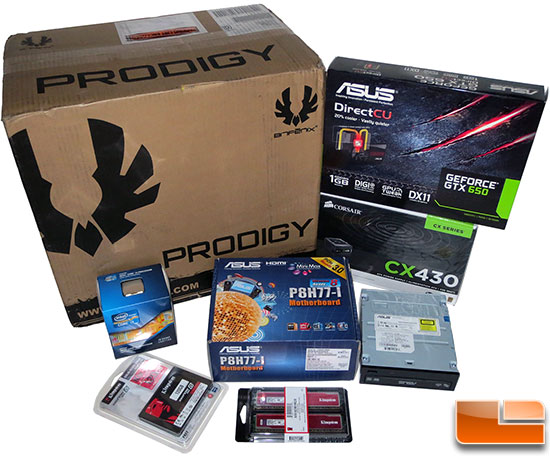 For a budget Mini-ITX system I wanted to create a good performing system that was able to stay under the $650 price point. After a a ton of searching and number crunching I was able to put together a PC with an Intel Ivy Bridge processor, a 120GB SSD, and an NVIDIA GeForce GTX 650 video card just to highlight a few of the components. This system should be able to easily tackle normal usage scenarios during the work week and then switch roles to a nice gaming machine on the weekends.
Legit Reviews Budget Mini ITX SFF PC Parts List:
As you can see, from the list of hardware that this budget build comes in at ~$650 with shipping after two $10 manufacturer rebates. The PC should look great, use very little power and it takes up less space thanks to the Mini-ITX components being used. Oh, and most importantly it should do the tasks that you ask it to do! Let's start building this system!
Bitfenix Prodify Red Mini-ITX Case & ASUS DVD-RW
When you build any PC for yourself you should always make sure it is something that you like and that reflects your personal tastes. One company that appears to be listening to what enthusiasts want is Bitfenix. The company came out with the Prodigy Mini-ITX chassis this year and it was a huge success. The Prodigy did so well in white and black that Bitfenix added Fire Red and Atomic Orange colors to the list of options. You can read the LR review on the BitFenix Prodigy case here.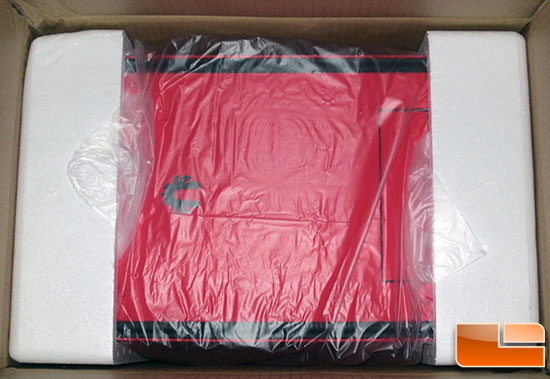 For this budget build guide we wanted to do something other than the traditional white or black chassis and went with the Prodigy in Fire Red! This color option adds a bit to the cost of the system, but for something you look at everyday it is easily justifiable.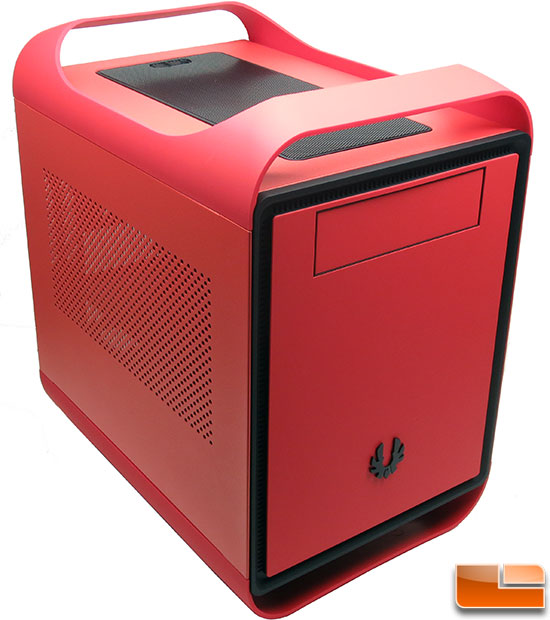 The BitFenix Prodigy is a mini-ITX chassis that measures 250 x 404 x 359mm and has an internal capacity of 26.4 liters. This means that the case is short, but rather wide. The outside of this case is rather simple from this angle, which is great for those that like things simple. You have some ventilation holes on the side panels and the front panel has a spot for one 5.25" optical drive. All the plastic surfaces of the Prodigy have a SoftTouch finish, which is nice.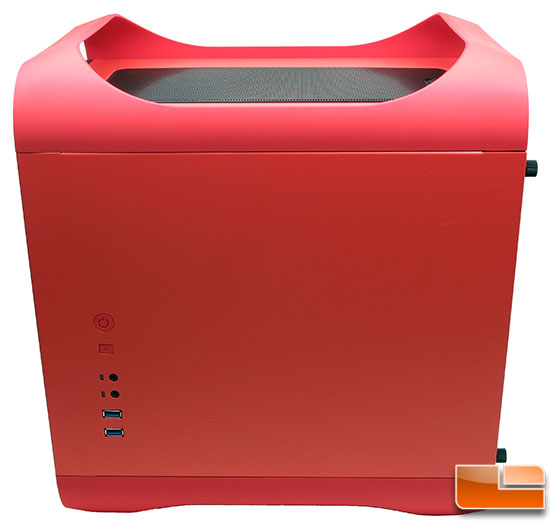 On the right hand side of the Bitfenix Prodigy you'll find that Bitfenix took the traditional 'front panel' and made a 'side panel' out of it! You have the usual power/reset buttons, power/HDD activity lights, headphone out and microphone in audio ports and a pair of SuperSpeed USB 3.0 ports. This is a pretty typical setup these days and what we would consider the bare minimum for any PC that is being built for 2013 and beyond.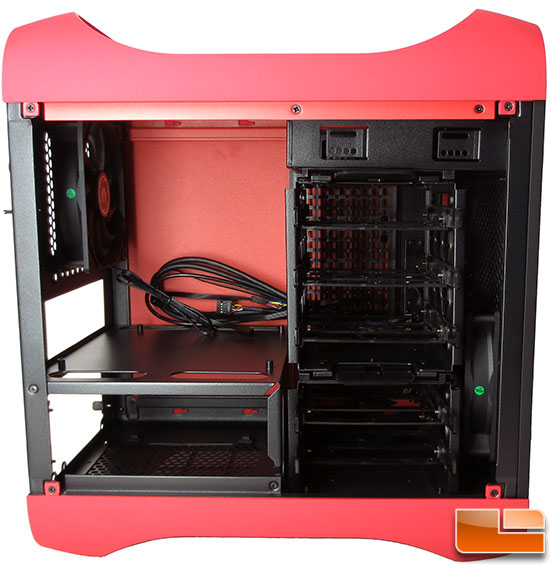 Inside the BitFenix Prodigy Red you'll find that all the internals are black! The red and black appearance of the Prodigy looks great! The Prodigy uses a 'FlexCage' for five 3.5" hard disks or 2.5" SSDs. You can also entirely remove it entirely to fit up to 240mm watercooling radiators, long graphics cards or for improved airflow and less clutter. The power supply mounts directly below the motherboard mounting tray, so it will be interesting to see how easy it will be to hide all of the PSU wires. Now that you know what the case is and its main features we can get to building this PC!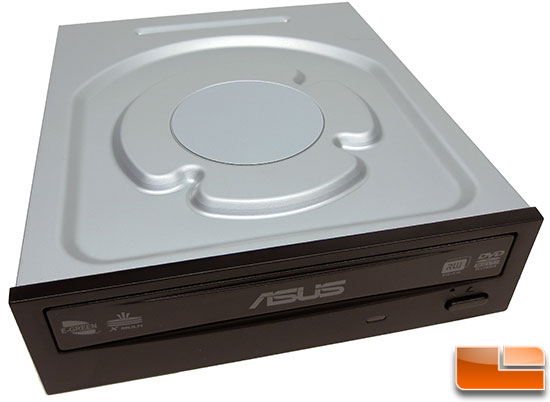 Most people can get away without an optical drive these days, but it is nice to have one and they cost well under $25 shipped. I settled on the ASUS 24x DVD-RW Drive DRW-24B1ST, which can be purchased for $22.79 shipped. This internal DVD+/-RW dual layer drive is priced right. It also has Quiet Track to help keep the drive noise down as no one likes a loud optical drive.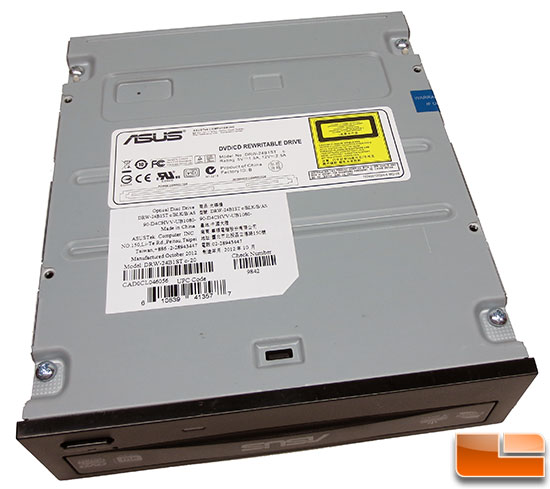 It should be noted that this burner doesn't come with a SATA cable or mounting screws, but most cases come with mounting screws and retail boxed motherboards usually include at least two SATA cables.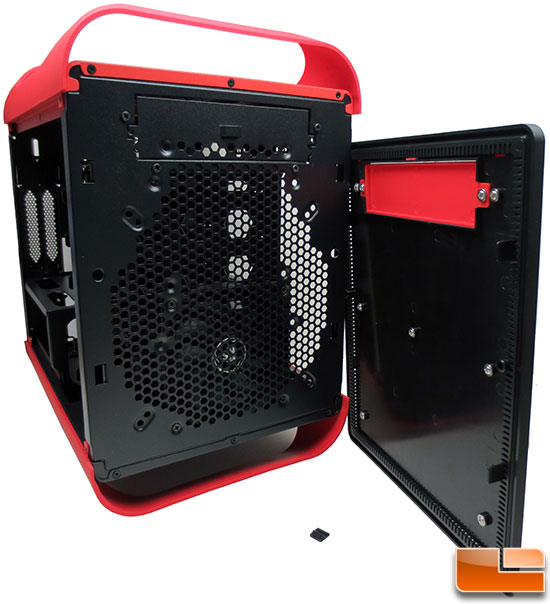 In order to install the optical drive you have to remove both side panels on the BitFenix Prodigy case and remove the front panel. When we pulled the Prodigy case out of the box I heard a noise, but I thought it was the cables rattling on the side panels. When I pulled off the front panel of the Prodigy one of the four tabs that hold the door on fell off! Not off to what I would consider a good start, but Bitfenix will happily replace the front door as it is covered by the warranty.
With the front panel removed you need to unscrew the red plastic 5.25" drive bay cover from the inside.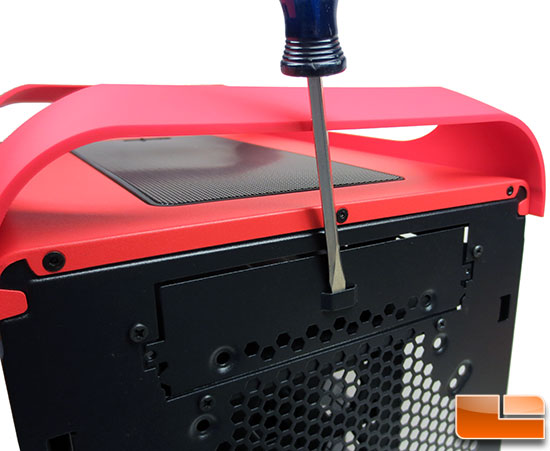 With the front panel cover removed I could turn my attention to the metal frame. You You can't just slide the ASUS DVD Burner into the Prodigy as there is a break-away metal plate covering the slot. There is a slot in the break-away metal plate for a flat head screwdriver, so you can easily pop out the plate.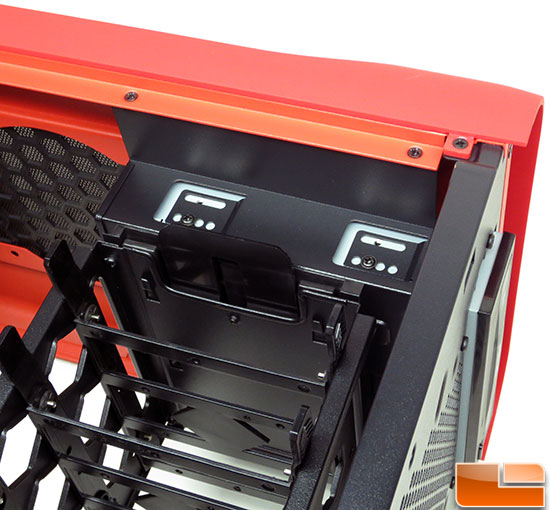 With the plate removed you can slide in the optical drive and tighten down the mounting screws that come with the Prodigy case. Be sure to leave the front bezel out enough in order for it to fit flush with the front panel. It would actually be easier to put on the front panel and then align the drive, but I wanted to take a picture to show you how you space the drive out.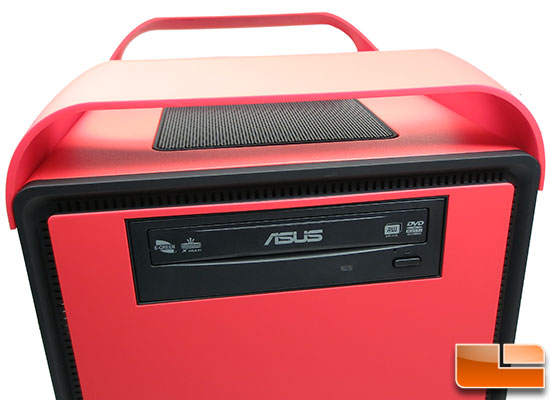 Here is a shot of the ASUS optical drive all mounted up in the Prodigy! Looks like there is enough logos and branding on the front of that drive for the whole system! Now that we got the DVD Burner all locked down we are move along to the more important things. I'll be attaching the power and SATA data cables later on, so don't think I forgot!
ASUS P8H77-I Motherboard & Intel Core i3-3220T CPU
I wanted to run an Intel LGA1155 platform for this build and I also wanted to run one of the latest and greatest chipsets. The Intel Z77 Express chipset is the best that money can buy, but is a bit overkill for a Mini-ITX system. The Intel H77 Express is a scaled-back version of the Z77 Express chipset and should have all the features that most people need. Sure it has scaled back overclocking options and doesn't support multiple video cards, but a mini-ITX board only has one PCI-Express 3.0 x16 slot anyway! Compared to the Z77 chipset, the H77 chipset supports the same number of USB and SATA ports as well as SSD caching (Intel SRT) and Intel HD graphics.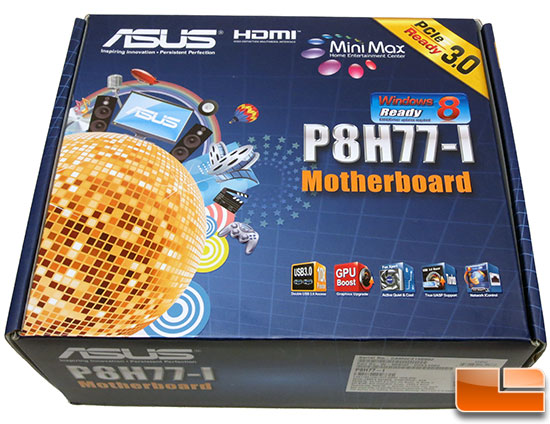 The ASUS P8H77-I motherboard was the perfect motherboard for this budget mini-ITX build based on its features and low $99.99 price point. This board supports all LGA1155 processors and up to 16GB of DDR3 dual-channel memory in speeds of up to 2200MHz! It even has Lucid Virtu MVP technology for those that want to run hybrid graphics! Pretty nice base specs for a mini-ITX build and it is all backed by a 3-year warranty.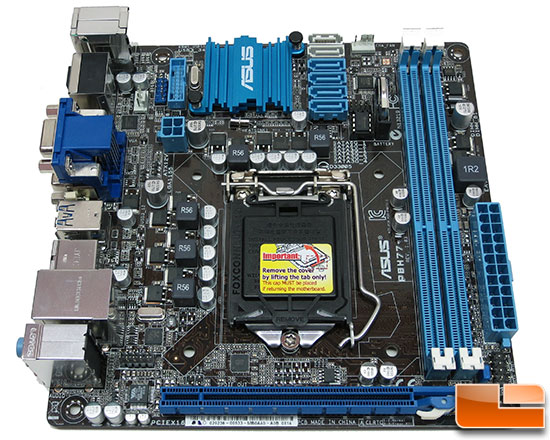 At just 6.7" x 6.7" you better believe that each inch of this board is being utilized! It a sports eight USB 2.0, four USB 3.0, two SATA III 6Gbps, and four SATA II 3Gbps ports, so it has plenty of expandability for such a small board. It has one 4-pin fan header for the CPU and another 3-pin fan header for the chassis. This won't be enough for our build, so we'll need to purchase an adapter of some sort to hook up the Bitfenix Prodigy's two case fans.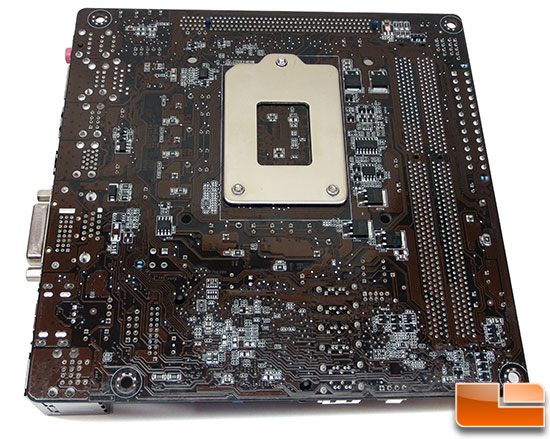 The back of the ASUS P8H77-I motherboard doesn't have much going on.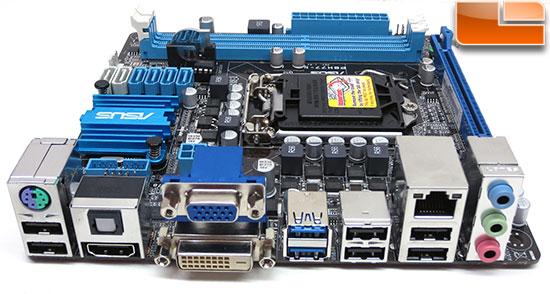 On the rear I/O panel you have pretty much everything that you'd want. The display outputs include, HDMI, VGA 15pin DSub, as well as a DVI port. When it comes to data connectivity there are a total of eight USB ports; six USB 2.0 and two SuperSpeed USB 3.0 ports. It also has have a single PS/2 port for either a keyboard or mouse, six audio jacks, optical SPDIF out, and the Gigabit Ethernet RJ45 jack. It should be noted that ASUS is using a Realtek 8111F Gigabit LAN controller on this board.
This is a solid board and for $100 it is hard to ignore. The ASUS P8Z77-I Deluxe runs $180, so this board is much more affordable and still has the key features that most people need.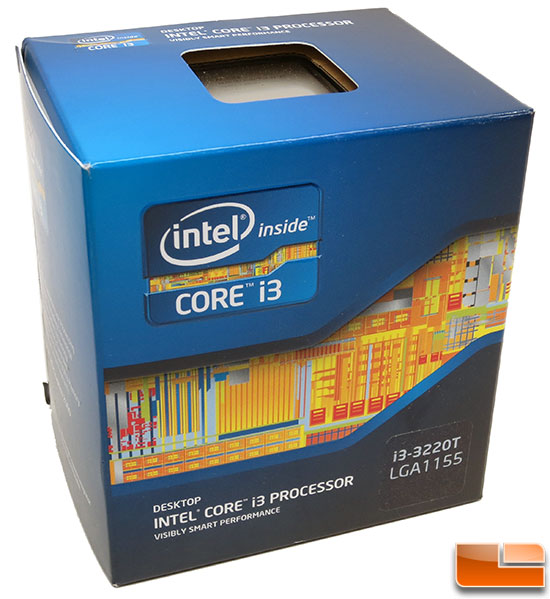 When it comes to processors it really depends on your budget as to what you can afford. I am an enthusiast at heart, so I wanted to run an Intel Core i7-3770K processor, but this is a budget build. There are currently 46 Intel LGA1155 processors listed on Newegg, so you have a ton of choices. For this build I wanted to go with an Ivy Bridge processor and the lowest priced model is the Intel Core i3-3220 at $119.99. This is a 3.3GHz Dual-Core processor with 3MB of cache that uses Intel HD 2500 Graphics and is rated at 55W TDP. This is a great processor, but I wanted to try something different to be more energy efficient. The Intel Core i3-3220T processor costs $127.99 shipped and is one that most people don't know about. It is a 2.8GHz Dual-Core processor with 3MB of cache that uses Intel HD 2500 Graphics and is rated at 35W TDP. It costs more and runs slower, but the TDP is ~36% lower and that should mean less heat and less power use. Either processor will work for your build and the Core i3-3220 should be for those that aren't worried about power consumption and the Core i3-3220T should be used for those that do and are will to sacrifice a bit of performance for lower power use and heat production.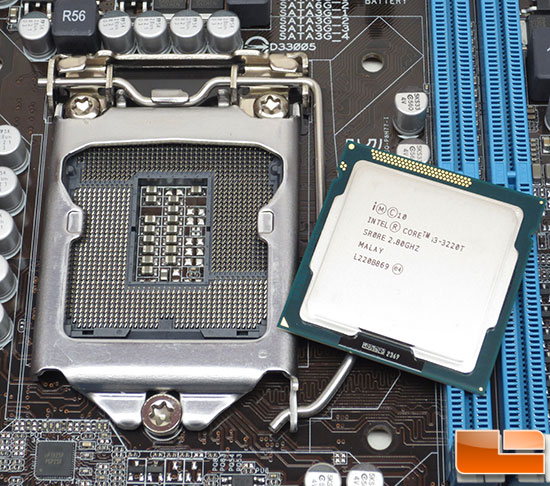 Installing the Intel Core i3-3200T processor is a simple task. You just need to push down the LGA1155 socket lever to unclip it and then lift it up. You then open the load plate and carefully lower the processor into the socket. Be sure to align to the socket cutouts. Lower the processor straight down, without tilting or sliding the processor in the socket. The processor has no required insertion depth, and no force is needed when placing the processor in the socket.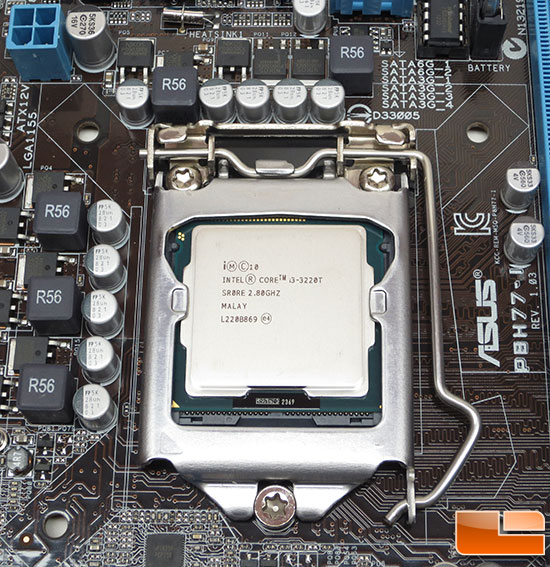 Very little force is required to close the load plate. Press down on the load plate, close and engage the socket lever. Once that is done the CPU is installed!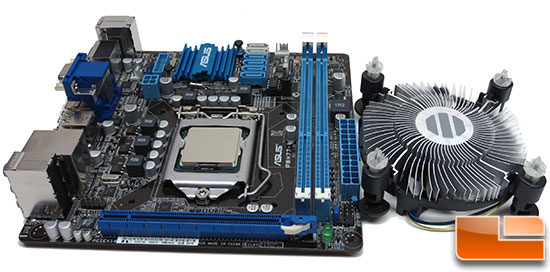 For this build we will be using the Intel retail boxed CPU cooler. This CPU cooler is very small and doesn't look like it will cut it, but it will! For a budget build we'll be sticking to the stock cooler for cost savings and the fact that it works just fine. The Intel Core i3-3220T has a TDP of just 35 Watts, so it shouldn't take much to keep it cool. Intel suggests installing the CPU cooler once the motherboard is installed into the PC Case.
You can do it with the board out of the case, but just be careful not to bend it as you'll break the PCB layers. To install the CPU cooler you just place the fan-heatsink onto the motherboard, aligning the fasteners through the holes in the motherboard. Push down on the top of each of the fasteners in an alternating pattern while holding the fan heatsink in place. You should hear a "click" when pushing down each fastener. After that you just need to connect the coolers 4-wire fan cable connector to the motherboard 4-pin CPU fan header and you are done!
Kingston HyperX Blu Red Memory & Mobo Install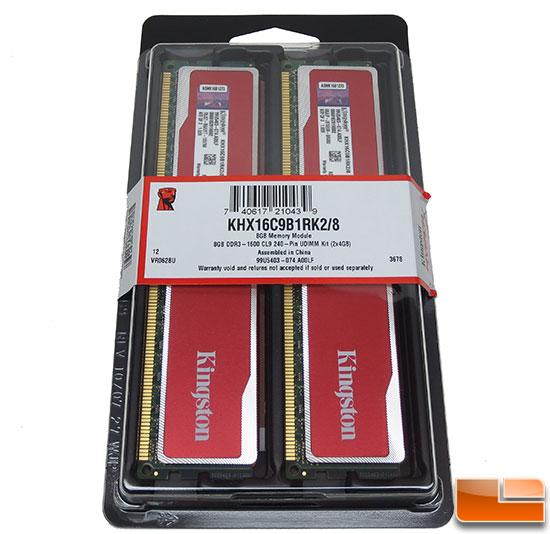 When it comes to PC memory today you'll find that it is rather inexpensive and there are a ton of companies selling memory these days. The worlds largest independent manufacturer of memory products is Kingston and when it comes to PC memory they are the industry leader and have good prices and a lifetime warranty with unrivaled tech support. For our budget build I wanted to stick with an 8GB (2x4GB) memory kit at 1600Mhz with CL9 timings. The Kingston HyperX Blu Red 8GB 1600MHz DRAM Kit with part number KHX16C9B1RK2/8X fit the bill and was only $29.99 After Rebate. The HyperX Red memory kit looks great and also just happens to match the BitFenix Prodigy Red PC case that I went with for this build!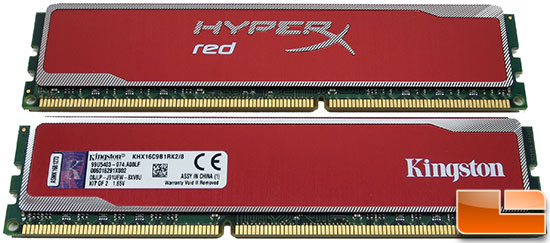 This kit is rated to run at 1600MHz with 9-9-9 memory timings at 1.65V. It costs $10 less than than a kit with the same specifications that runs at 1.50V. I took a gamble that this kit will run 1600MHz at 1.50V instead of 1.65V and I'll jump ahead and say that it did just fine.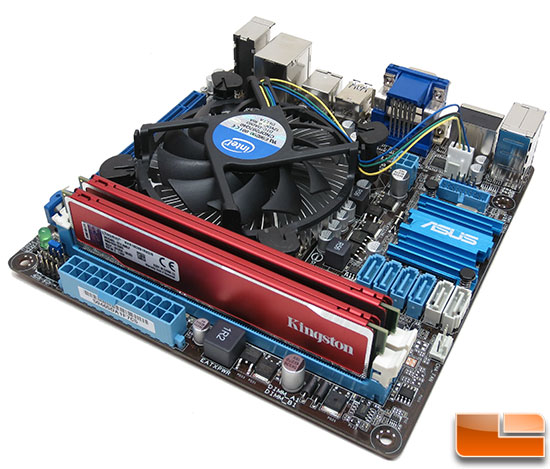 Installing the memory is fairly simple as all you need to do is align the memory module key along with the memory socket keys for proper installation. Press the memory into the socket with gentle force until the tabs snap into place and secure the memory module. The image above shows the ASUS P8H77-I motherboard with the Intel Core i3-3220T processor and Kingston HyperX Red 8GB DDR3 memory kit installed.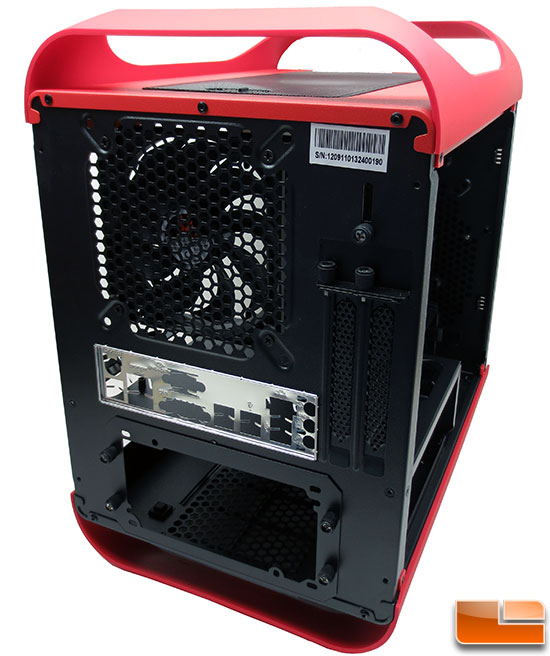 Now that the motherboard is pretty much assembled it can be installed into the Bitfenix Prodigy mITX chassis. The first thing you need to do here is install the rear I/O shield. The ASUS P8H77-I comes with a silver shield that doesn't look too hot on an all black back panel, but not too much you can do about that. Some of the higher end ASUS boards come with black colored shields, but keep in mind this is a budget build that is being done for under $700.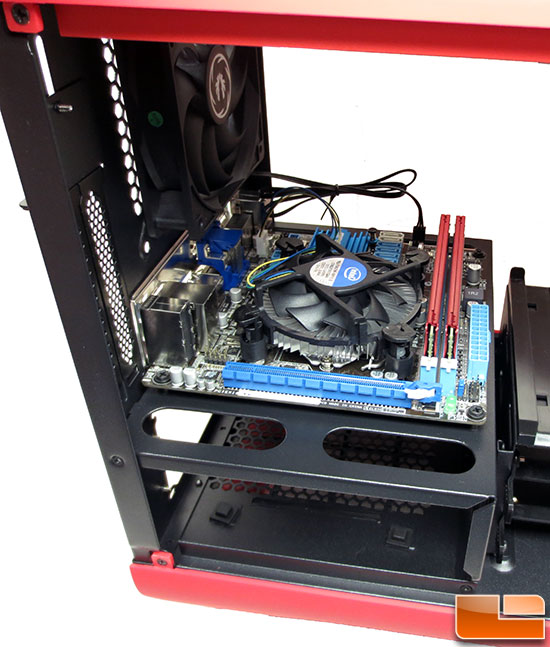 BitFenix ships the Prodigy with four motherboard standoffs already installed on the motherboard tray, so you just need to grab four screws from the parts bag that comes with the case and gently tighten them to hold the board down.
Now that the motherboard, processor, memory and optical drive is installed we can go ahead and install the SSD and the power supply!
Kingston V300 120GB SSD & Wiring The Prodigy Case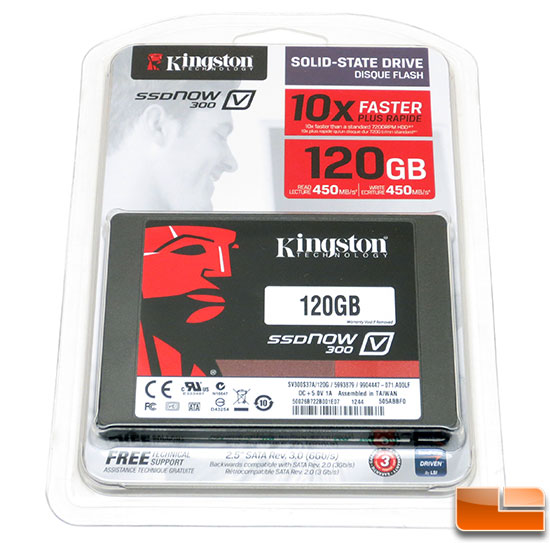 When it comes to storage there is absolutely no reason not to use a solid-state drive for your primary system drive for the operating system and most used applications. If you need a large drive to store movies and music you can always use a secondary hard drive. For this build I went with the Kingston SSDnow V300 120GB SSD.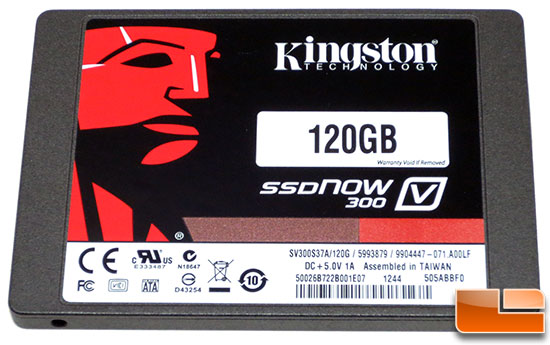 This drive uses the LSI SandForce SF-2281 controller and is rated at up to 450MB/s when it comes to sequential read and write speeds. The maximum random 4k Read and Write performance is up to 85,000 IOPS Read and 55,000 Write. Not bad for an SSD that costs just $104.99 for the bare drive kit and is backed by a 3-year warranty.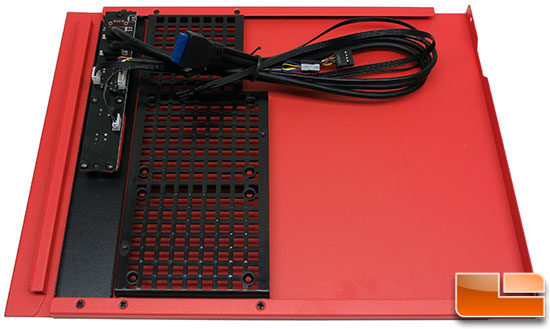 One of the unique features of the BitFenix Prodigy Mini-ITX case is that you can mount a pair of 2.5" SSD's or HDD's on the right side panel!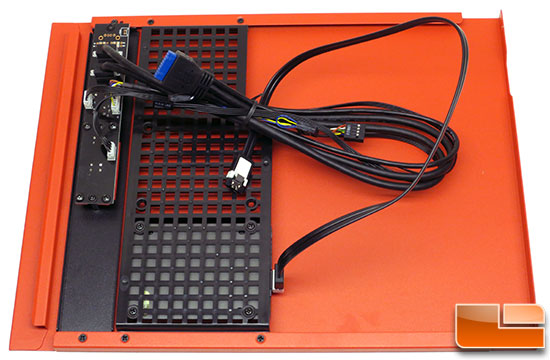 Here is a shot with the Kingston SSDNow V300 120GB SSD mounted up on the side panel. I used the mounting screws that came with the BitFenix Prodigy Case and the SATA data cable that comes with the ASUS P8H77-I motherboard.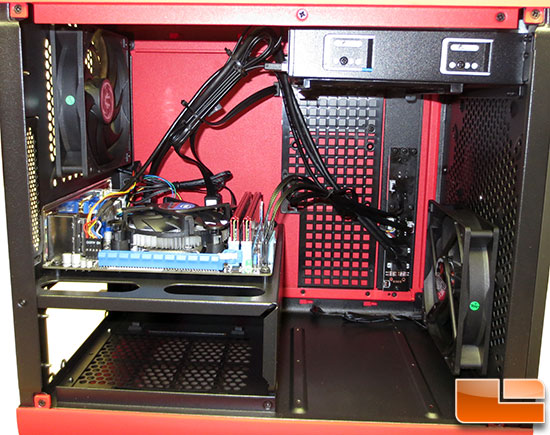 With the SSD mounted in the side panel, it was time to put the right side panel back on the case. After putting the side panel on it was apparent that the drive cages were not needed, so I removed all of them from the BitFenix Prodigy. That opens up a ton of space and should help airflow a good bit. Since all the front I/O panel wires are on the side panel, I wired everything up and zip tied the cables together to again improve airflow and to make things look nice.
Corsair CX 430 PSU Installation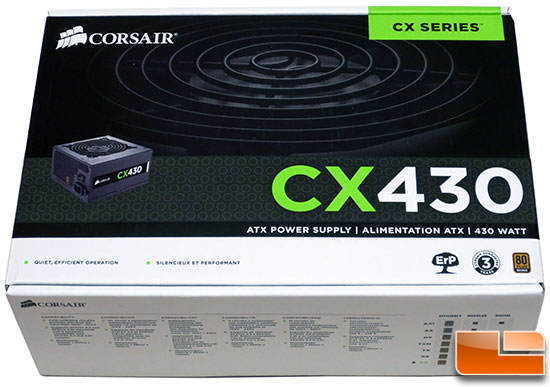 Did you know that Newegg currently sells over 450 different power supply models? No wonder figuring out what power supply is right for your system can be so tough. I knew I wanted to be in the 400-500W range, but which one to get? When it comes to power supplies Corsair has a really good reputation and has always backed up their products with at least a 3-year warranty. The Corsair CX430 is part of the 'Builder Series' and is a 430 Watt power supply that costs just $35.99 after rebate. Hard to beat the price for a name brand power supply that is 80 PLUS Bronze rate, has Active PFC and backed by a 3-year warranty.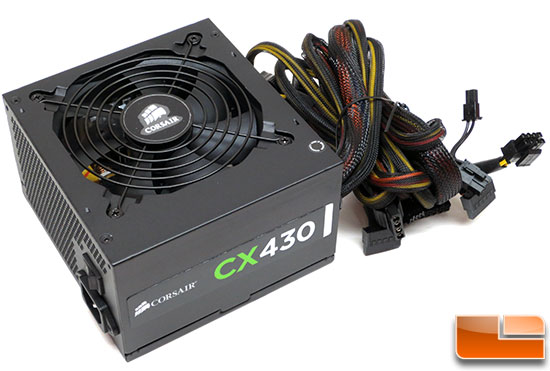 The Corsair CX430 has a dedicated single +12V rail rated at 32 Amps, a quiet 120mm cooling fan and plenty of fully sleeved wired connectors for all your devices.
Corsair CX430 PSU Connectors:
1 x Main connector (20+4Pin)
1 x 8 Pin EPS 12V
1 x PCI-E
4 x SATA
3 x Peripheral
1 x Floppy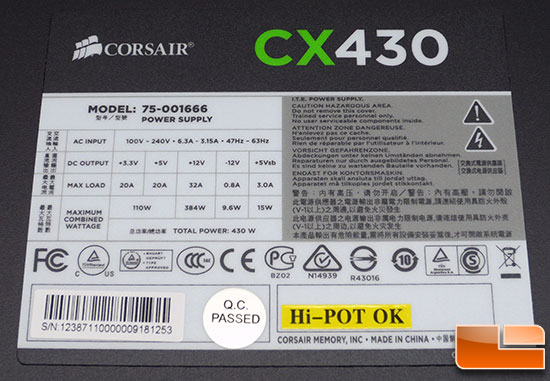 The Corsair CX430 has 430 Watts of continuous power output at 30°C. Most high-end power supplies are rated at higher temperatures, but it this is a budget power supply for entry level computer systems. Even at these low temperatures the output ratings are rather nice: +3.3V@20A, +5V@20A, +12V@32A, -12V@0.8A, +5VSB@3.0A. For this build we will be installing an NVIDIA GeForce GTX 650 video card by ASUS and the recommended power supply for that card is 400 Watts with at least 20 Amps on the +12V rail. The Corsair CX430 easily meets these requirements and should be able to provide plenty of juice for this Mini-ITX system.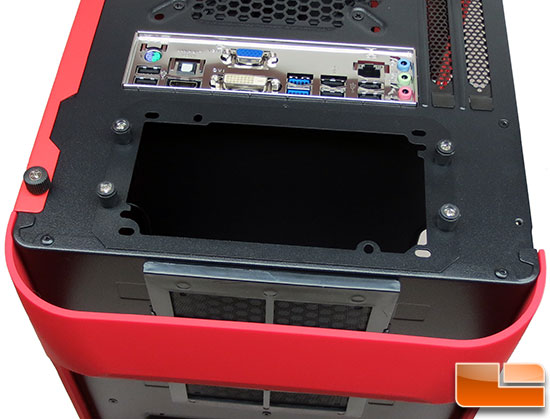 On the BitFenix Prodigy the power supply mounts on the bottom of the Mini-ITX chassis and there is a fan filter on the bottom of the case to filter the cold air intake of the PSU. In order to install the power supply you must first remove the four thumb screws and attach the PSU mounting plate to the power supply with the supplied thumb screws. Once the plate is installed onto the power supply you can then slide the whole assembly into the case and put the thumb screws back on.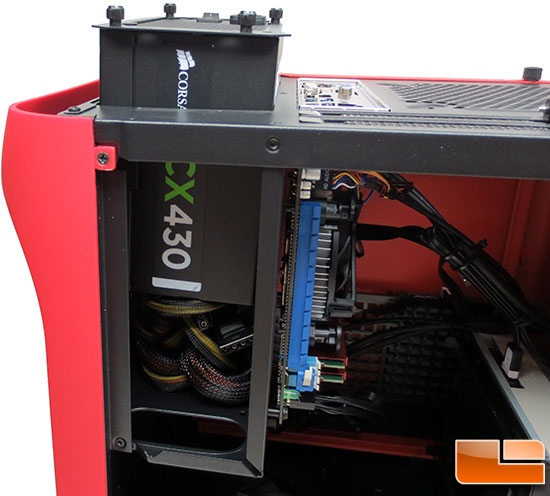 When I did that we noticed that all the wired connectors need to be wired fed through the six cutouts available on the Prodigy for the power supply. For such a small Mini-ITX case the folks over at BitFenix did a pretty good job of wire management. I sat the PSU on top of the case and ran each wire individually and they connected them to where they were supposed to go. I was then able to tuck the extra cables and the excess from the ones used behind the power supply to keep them hidden.
It should be noted that one of the four mounting screws on the Corsair CX430 wasn't machined properly and the screw wasn't able to be tightened up. No big deal, but once again you can tell that you are dealing with low cost entry-level components here and not high-end parts.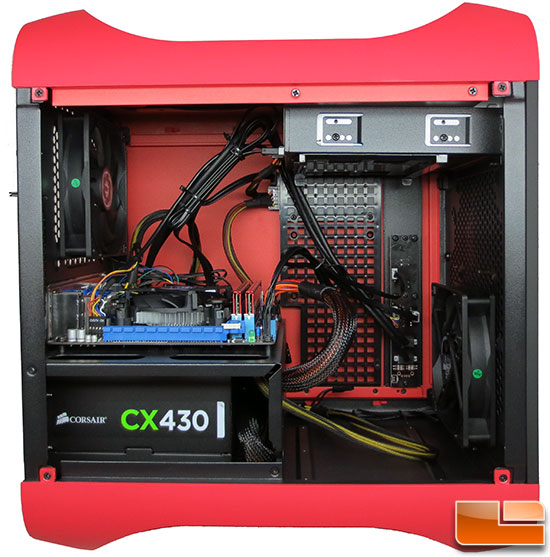 The end result wasn't too shabby as it looks pretty clean. I needed to use a 4-pin molex to 3-pin fan header adapter for the front case fan, but other than that everything was straight forward and easy to do. The wire just laying out in front of the front fan is the 8-pin PCIe power connector for the video card that will be installed next!
ASUS GeForce GT 650 Video Card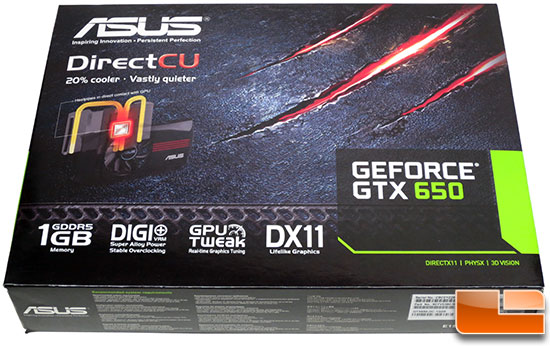 The Intel Core i3-3220T processors Intel HD 2500 Graphics aren't going to cut it when it comes to current game titles, so a budget video card was needed. When it comes to budget cards in the $100-$125 price range you get to pick from the NVIDIA GeForce GTX 650 or the AMD Radeon HD 7770 Ghz Edition. Either card that you pick will get the job done for those running at 1680x1050 or 1920x1080 screen resolutions.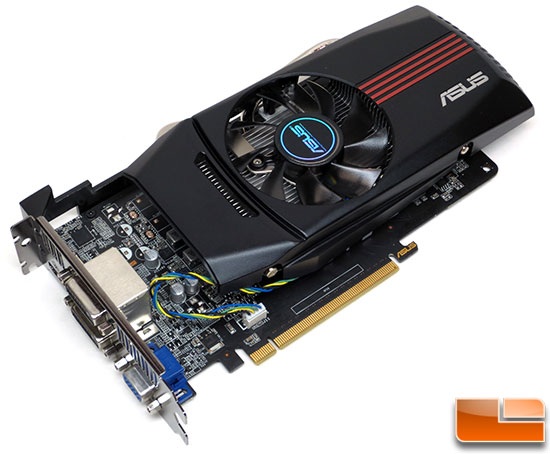 The ASUS GTX650-DC-1GD5 runs $114.99 after rebate and comes with Assassin's Creed III right now. This card features a core clock of 1058MHz on the 384 CUDA cores and the 1GB of GGDR5 memory runs at 1250MHz (effective memory clock of 5000MHz) on a 128-bit memory interface.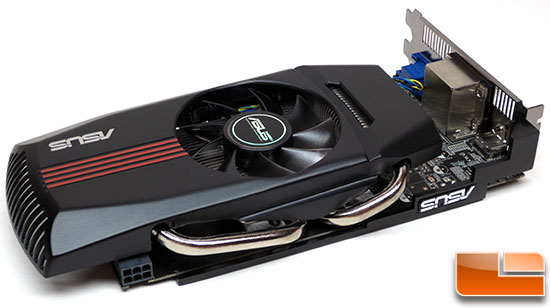 This card uses ASUS DirectCU II GPU cooling technology, so it runs cool and doesn't make much noise. It also requires just a 400W power supply with 20 Amps on the +12V rail, so it shouldn't be too power hungry. It's tough to find a card that can run the games you want and still be efficient and easy on the electric bill, but this should do the trick.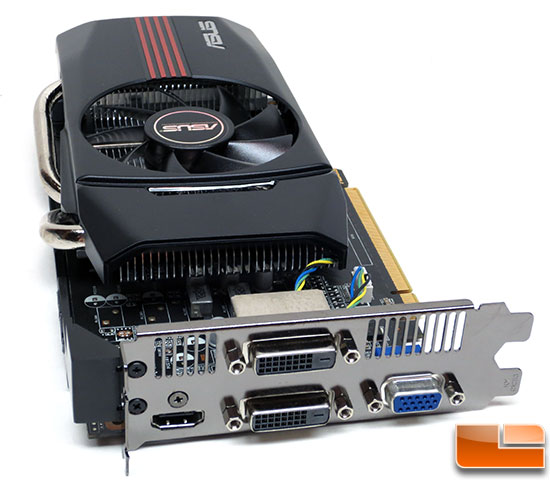 When it comes to video outputs the ASUS GeForce GTX 650 has you covered! You have VGA, HDMI and a pair of DVI connectors! This means you can easily run three monitors at the same time off a single card, which is ideal for those that want to run dual or triple monitors.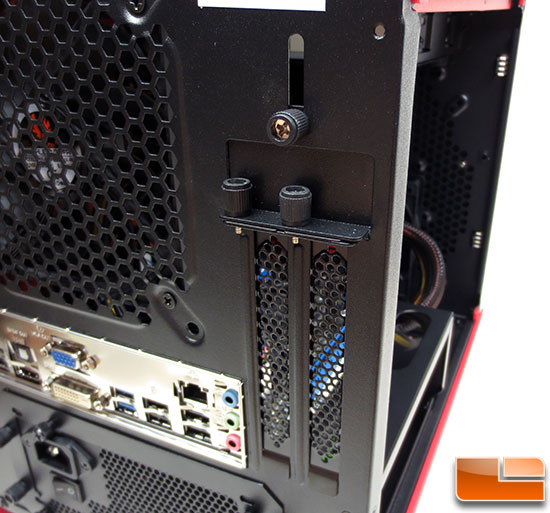 To install the ASUS GTX650-DG-1GD5 graphics card I needed to remove the pair of PCI slot brackets in order to install the video card.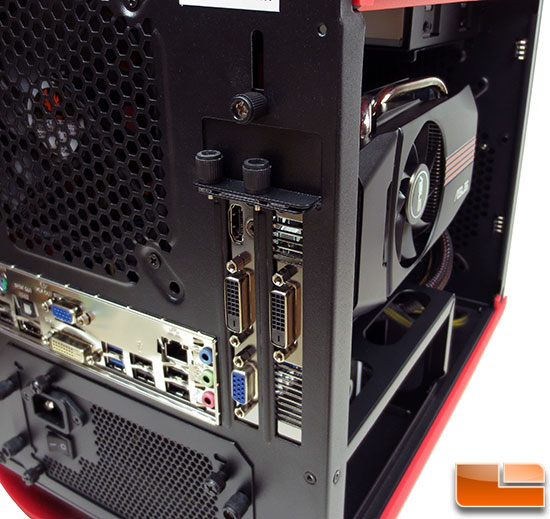 All you need to do it insert the card into the PCIe x16 slot, plug in the 6-pin PCIe video card power cable from the PSU and tighten up the bracket and thumbscrews that hold the card securely in place! With the ASUS GeForce GTX 650 successfully installed into the system all that remains to be done is to put the side panel on and the system is built! At least when it comes to the hardware side of things. You still need to install the operating system of your choice!
Completed Mini-ITX Build Pictures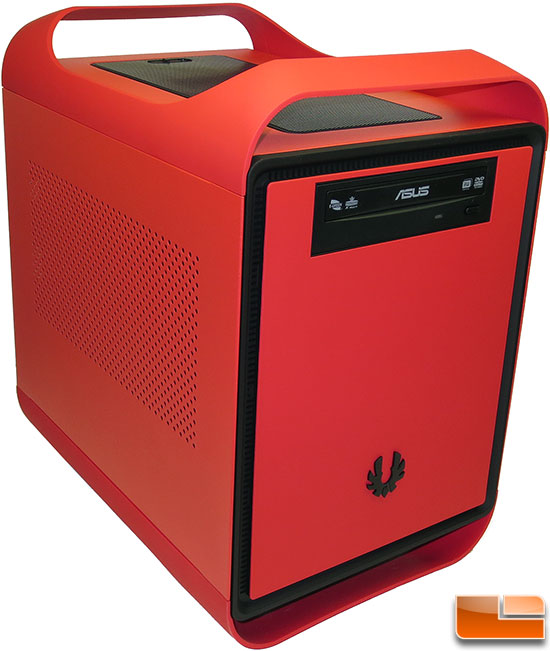 Here is a look at the mini-ITX with it fully assembled and ready to go! The end result is a good looking PC if you like the red and black color combination.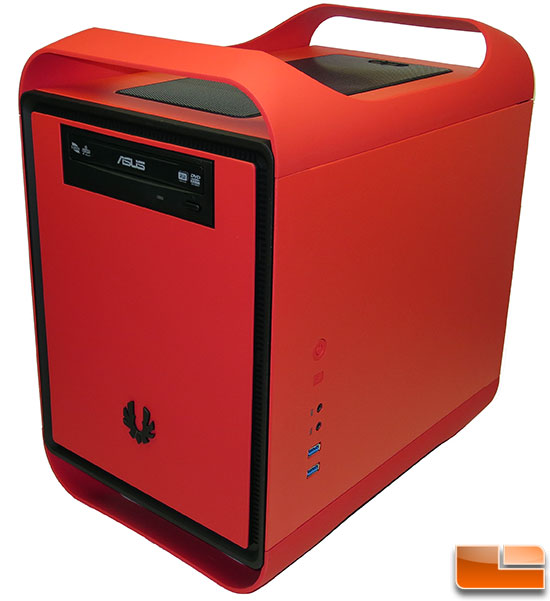 The right side I/O panel takes some getting used to, but it works and helps keep the front of the case clean. BitFenix also did this to keep the costs of the front panel down as they wanted to sell them as accessories. For $20 you can change the front panel and you get to pick between a SofTouch finish or high airflow filtered mesh and then from a variety of colors. This is a nice option to have down the road if you get board with the looks of your case as you can make a fairly significant change for a relatively small price.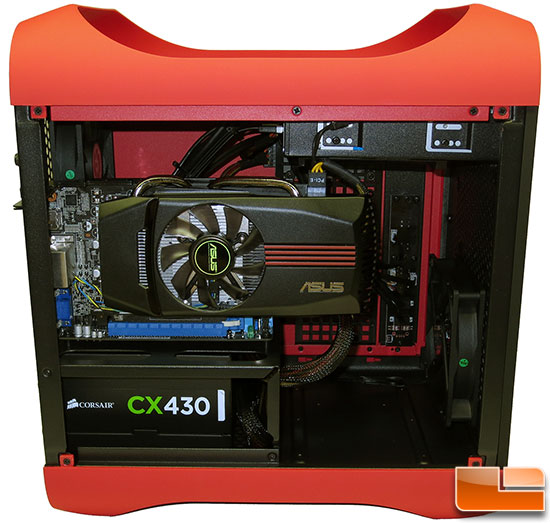 Inside the Bitfenix Prodigy, I was very happy with the results. I figured it would be a wiring nightmare, but the wiring was easy and it came out looking rather clean. You can't see the Kingston HyperX Red memory, but the ASUS GeForce GTX 650 has a splash of red on it.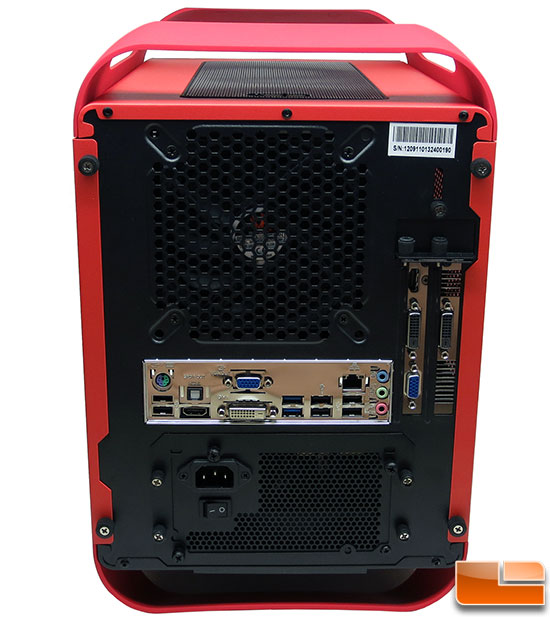 Here is a quick look at the back of the project PC to show how everything ended up looking. The only gripe I have about the build was that the BitFenix Prodigy case has flexible plastic on the top and bottom and the case is a tab wobbly if you bump it due to the flexing. I'm not used to a case moving when you plug in a USB drive, but you get used to it after a bit. We took this build to the digital shipping scale and it weighed in at 19 pounds, which is fairly light for a full desktop system!
Benchmarks, Temperatures & Power Consumption
This article is about building a budget mini-ITX and wouldn't be complete without some benchmarks. We installed Windows 8 Enterprise and ran some benchmarks on the system to see the performance that this exact system is capable of.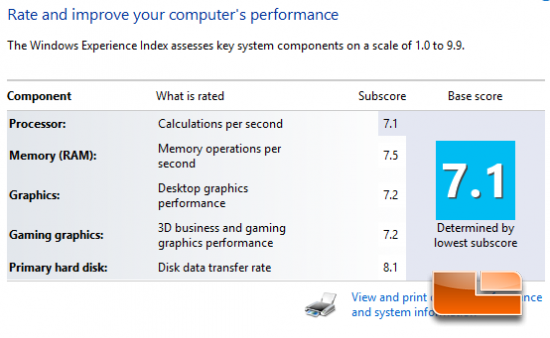 The Windows Experience Index Score on Windows 8 was 7.1 with the lowest subscore being that of the Intel Core i3 3200T processor. The ASUS GeForce GTX 650 video card was the second lowest with a subscore of 7.2 in the two graphics tests.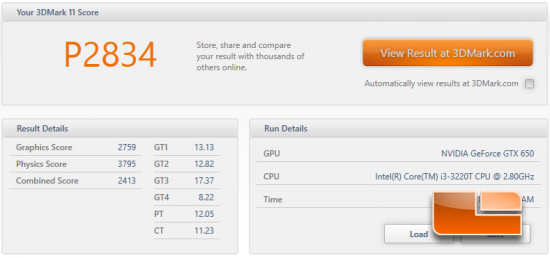 Futuremark 3DMark11 had the system scoring P2834 3DMarks when using the performance preset.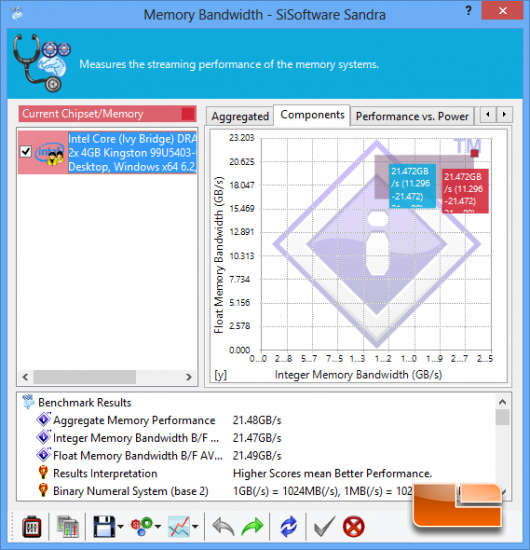 I used the Sandra 2013 memory bandwidth benchmark to check out how the Kingston HyperX Red 8GB 1800MHz CL9 memory kit was performing with 9-9-9-24 1T timings. The memory bandwidth was observed to be right around 21.5 GB/s and that is right where I expected it to be!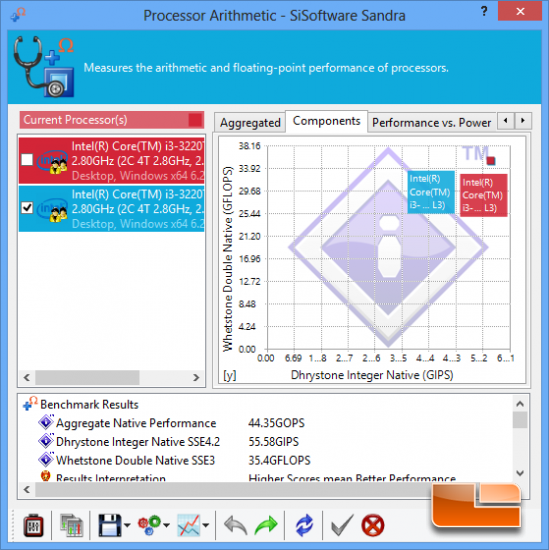 The Sandra Processor test showed an aggregate native performance score of 44.35GOPs.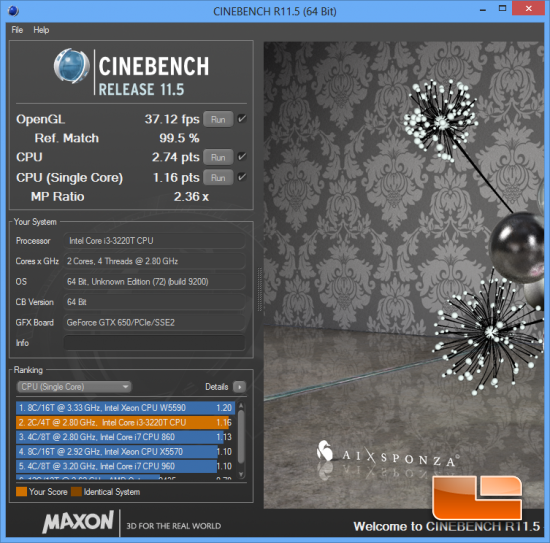 Cinebench R11.5 showed an OpenGL score of 37.12FPS and a multi-core CPU score of 2.74 points for the Intel Core i3-3220T along with the ASUS GeForce GTX 650.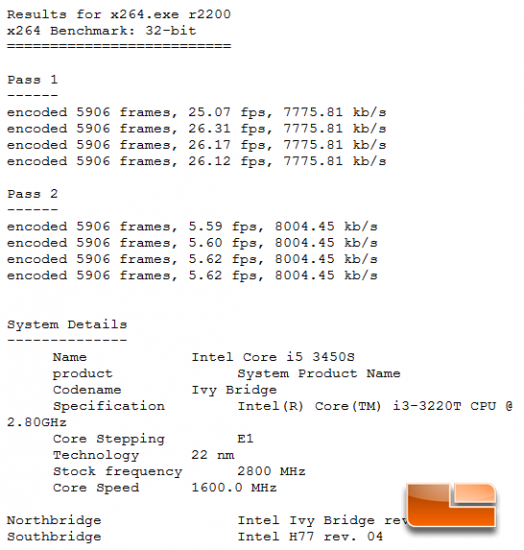 The x264 HD Benchmark 5.0.1 measures how fast your PC can encode a 1080p video clip into a high quality x264 video file. The mITX system averaged around 26 FPS on the first pass and 5.6 FPS on the second pass.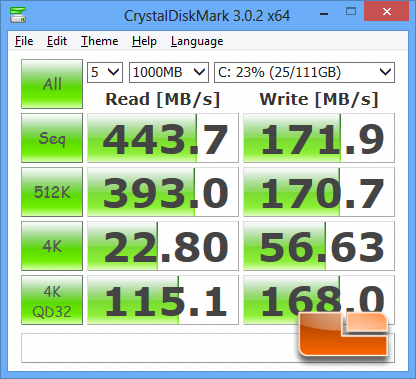 The primary drive in this system is the Kingston V300 12GB SSD and CrystalDiskMark showed 444MB/s sequential read speeds and right at 172MB/s sequential write speeds. These are very impressive performance numbers and this system feels fast in part due to the use of a SATA III SSD like this.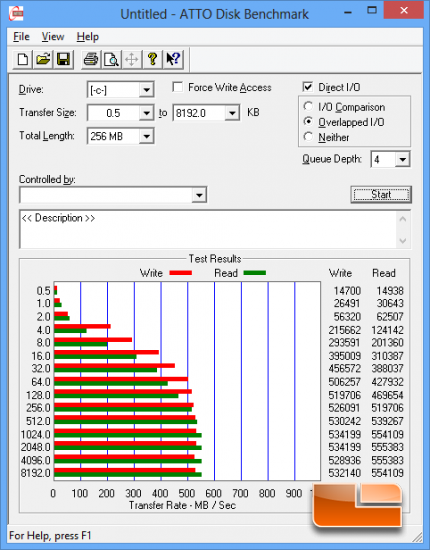 The ATTO Disk Benchmark showed this system having 555 MB/s read and 532MB/s write speeds!

The system felt fast, so we used Boot Racer 4.0 to see how fast our system was turning on. From the time the OS started to load it took just 6 seconds to get to the logon screen and about 15-16 seconds to get to the desktop! The total time to the Windows 8 desktop was about 22 seconds on average, which is pretty darn fast!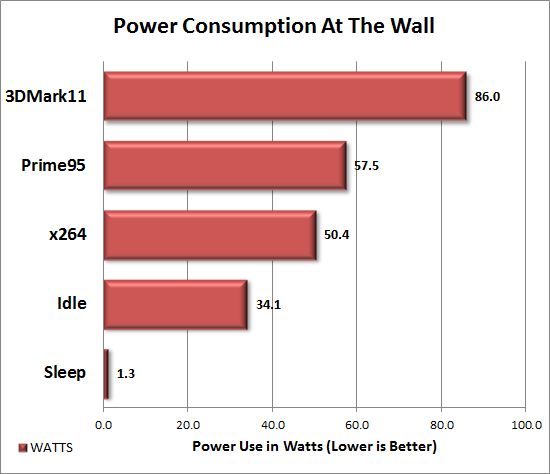 One of the goals of this build was to have a new small form factor system that was very power efficient, yet powerful. The performance of this system is nothing short of amazing, so you can imagine we were happy when we also saw great power numbers. Even with a discrete graphics card in the system the system was using just 34 Watts at idle and peaking at 86 Watts at full load in the first game test of 3DMark11. When surfing the web and unzipping files the power would bounce around 35-45 Watts, so this system is very energy efficient!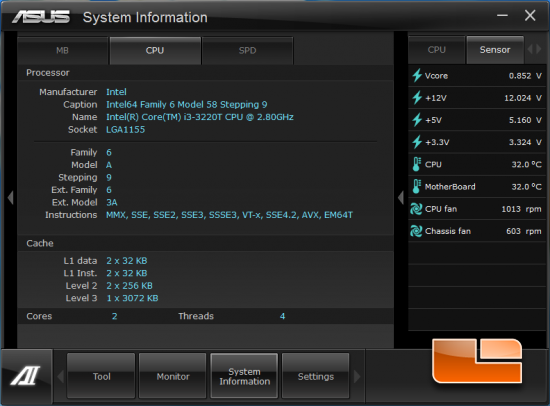 With the system at idle the Intel Core i3-3220T processor was running at 32C, which was also the motherboard temperature. This is a very low temperature and remember that we are using the tiny little Intel HSF that came with the processor. Notice that the Vcore is just 0.852 Watts and the CPU fan is running at 1000RPM. With a sound meter placed one foot in front of the PC the noise level was 39.2dB.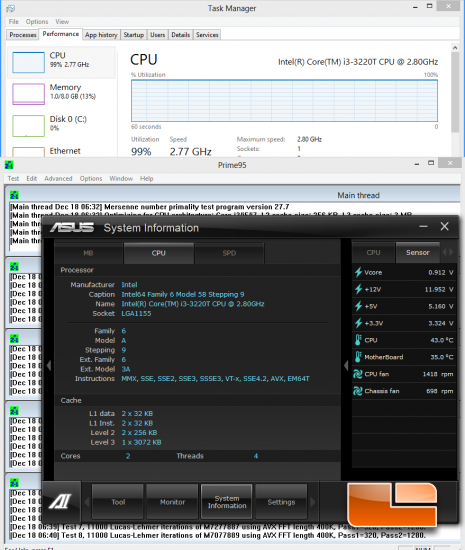 For full load testing we used Prime95 64-bit with the blended test and put the Intel Core i3-3220T processor under a heavy workload. The processors temperature slowly went up to 43C and the motherboard sensor was now reading 35C. This is only an 11C increase on the processor, which is pretty darn amazing. Notice the Vcore at load is now 0.912V and that the CPU fan speed increased up to 1400RPM. With a sound meter placed one foot in front of the PC the noise level was 39.5dB with the processor at 100% load in this test, so there isn't a large noise difference between idle and load!
Final Thoughts and Conclusions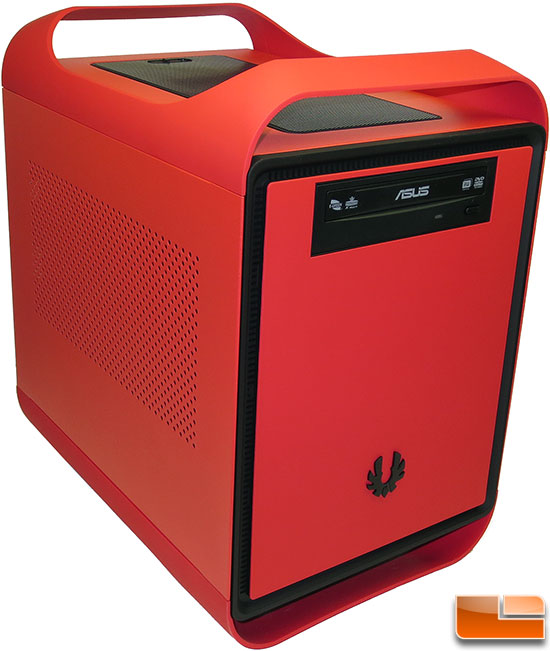 Our budget Mini-ITX SFF system came together nicely and didn't have any major issues that stopped the project dead in its tracks. Everything went together like it was supposed to, including the Windows 8 OS install! Not every custom build goes exactly as it was intended, but this one did and the system took well under an hour to build and required just a Philips screw driver and a pair of scissors (to cut off the wire ties).
Legit Reviews Budget Mini ITX SFF PC Parts List:
The total hardware cost for this build ended up being just a dollar shy of $650, but we are very happy with the performance of this system. It does what we want it to do and that is all that you can really ask for from a budget mainstream system. It loads applications fast, we can play current game titles and easily edit some video on it. Besides the affordable price tag and solid performance, the best thing about this system is that it is small, energy efficient and very quiet. This is partly due to the mini-ITX platform that this system was built on, but also thanks to the 3rd Generation Intel Core i3-3220T 2.8GHz dual-core processor that is rated at 35W TDP. This Ivy Bridge processor was specifically designed for low power use and that means power savings, less heat generation and lower noise levels. You can get faster performing processors for less money, but for build I wanted to try something different. There are a million articles out there for high-end LGA1155 processors, but not one using the Intel Core i3-3220T.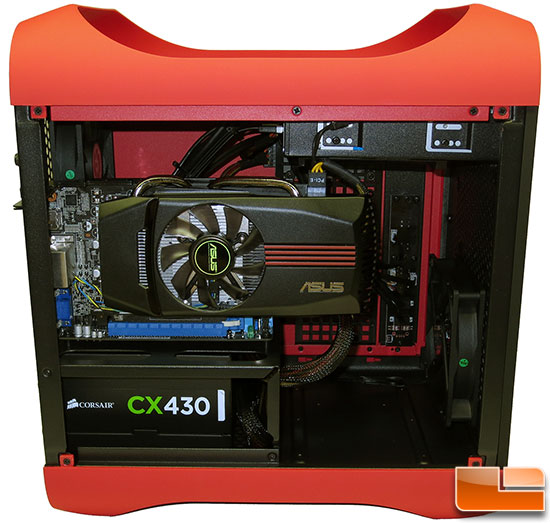 The performance numbers speak for themselves and the power and temperature numbers were insane. Seeing just 32C at idle and 43C at load with the stock cooler was shocking! This is one of the first PCs that I have ever used where the stock CPU cooler doesn't have to be upgraded! When it comes to power the entire system used just 34 Watts at idle and hit just 86 Watts in CPU and GPU intensive tasks like 3DMark11! Not bad numbers for someone looking for an energy efficient PC that takes up little space.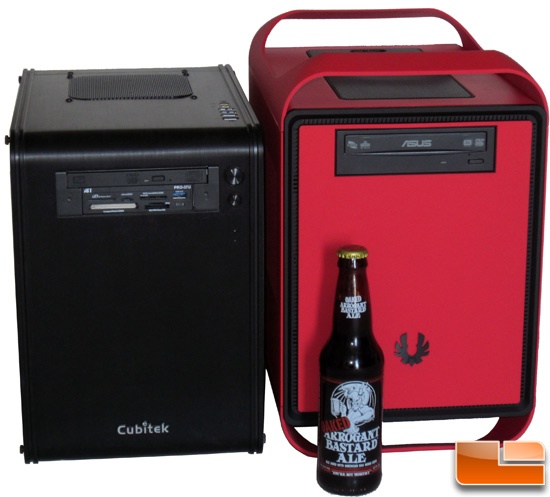 If you are looking for something more powerful and expensive, you can always take a look at the high-performance Mini-ITX build guide we did earlier in 2012 that used an Intel Core i7-3770K processor. That system has been up and running 7 days a week since we completed the article in May 2012 with not a single issue!
Legit Bottom Line: You can build an affordable Mini-ITX system that can easily perform mainstream tasks for under $650 as we showed you today!