The Nokia Lumia 920
AT&T has been heavily promoting Windows Phone 8 devices this month due to the launch of Nokia's Lumia 920 and Lumia 820 smartphones. These phones retail for $449.99 and $399.99 without a contract or $99.99 and 49.99 with a 2-year contract. The flagship Lumia 920 hasn't even been out a month and is already make some serious shock waves in the smartphone market, selling out on both Amazon.com and AT&T for some color choices (yellow and cyan are the most popular). Nokia is all about bold colors with these devices and you have the choice between black, white, red, yellow and the cyan (AT&T exclusive). The finish on all of the colors is high-gloss with the exception of the black, which has a matte finish.
The Nokia Lumia 920 is powered by a Qualcomm Snapdragon S4 dual-core 1.5GHz processor, 1GB RAM, 32GB of storage space (non-expandable) and the Windows Phone 8 mobile operating system. If you would like to use Nokia SkyDrive you can gain access to 7GB of additional cloud storage. The phone features an impressive 4.5-inch HD IPS display with 332 pixels per inch (pixel density), an 8.7-megapixel PureView camera and a front-facing video chat camera. The Lumia 920 camera that is said to take excellent night shots and has a stabilizing feature for video recording.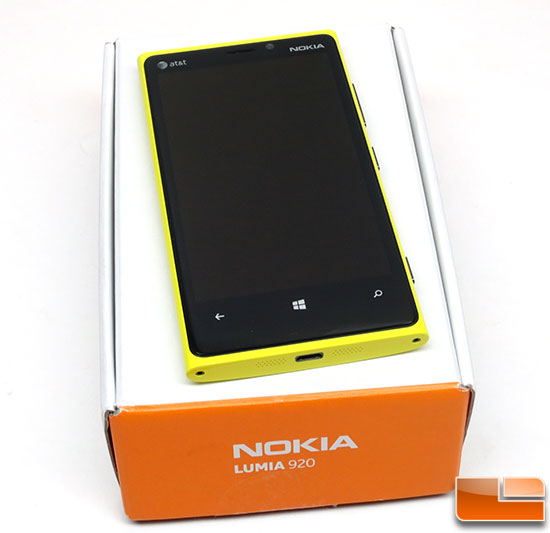 We were sent the AT&T Nokia Lumia 920 smartphone in yellow to review. The Lumia 920 weighs in at 6.5 ounces and measures 5.13 x 2.79 x 0.42 inches (HxWxD) or for those using the metric system it weighs 185 grams and measures 130.3 x 70.8 x 10.7 mm (HxWxD).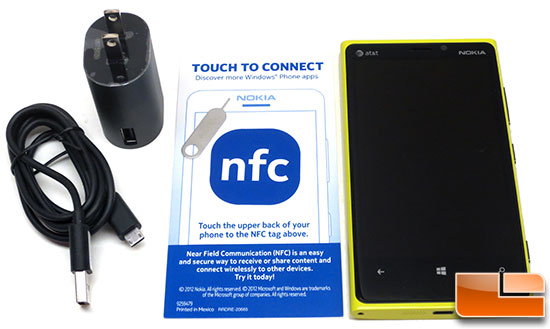 Inside the retail packaging you'll find the Nokia 'Fast USB' wall charger, USB cable, quick start guide, warranty guide and the SIM door key. The Nokia Lumia 920 uses the monoblock form factor, so there is not a battery cover to take off. This means the battery is non-removable! Locked inside the smartphone is a 2,000mAh battery that is said to last up to 13 days on standby and up to 9 hours when talking.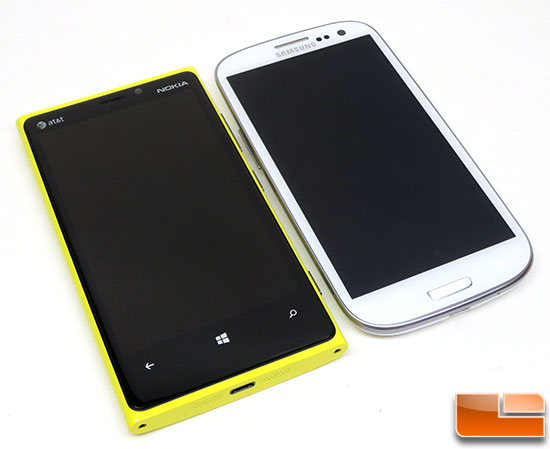 The Nokia Lumia 920 is pretty comparable in size to the Samsung Galaxy S III as you can see in the image above. The Lumia 920 follows the design of the Nokia Lumia 800 and Lumia 900, so the phone is rather thick and has some weight to it. That might be an understatement though as the Lumia 920 is 65% heavier than the iPhone 5 and 39% heavier than the Galaxy S III. After using the Lumia 920 for a bit and get used to the phone, it doesn't feel too heavy, but it has a rather nice solid feel in your hand. Some might call that feel quality as this smartphone isn't going to flex or twist when sat on. Heck, it might even double as a pry bar if you were every in a jam.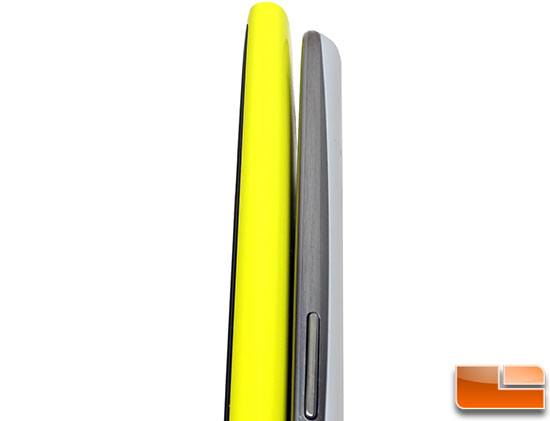 When it comes to thickness the Nokia Lumia 920 is 10.7mm and the Samsung Galaxy S III is just 8.6mm. This doesn't sound like a major difference, but it makes the Lumia 920 nearly 25% more girth than the Galaxy S III and 40% more than the iPhone 5! Now that we know the basics of what the Nokia Lumia 920 are, let's take a closer look at the phones features.
Lumia 920 External Features
The Nokia Lumia 920 is a visually stunning smartphone and we have to admit that the yellow and black looks awesome. It gets the attention of everyone around you, so if you like being noticed this color will most certainly do that!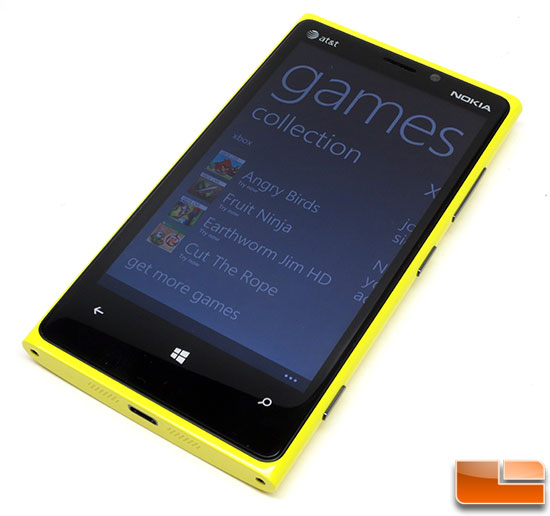 The rounded sides ans seamless sides of the Lumia 920 make it very comfortable to hold. The main feature on the front of the Nokia Lumia 920 is the 4.5-inch PureMotion HD+ ClearBlack display (IPS TFT screen), which provides a crisp, bright display offering up an HD resolution of 768x1280. The Lumia 920 has a 332 pixels-per inch display, which makes it actually better than the iPhone! The display is topped off with curved Corning Gorilla Glass to keep scratches to a minimum.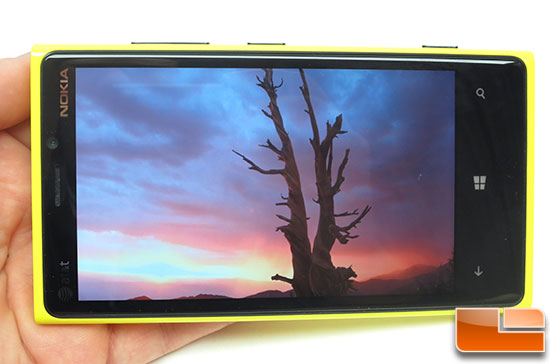 Just for fun we loaded up a 4K resolution image on the Lumia 920 and the display was stunning. The Lumia 920 has innovative features, like a polarization filter and much improved light-sensing technology that make things look great even in sunlight. The display on the Lumia 920 was fantastic for watching, viewing photos and browsing the Web. The Apple iPhone series is no longer the top dog when it comes to image quality as the other manufacturers have finally caught up!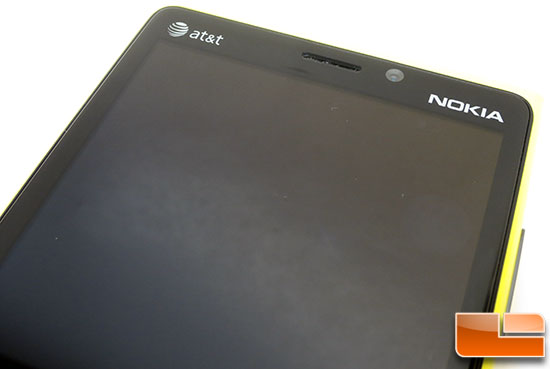 Along the top edge of the Lumia 920 you have the earpiece, light & proximity sensors, and then the front facing camera. The front facing camera shoots has a resolution of 1280x960 and a minimum focus range of 35cm. You can use this camera for video calls and vanity shots.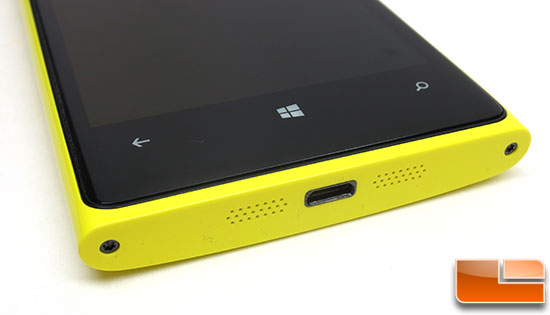 On the bottom of the Lumia 920 you'll find a pair of speakers, two screws and a micro USB port for charging and data syncing the phone to your PC.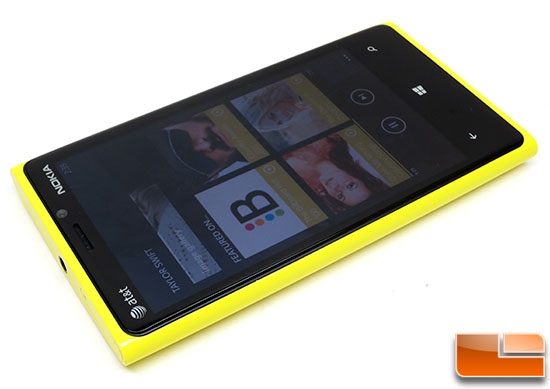 The left side of the Nokia Lumia 920 has no buttons or ports on it, which is a bit odd!

All of the physical buttons are located along the righthand side, with the volume buttons on top, the power below that and then finally the Windows Phone camera button at bottom.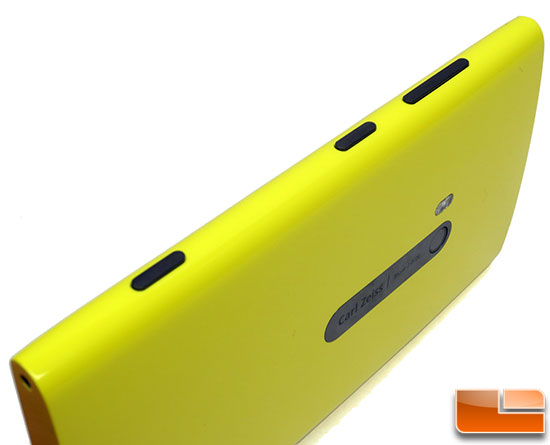 Having all the buttons on one side of the phone can make holding it a bit awkward, but it can be done. I'm not sure how lefties will like this layout though.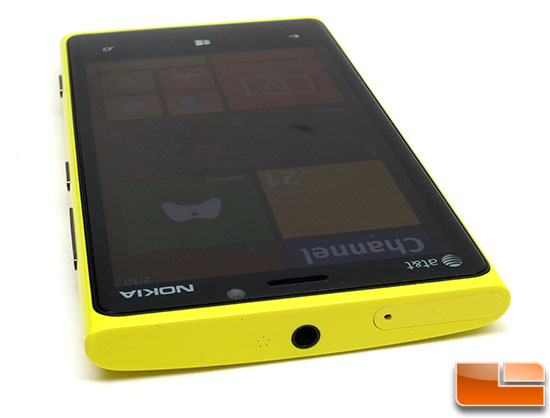 Along the top edge of the Lumia 920 you'll find the SIM card slot and the 3.5mm headphone jack!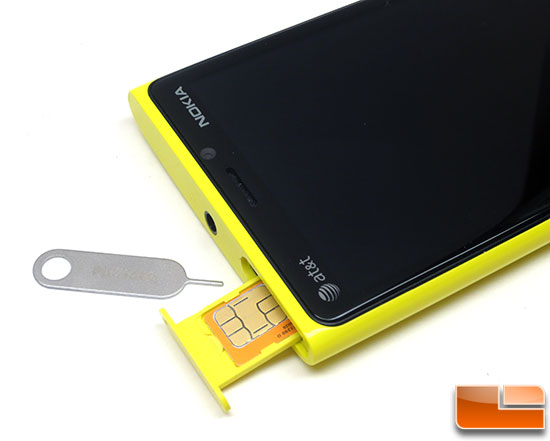 To micro SIM card you need to use the Nokia SIM card tool (or a paperclip) and a little tray will pop out for the SIM card.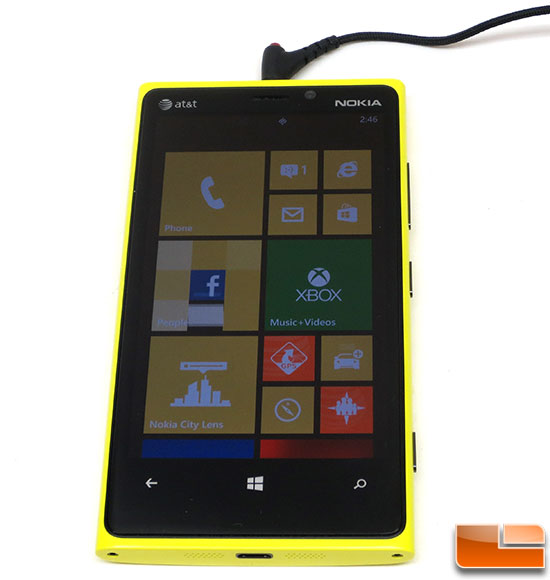 Here is a shot of the 3.5mm headset jack with a pair of headphones plugged in. The Lumia 920 also features Bluetooth 3.0, so you can easily connect wireless bluetooth devices as well. Speaking of wireless technologies, this phone supports Wi-Fi 802.11 a/b/g/n (a is supported on 5 GHz), GPU and Near-Field Communication (NFC). NFC is a emerging technology that is starting to take off thanks to Google Wallet and other NCF supporting apps.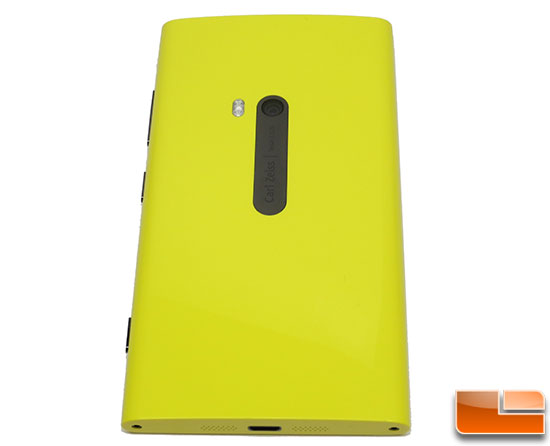 The back of the phone has a rear facing 8.7-megapixel auto-focus camera that's able to shoot 1080p videos. The default resolution for the images are 3552x2448 pixels and the HD videos are shot at 1080p@30FPS. You can simultaneously shoot HD video and record images. This camera has 4x digital zoom and has a dual LED flash as well.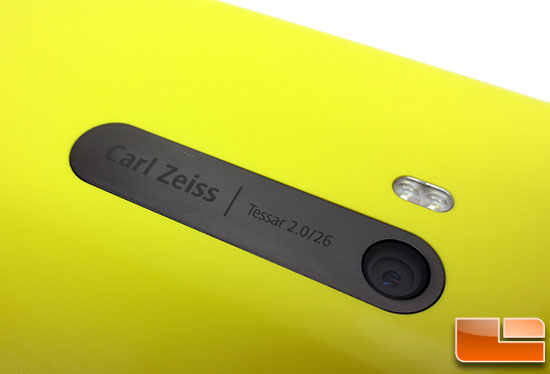 Here is a closer look at the Carl Zeiss Tessar lens that is used on the Nokia Lumia 920 along with the short pulse high power dual LED camera flash that has a shooting range of 3.0m. This camera has an aperture of f2.0 and a focal length of 26.0mm.
Let's take a look at the Windows Phone 8 OS and some of the Apps!
Nokia Lumia 920 Software & OS
The Nokia Lumia 920 uses Microsoft Windows Phone 8 as the operating system, which is famous for having its updating "Live Tiles" on the home screen. On your 'homepage' you can pin Live Apps (the official name for Windows Phone apps) as Live Tiles. Microsoft allows you to heavily customize this to make the phone personal to you!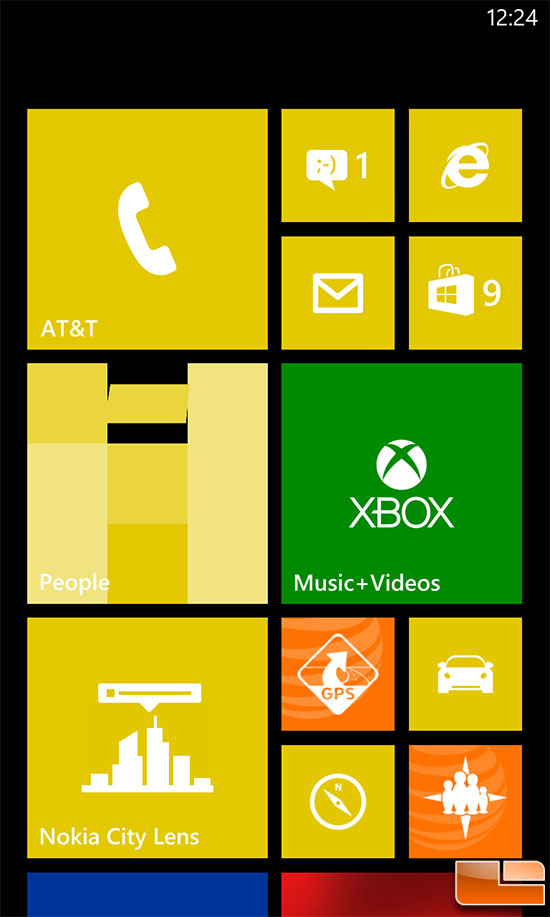 Out of the box, Windows Phone 8 will include several Live Apps -- email, messaging, calendar, skpye Windows Phone Store. Nokia also customized the Lumia 920 by adding some of their apps to the 'Live Tiles', so you'll find Nokia City Lens, Nokia Drive and others.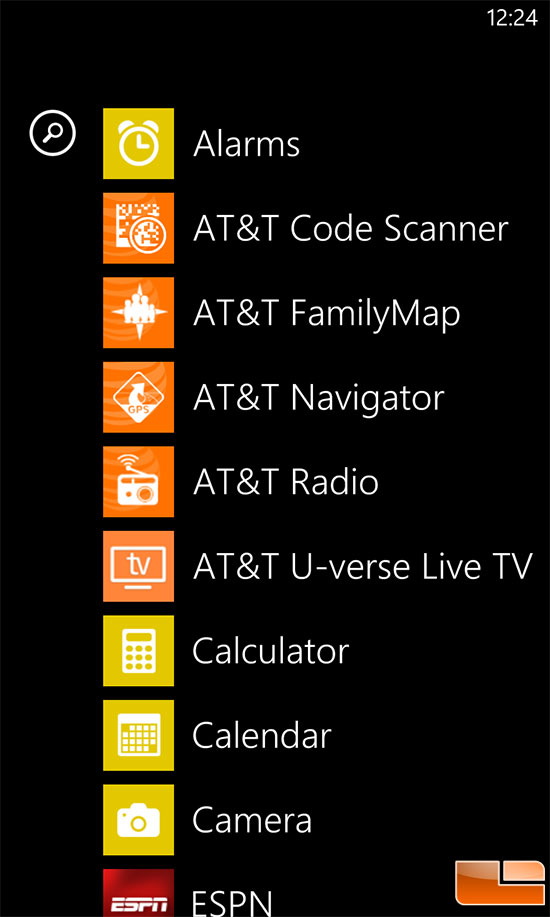 If you swipe over to the right you'll discover a a full list of all the apps that are installed on the Lumia 920. The user interface is smooth and fairly easy to learn.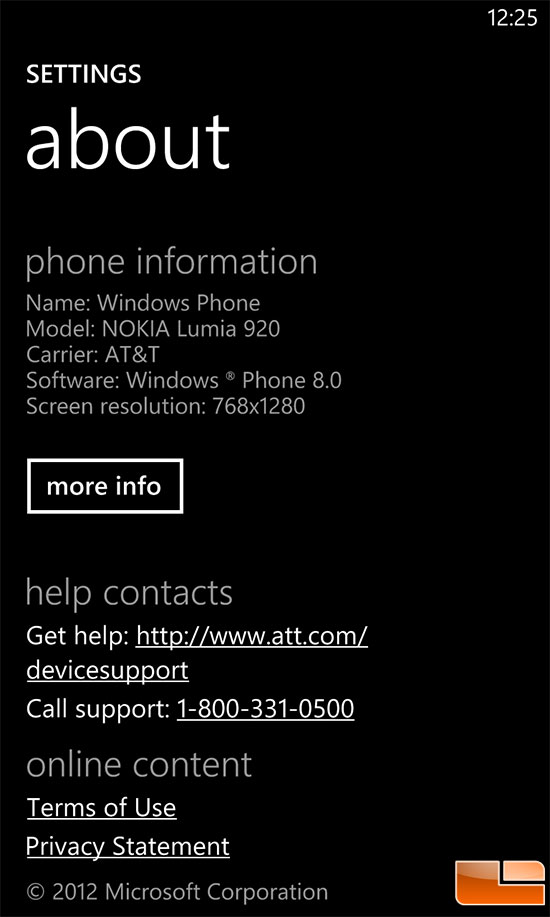 We are running Windows Phone 8 with all the latest patches for our look at the Lumia 920.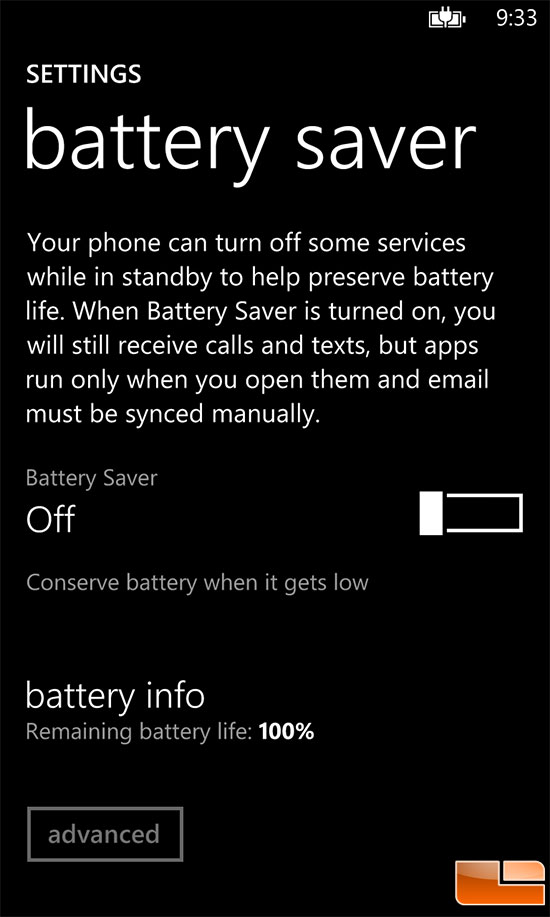 The battery on the Lumia 920 was found to easily last a full day with normal usage where you talk for a couple hours and browse the web for a few hours. If you are a heavy user you can turn on the "Battery Saver" mode for extended life – this option turns off all apps when you're not actively in them and some other power saving features. The Nokia Lumia 920 has the ability to use a wireless charger, but we didn't get one to try out.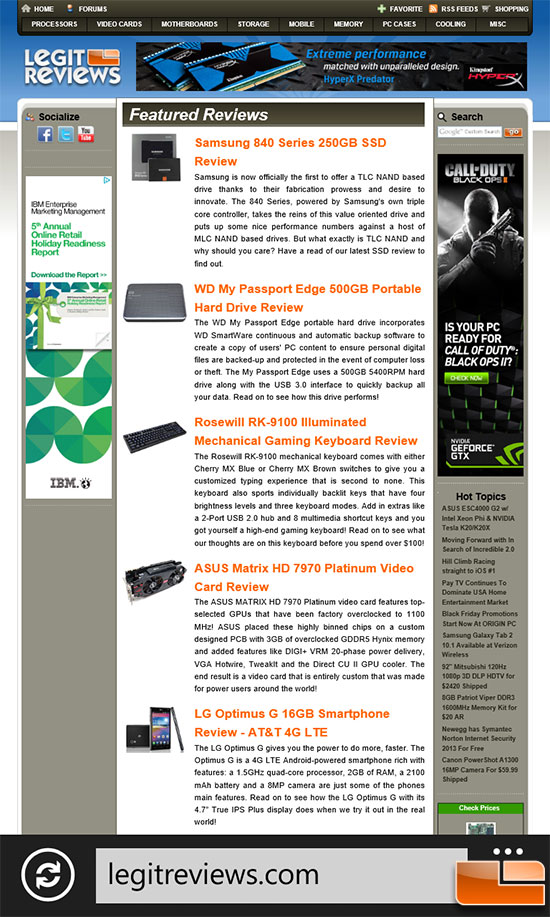 The Lumia 920's default web browser is IE 10 for Phone 8 and it worked great and felt very fast thanks to the dual-core processor, 1GB of RAM and the AT&T 4G LTE network here in St. Louis.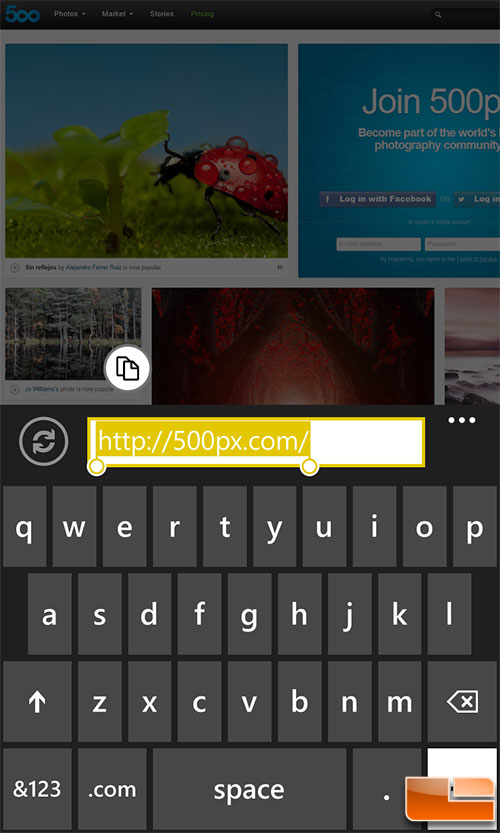 The virtual keyboard is very easy to type on and fast! The Nokia Lumia 920 is very responsive and we had a very low error rate when typing on it, whichis ideal. Voice dictation on this Windows Phone 8 device also worked great and was nice to use when you didn't want to type something out. Android 4.1 is still the best OS for dictation, but Phone 8 and iOS 6 aren't too far behind now.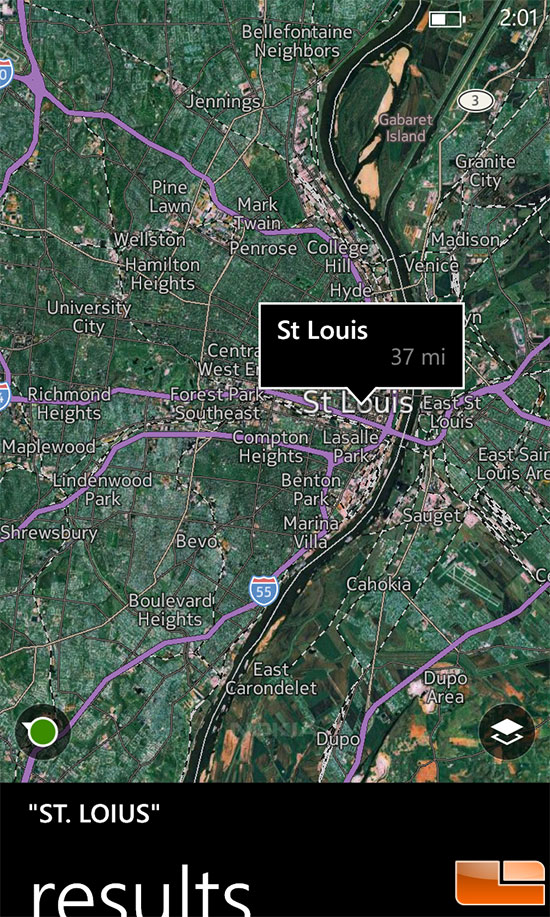 The Nokia Lumia 920 does not come with Bing Maps like a standard Windows Phone 8, but rather Nokia Maps. Nokia Maps has been around for many years and while it isn't as good as Google Maps, it is a solid mapping solution. The best thing about Nokia Maps is that you can download sections of the world for offline viewing. This is very nice and Nokia allows you to download whole countries at a time, which is very nice! You can also use Nokia Maps to find restaurants, cinemas, museums and theaters.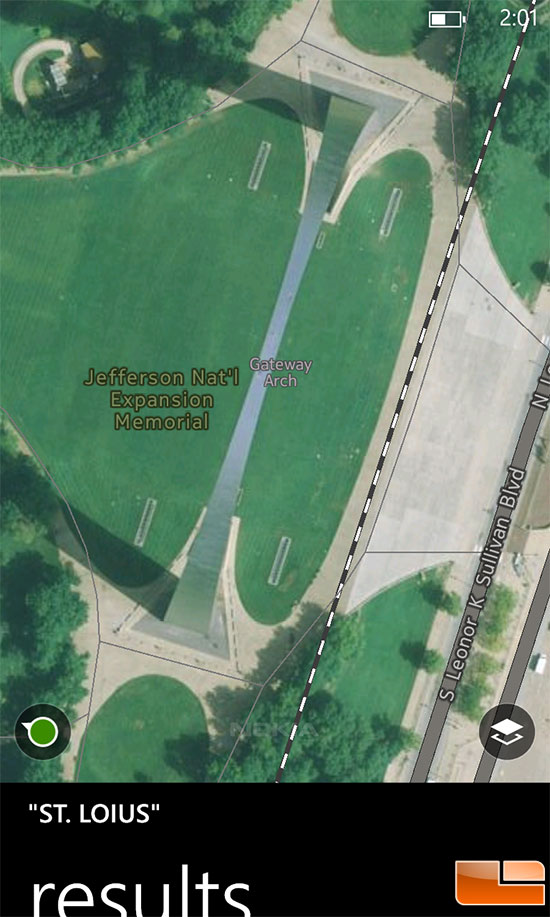 We zoomed in on the St. Louis arch to show that it does give a fair amount of detail and that objects are not distorted in satellite mode.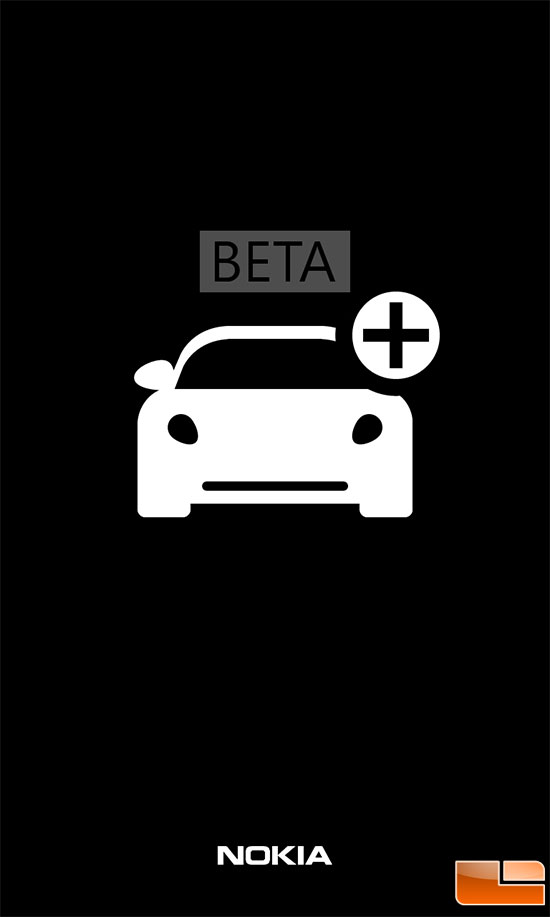 There is a free satellite navigation application called Nokia Drive Beta that comes installed on the Lumia 920.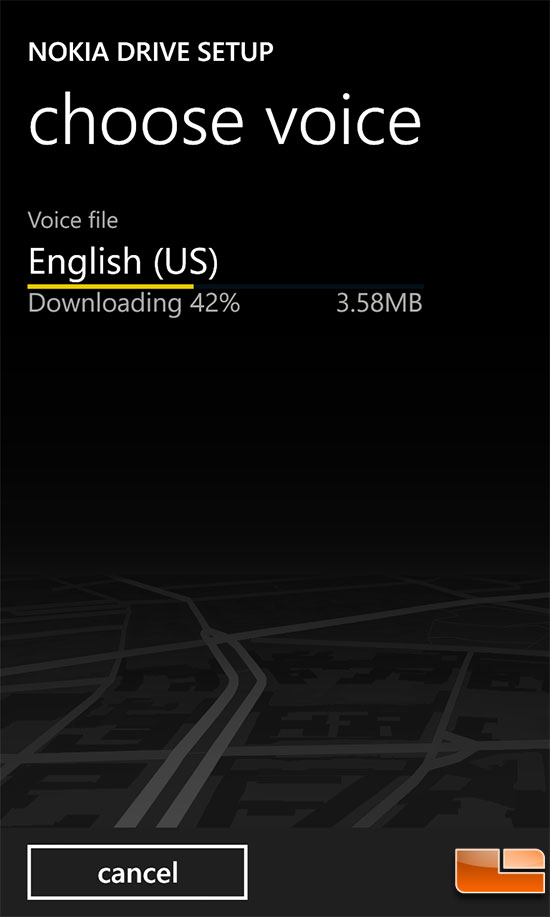 When you use it for the first time you need to download the language file, which felt a bit odd to do.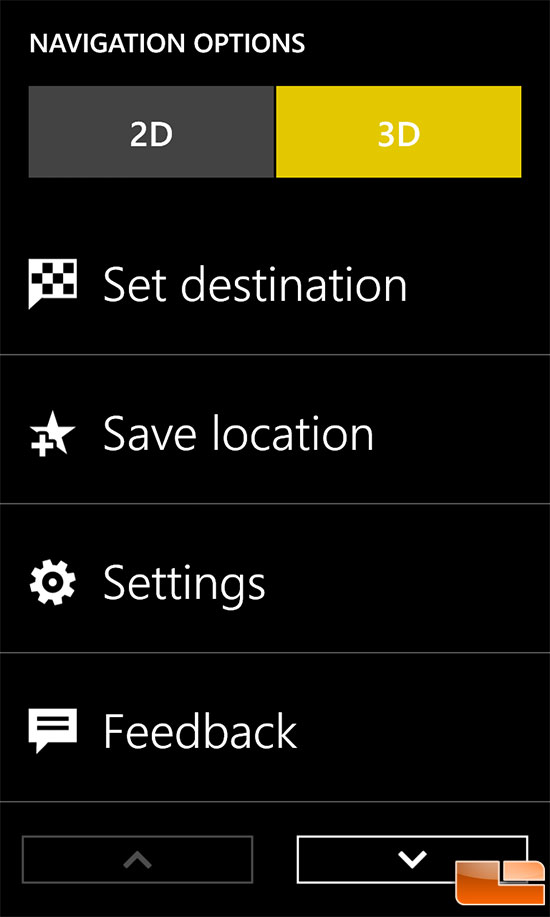 When it comes to navigation options you have both 2D and 3D modes to choose from.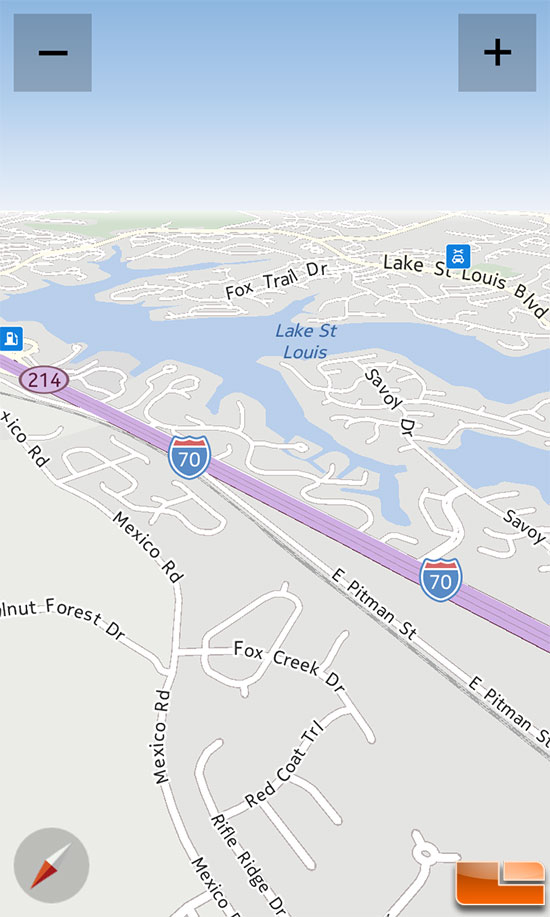 Here is what the basic map looks like in Nokia Drive Beta. Not the greatest looking navigation map, but the streets are right and the app was able to get the job done okay in St. Louis.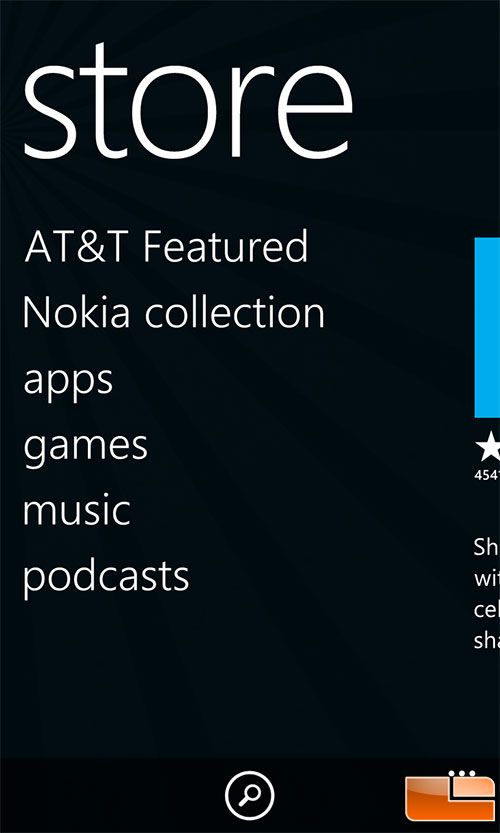 The Windows Store has over 20,000 apps according, which isn't bad considering that it opened on February 29th, 2012 and the library has been slowly building. What's interesting is that 87% of the apps are free, which is nice. Many popular Android and iOS apps are not available on the Windows Store though, so if you have some apps that you can't live without you should check to make sure they are there.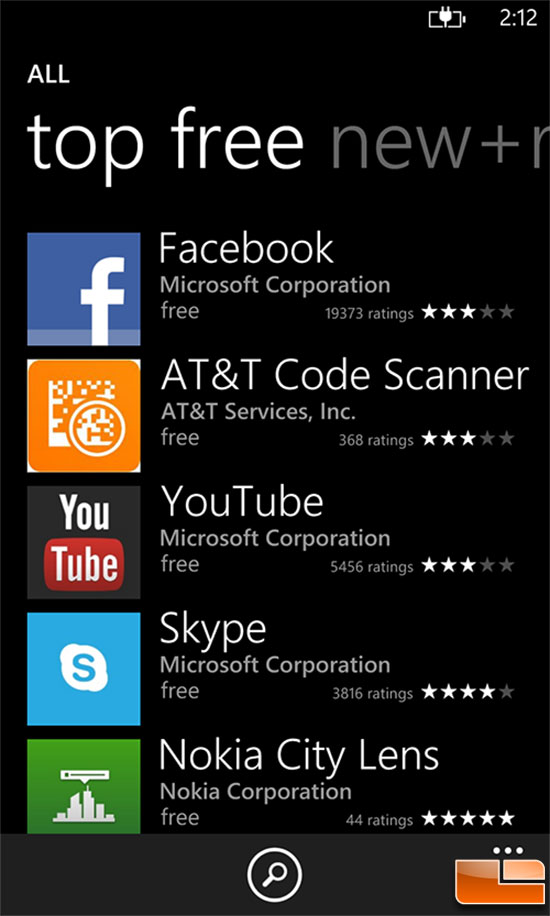 The top free apps as of last week on the Windows Store were the ones shown above. It's a bit odd to see AT&T Code Scanner and Nokia City Lens being listed in the top five free apps!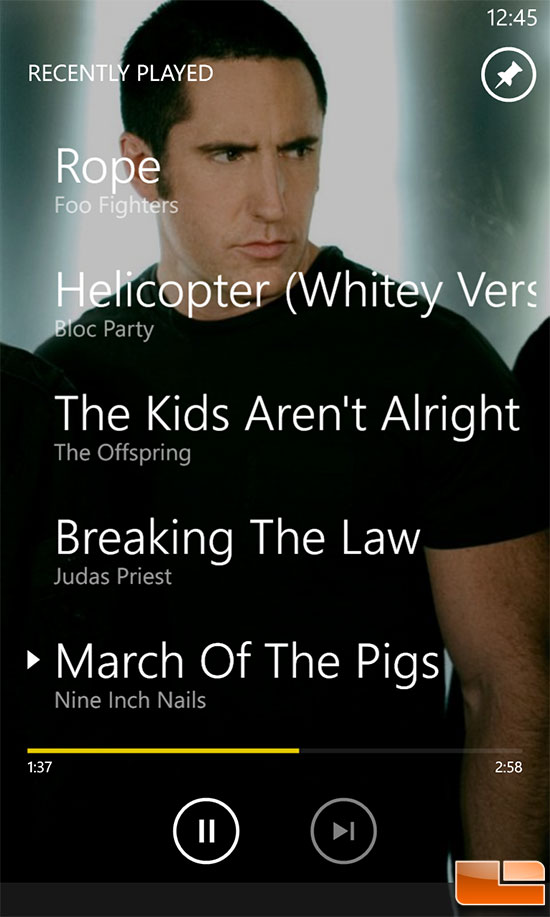 The Nokia Lumia 920 comes with Nokia Music pre-loaded and it is great to see the Microsoft Zune software live on. The music experience is unlike any other Windows Phone that we have ever used before.
Lumia 920 CPU Benchmarks
The Nokia Lumia 920 uses a 1.5GHz Qualcomm Snapdragon S4 dual-core Krait processor to keep things snappy and running smoothly on the smartphone. This is a fairly popular processor right now and it is the same processor used by many Android phones like the Samsung Galaxy S III and HTC One X. The Nokia Lumia 920 has 1GB of RAM and 32GB of storage (There's no microSD card slot for expansion). Let's take a look and see how the Nokia Lumia 920 performs in benchmarks like AnTuTu, Sunspider, Browsermark and WP Bench.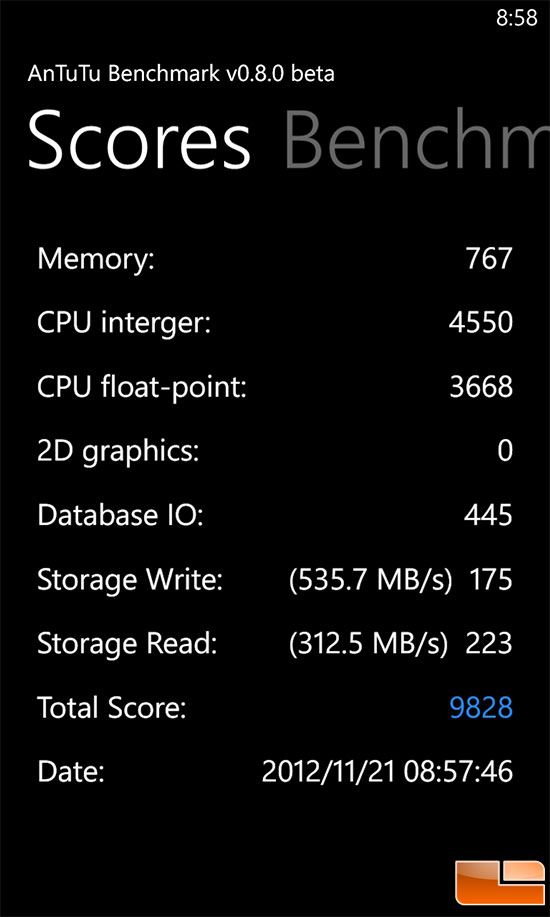 Antutu Benchmark v0.8.0 beta was unable to run in its entirety due to the 2D graphics test not working. We were able to disable that test and found the score to be 9,828. Not a bad score considering not all the tests were run.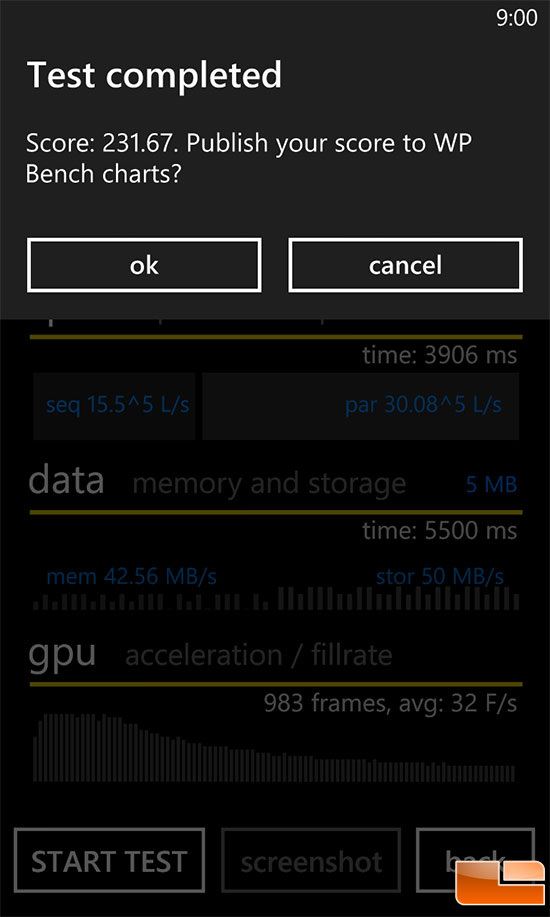 We were able to score of 231.67 in WP Bench, which is well above the category average of 92.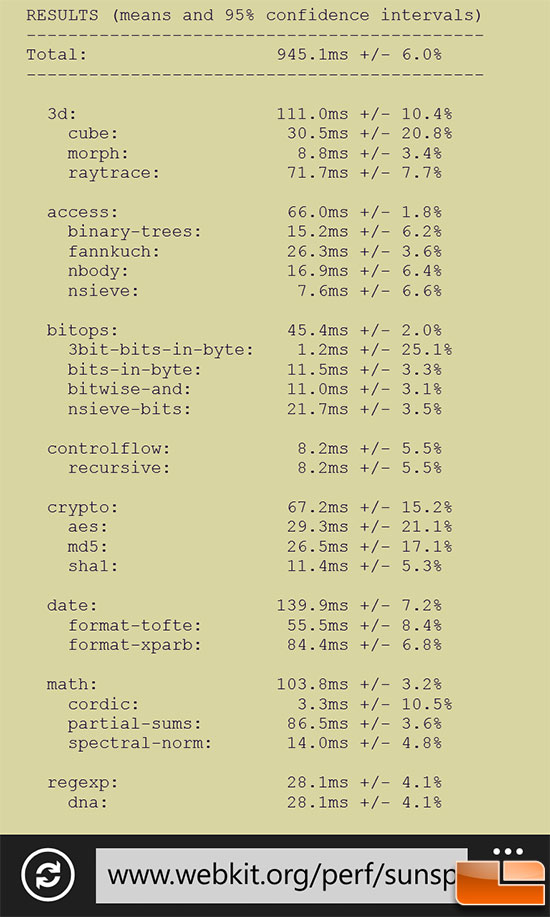 SunSpider is a popular browser javascript benchmark. Internet Explorer had awful SunSpider scores in Windows Phone 7/7.5, so it will be intersting to see how this Phone 8 device does. The Nokia Lumia 920 scored 945.1ms, which is excellent. For example our Apple iPhone 5 scores 1089.1ms, which is actually slower than this! Microsoft has obviously worked on Internet Explorer's javascript performance because the 920's SunSpider scores are very fast.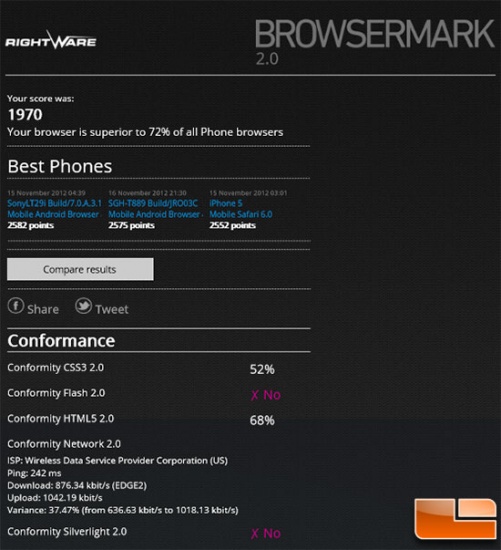 The Browsermark 2.0 score on the Nokia Lumia 920 was found to be 1,970, which is faster than 72% of the browsers out there not too shaby!
Lumia 920 Camera Testing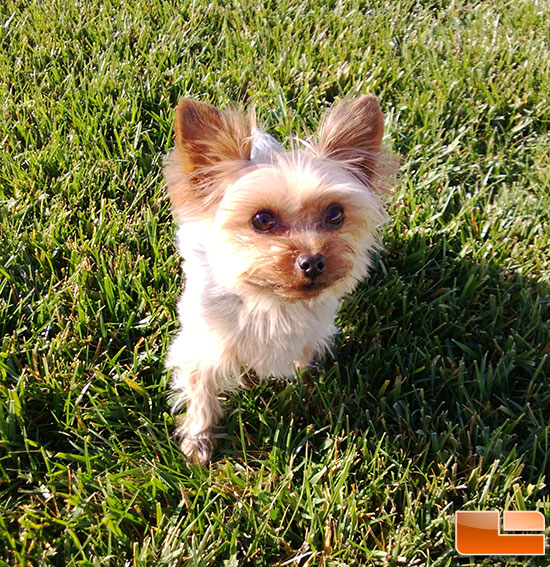 To try out the Lumia we just went didn't do any fancy staged shots this time around, but took a few shots over the course of a normal day. The Nokia Lumia 920 is touted as having an epic camera, so we wanted to put the famed 'PureView terminology' to the test. Our first shot is of Ellie the resident Yorkie here at LR outside in bright daylight. The shot came out pretty good. The whole camera module in the Lumia 920 is stabilized, so pictures do appear to have less shake than other smartphones that we have used in previous weeks.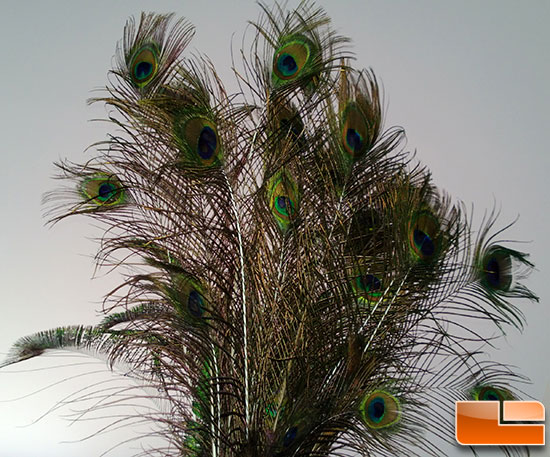 Indoors we took a picture of some decorative peacock feathers and again found the image quality to be okay, but nothing too stellar.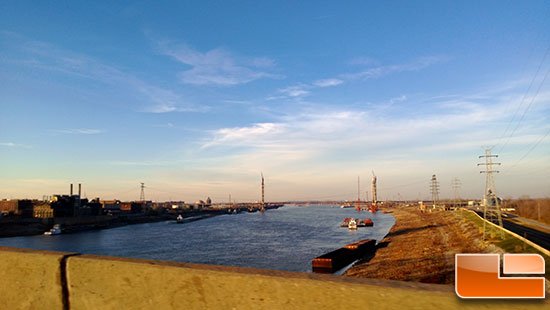 Driving into St. Louis across the Mississippi river from Illinois we were able to snap this photo doing 55MPH on the highway with the camera set to auto mode. The image came out crisp in the center with minimal blurring on the sides. Not too bad for a camera-phone! The low-light picture taking of the Lumia 920 are also also good thanks to the optical stabilization in the smartphone. By having stabilization they were able to slow down the shutter speed, which lets in more light and you end up with a better photo.
4G LTE Speed & Battery Life
This review wouldn't be complete if we didn't try out the 4G LTE wireless speeds on the AT&T network as that is one of the most important things with any 4G LTE smartphone!
At our office we get 4G LTE service with three to four bars on the signal strength. We downloaded an app to test the speeds and found that we constantly got 20MB/s down and 10MB/s up on the auto-selected server. These very good 4G LTE speeds and show how well the AT&T service is in the metro St. Louis, Missouri area. AT&T has invested more than $2.1 billion from 2008 to 2011 in improving the wireless network in St. Louis and it looks like it is really paying off.
When it comes battery life we used the WP Bench battery life test and found that the Nokia Lumia 920 lasted 154 minutes and 37 seconds to be exact. Having over 2.5 hours of battery life on this very intensive test is pretty good!
Final Thoughts & Conclusions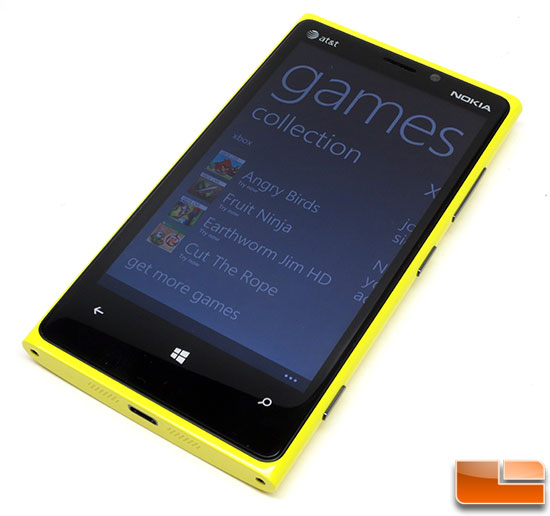 At the end of the day the Nokia Lumia 920 was found to be a great Windows 8 smartphone. The Lumia 920 is pretty heavy, but we loved the minimalist design, bright color options and smooth rounded corners. Once you got over the weight this phone feels good in your hand and that is critical for something you use so much.
This is our first use of a Windows Phone 8 device and we have to say that Microsoft did a good job with this operating system. It felt very responsive and was easily on par with the iPhone 5 and the Galaxy S III that we use around here daily. Many people are afraid to change operating systems due to all the learning that needs to be done, but it doesn't take too long to get adjusted. At the end of the day Android, iOS and Windows Phone operating systems all do basically the same things, so the core features are very similar. The only thing that felt slow with the Lumia 920 was the startup times, but that is something you don't do daily!
The battery life of the Lumia 920 was good, but be sure to turn off GPS as it loves to eat up the 2,000mAh battery. The audio quality and cellular service with the AT&T network was excellent. Hard to complain when you are getting 20MB/s download speeds and 10MB/s upload speeds! Surfing the web and downloading content on the AT&T 4G LTE network is a breeze, so if you life in a city that has 4G LTE then you should really take advantage of it!
If you are getting sick of Android, iOS or Blackberry as your operating system and want to try something new, then be sure to give the Nokia Lumia 920 a closer look. If you aren't put off with the weight of the Lumia 920 then it is highly possible that you'll really like it.
The AT&T Nokia Lumia 920 that we reviewed today can be found for $99.99 with a 2-year contract or for $449.99 with no-contract at all. Considering that this is a flagship Windows Phone 8 smartphone we have no reason to argue with the price and it will only come down as time goes on.
Legit Bottom Line: The Nokia Lumia 920's biggest downfall is the fact that it weighs nearly half a pound, but if that doesn't matter then you should give Microsoft Windows 8 a try!