NVIDIA GeForce GTX 1050 Ti Overclocking
When the NVIDIA GeForce GTX 1050 Ti came out earlier this week we didn't have enough time to properly overclock it, but we were impressed by the performance that the stock card had for $140 price point. The MSI GeForce GTX 1050 Ti 4G OC graphics card (
$139.99
) showed that it could easily beat the XFX Radeon RX 460 4GB that also just happens to be priced at
$139.99 shipped
 and it was usually performing close to the EVGA GeForce GTX 960 Super SuperClocked 4GB that was priced at $239 just one year ago. It made us wonder just how much more could we improve performance if we manually overclocked it?
The MSI GeForce GTX 1050 Ti 4G base model comes clocked at 1290MHz base with a 1392MHz boost clock speed. The model that we are looking at today is the MSI GeForce GTX 1050 Ti 4GB OC model that comes factory overclocked 1342MHz base with 1455MHz boost clocks. NVIDIA said that you'll be able to "hit speeds in excess of 1,900MHz with ease" when overclocking the GeForce GTX 1050 Ti, so we will be using the MSI Afterburner Utility to see just how far we can push the GeForce GTX 1050 Ti.
The first thing we noticed in MSI Afterburner 4.3.0 Beta 14 is that the MSI GeForce GTX 1050 Ti 4G OC graphics card unfortunately doesn't have too many overclocking knobs to turn. For example, there is no core voltage adjustment on this series nor is there the ability to raise the power limit percentage past 100%. NVIDIA says you don't need any extra voltage to get over 1900MHz on this card and with no external power connectors on the board the voltage controls might have been removed so the card doesn't use more than 75W of power. The good news is you can manually adjust the core and memory clocks as well as the temperature limit and the fan speed.
We were able to increase our core clock up to +175 MHz and the memory clock to +750 MHz without making any other changes. This increased our base clock from 1342 MHz up to 1517 MHz and the boost clock from 1455 MHz up to 1630 MHz. The memory clock went from 1752 MHz (7008 MHz effective) up to 2127 MHz to 8,508 MHz or so we thought.
After running some benchmarks and looking at the logs we found that our cards 4GB GDDR5 memory was actually locked at 8008 MHz and that we were unable to get over get over 1911MHz on the core. We asked NVIDIA about overclocking limitations on the GeForce GTX 1050 Ti and were told that they were looking into it. When we asked MSI USA about the overclocking wall that we were hitting they said that there was most likely a limit placed on the card and followed that up by saying most "All NVIDIA cards are usually locked." Maybe lower-end cards are limited, but we disagree with the statement that most NVIDIA graphics cards are locked.
We took a look at our GPU-Z logs that we keep during benchmarking runs and charted a couple of them for you to see. The only time we were hitting over 1900 MHz was while we were in the game menu or loading the maps when when the GPU load wasn't 100%. The average clock speed in Deus Ex: Mankind divided was 1846 MHz and in Battlefield 4 it was 1837 MHz, both of which are very respectable seeing how the GeForce GTX 1050 Ti has a suggested 1290 MHz base clock on paper. In Battlefield 4 we noticed the clock speed was pegged at just 99% until the very end where it hit 100% load for the first time. GPU-Z showed that the card was power limited while gaming, so the clock speeds vary due to this and are not very consistent.
This made us wonder what clock speed consistency looked like on the stock MSI GeForce GTX 1050 Ti 4G OC, so we took a look and found that the clock speeds still varied and weren't consistent. In the run of BF4 above we averaged 1724 MHz and it eventually flat lined at 1721 MHz at the end of the run. So, our 175 MHz overclock on the core clock helped our average core clock in BF4 go from 1724 MHz to 1837 MHz, which is an increase of 113 MHz.
Now that we have the basics out of the way we can take a look at the test system and get to the benchmarks!
Test System
Before we look at the numbers, let's take a brief look at the test system that was used. All testing was done using a fresh install of Windows 10 Pro 64-bit and benchmarks were completed on the desktop with no other software programs running.  There has been some concern of people testing a cold card versus a hot card, but we've always done out testing 'hot' since the site started back more than a decade ago.
Video Cards & Drivers used for testing:
AMD Radeon Software Crimson Edition 16.10.2 for Radeon RX 480/470/460 and Crimson 16.7.3 For All Others
NVIDIA  GeForce 375.63 for GTX 1080/1070/1060/1050Ti/1050/960 and GeForce 362.00 For All Others
Intel X79/LGA2011 Platform
The Intel X79 platform that we used to test the all of the video cards was running the ASUS P9X79-E WS motherboard with BIOS 1704 that came out on 05/08/2015. We went with the Intel Core i7-4960X Ivy Bridge-E processor to power this platform as it is PCIe 3.0 certified, so all graphics cards are tested with PCI Express Gen 3 enabled. The Kingston HyperX 10th Anniversary 16GB 2400MHz quad channel memory kit was set to XMP Profile #2. This profile defaults to 2133MHz with 1.65v and 11-13-13-30 2T memory timings. The OCZ Vertex 460 240GB SSD was run with latest firmware available. A Corsair AX860i digital power supply provides clean power to the system and is also silent as the fan hardly ever spins up. This is critical to our testing as it lowers the ambient noise level of the room and gives us more accurate sound measurements.
Here are the exact hardware components that we are using on our test system:
The Intel X79 Test Platform

Component

Brand/Model

Live Pricing

Processor
Intel Core i7-4960X
Motherboard

ASUS P9X79-E WS

Memory

16GB Kingston 2133MHz

Video Card
Various
Solid-State Drive
OCZ Vertex 460 240GB
Cooling
Intel TS13X (Asetek)
Power Supply
Corsair AX860i
Operating System
Windows 10 64-bit
Monitor
ASUS PB287Q 28" 4K
MSI GeForce GTX 1050 Ti 4G OC Video Card Stock:
MSI GeForce GTX 1050 Ti 4G OC Manually Overclocked: 
Let's move on to the Battlefield 4 benchmark results!
Battlefield 1
Battlefield 1
(also known as
BF1
) is the fifteenth installment in the
Battlefield Series
developed by DICE and published by EA. The game is set during World War I. It was released world wide on October 21, 2016. The singleplayer campaign of Battlefield 1 takes place across six different "War Stories" which revolve around different people in different aspects of the Great War in campaigns such as the Italian Alps and the deserts of Arabia. We benchmark in Through Mud and Blood, which is the second mission in singleplayer campaign. Taking place late in the war, the player assumes the role of Danny Edwards, a British recruit joining the crew of a Mark V Landship named Black Bess as their new tank driver. New to the war and inexperienced in driving the unreliable vehicle, Edwards is given a trial by fire with his first mission: punch through the German line at Cambrai with a broken tank and a crew that has no trust in him.
Battlefield 1 features the Frostbite 3 game engine and has very good graphics with tons of destructibles. Maps also now feature dynamic weather systems, affecting combat in various ways; for example, The St. Quentin Scar can either start as a clear, sunny day, a dark, foggy day, or in the middle of a rainstorm, and switch between them during the round.
We tested BF1 at 1920 x 1080 with the 'Ultra' graphics quality preset in DX12 with the GPU Memory Restriction turned off. We also disabled VSync.
Benchmark Results:
 In BF1 the stock MSI 
GeForce GTX 1050 Ti 4GB averages 53.3 FPS and with our manual overclock we were able to improve that to 57.8 FPS. Thanks to this 8.4% performance increase, this $139 graphics card was able to beat the EVGA GeForce GTX 960 Super SuperClocked 4GB video card that came out last fall for $239.99. Pretty impressive that this generations $139 video card is able to perform on par with the previous years $239 graphics card! 
Deus Ex: Mankind Divided
Deus Ex: Mankind Divided is an action role-playing stealth video game developed by Eidos Montreal and published by Square Enix. Set in a cyberpunk-themed dystopian world in 2029, two years after the events of Human Revolution, Mankind Divided features the return of Adam Jensen from the previous game, Deus Ex: Human Revolution, with new technology and body augmentations. The game was released on August 23rd, 2016 for PC users.
Deus Ex: Mankind Divided uses a heavily modified version of the Glacier 2 engine that has been tweaked so much that they are now calling it the Dawn game engine.
We took a look at GPU performance using the 'High' image quality preset with MSAA and VSync turned off. We picked to run just 'High' image quality settings due to how tough this game title is to render and we feel that most gamers will try to target this setting.
Benchmark Results:
The MSI GeForce GTX 1050 Ti 4G OC averaged 32.8 FPS on average and we were able to increase that to 42.5 FPS with our manual overclock.
Gears of War 4
Gears of War is a video game franchise created and originally owned by Epic Games, developed and managed by The Coalition, and owned and published by Microsoft Studios. The series focuses on the conflict between humanity, the subterranean reptilian hominids known as the Locust Horde, and their mutated counterparts, the Lambent & the Swarm.
Gears of War 4
 was released on October 11, 2016 for the PC and is an interesting game title in the sense that it must be run on Windows 10 Anniversary Edition. It uses the DirectX 12 API with features like async compute and tiled resources.
Microsoft and the developer (The Coalition) have worked hard to make the PC port not suck and have placed over 30 graphics cards settings in the option menu with over 100-plus options that you can adjust. We are using the ultra image quality preset with VSync turned off.
Gears of War 4 comes with a built-in benchmark that appears to be pretty decent and shows the average minimum framerate (bottom 5%) in the results. This is the benchmark that we ran on our 
graphics
cards with Ultra image quality settings to see how they would perform.
Benchmark Results:
In Gears of War 4, the MSI GeForce GTX 1050 Ti 4GB averaged 49.4 FPS in stock trim and 52.7 FPS with our overclock on it. This is a nice 6.7% performance increase for free. 
Battlefield 4
Battlefield 4 is a first-person shooter video game developed by EA Digital Illusions CE (DICE) and published by Electronic Arts. It is a sequel to 2011's Battlefield 3 and was released on October 29, 2013 in North America. Battlefield 4's single-player Campaign takes place in 2020, six years after the events of its predecessor. Tensions between Russia and the United States have been running at a record high. On top of this, China is also on the brink of war, as Admiral Chang, the main antagonist, plans to overthrow China's current government; and, if successful, the Russians will have full support from the Chinese, bringing China into a war with the United States.
This game title uses the Frostbite 3 game engine and looks great. We tested Battlefield 4 with the Ultra graphics quality preset as most discrete desktop graphics cards can easily play with this IQ setting at 1080P and we still want to be able to push the higher-end cards down the road. We used FRAPS to benchmark with these settings on the Shanghai level. All tests were done with the DirectX 11 API.
Benchmark Results:
 In Battlefield 4, the MSI 
GeForce GTX 1050 Ti 4G OC came in with an average of 67.1 FPS at the stock settings and then 71.7 FPS when overclocked! 
Tom Clancy's The Division
Tom Clancy's The Division
is an online-only open world third-person shooter video game developed by Ubisoft Massive and published by Ubisoft, with assistance from Red Storm Entertainment, for Microsoft Windows,PlayStation 4 and Xbox One. It was announced during Ubisoft's E3 2013 press conference, and was released worldwide on March 8th, 2016. The Division is set in a dystopian New York City in the aftermath of a smallpoxpandemic; the player, who is an agent of the titular Strategic Homeland Division, commonly referred to as simply "The Division", is tasked with helping to rebuild the Division's operations in Manhattan, investigating the nature of the outbreak and combating criminal activity in its wake. The Division is structured with elements of role-playing games, as well as collaborative and player versus player online multiplayer.
The Division
uses Ubisoft's new proprietary engine known as Snowdrop, which is made for PC, PlayStation 4 and Xbox One. Snowdrop was created in-house, at Massive, in response to a specific requirement: to do things better, not bigger. The engine focuses on dynamic global illumination, stunning procedural destruction and a great amount of detail and visual effects. The developers wanted a powerful engine that works intelligently and not by brute force only.
We ran
The Division
 with the image quality settings set at Ultra and VSYNC was disabled. We tried to FRAPS to benchmark with these settings, but found it was pretty much impossible due to the night and day cycle always changing when you enter the game and the spot where you load in the open world is slightly different. Unable to get consistent results we resorted to used the games built-in benchmark.
1080P Benchmark Results:
The Division is pretty tough on graphics card and the and the MSI GeForce GTX 1050 Ti 4G OC averaged 34.0 FPS with the default settings and 36.5 after our tweaks in the MSI Afterburner utility. 
3DMark Fire Strike
3Dmark Fire Strike Benchmark Results - For high performance gaming PCs
Use Fire Strike to test the performance of dedicated gaming PCs, or use the Fire Strike Extreme preset for high-end systems with multiple GPUs. Fire Strike uses a multi-threaded DirectX 11 engine to test DirectX 11 hardware.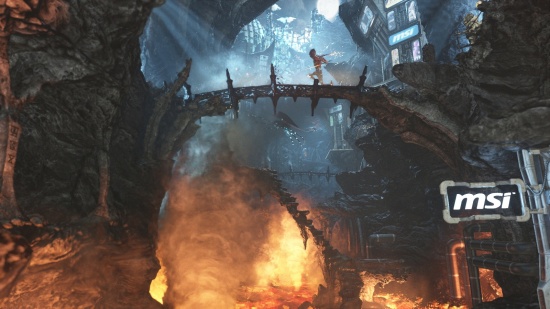 Fire Strike Benchmark Results:
Benchmark Results: The MSI GeForce GTX 1050 Ti 4G OC scores 6,789 points in 3DMark Fire Strike, but we were able to improve that to 7,266 points with our overclock. 
Final Thoughts and Conclusions
Our overclocking on the MSI GeForce GTX 1050 Ti 4G OC shows that you can unlock another 7-8% of hidden performance in real world game titles. This just makes the GeForce GTX 1050 Ti series more appealing as it shows that you can get more performance than ever at the $139 price point. It also put more distance between the GeForce GTX 1050 Ti 4GB and the Radeon RX 460 4GB at the $139 price point and shows that NVIDIA is clearly the leader here. NVIDIA managed to nail this release as the GeForce GTX 1050 Ti is powerful and manages to dominate the competition without the assistance of an additional external power header.
Our overclocking testing did highlight the fact that NVIDIA likely put some overclocking limits on the GeForce GTX 1050 Ti to keep the power envelope in-check. NVIDIA hasn't given us a definitive answer on this, but we'll be sure to update this article when they come up with an official statement that has been approved by their legal department. It used to be easy to get answers about things like that, but these days it takes longer as there are so many legal concerns.
Other review sites that bothered to do overclocking on the GeForce GTX 1050 Ti just happened to max out at the same levels that we did. The folks over at [H]ard|OCP took a look at the MSI GeForce GTX 1050 Ti Gaming X 4G, which is a card that has an external 6-pin PCIe power connector, and found rock solid clock speed consistency at both stock (1747MHz) and overclocked (1911MHz) speeds. Our speeds are not consistent without the connector and since GPU-Z shows are card being power limited we assume that the clocks are stable due to power limitations.
Based on what we are seeing for clock speeds on the MSI GeForce GTX 1050 Ti 4G OC and what [H]ard|OCP are seeing on MSI's higher-end card with external power we can safely assume that having some extra power on these boards might be beneficial to have stable clock speeds. Then again the MSI GeForce GTX 1050 Ti 4G OC is priced at $139.99 and the MSI GeForce GTX 1050 Ti Gaming X 4G is priced at $164.99. Is it worth spending $25 more to have roughly 20 MHz more with full stability? We think not as the GeForce GTX 1060 series cards can be found for as little as $189 after rebates and the AMD Radeon RX 470 4GB cards have been reduced down to as low as $169 before rebates.
Despite the overclocking cap and inconsistent frame rates on the MSI GeForce GTX 1050 Ti 4GB OC we still like the card and are happy with the recommended award we gave it in our original review. The performance is awesome for this price and even when overclocked we hard a tough time getting the card over 60C and this is on one of the entry-level cards that is available for the $139 SRP. It is very hard to complain about that!
Update 1 @ 12pm CT 10/27/2016:
NVIDIA PR let us know that the GeForce GTX 1050 Ti shouldn't be locked and that there might be a bug that requires a driver update. They have pinged the engineering team to look into the matter.
Update 2 @ 3:30pm CT 10/27/2016:
We have duplicated the issue on cards from EVGA and Zotac. NVIDIA is looking into a driver update to resolve the issue. It will be interesting to see how the card overclocks with this 'bug' removed!
Update 3 @ 7am CT 11/01/2016:
No update from NVIDIA, but our sources inside NVIDIA have said it could be weeks to get the driver fix for the OC limits we encountered rolled out.
Legit Bottom Line: The MSI GeForce GTX 1050 Ti 4G OC video card overclocks to what appears to be the limits set by NVIDIA and gets a nice little performance bump as a result.