Samsung today introduced the latest addition to the Exynos product family with top level of graphic performance driven by a six-core ARM Mali-T628 GPU processor for the first time in the industry. With mobile use case scenarios becoming increasingly complex, Samsung's newest eight-core ARM Cortex-based application processor gives designers a powerful, energy efficient tool to build multifaceted user interface capabilities directly into the system architecture.


Samsung's new Exynos 5 Octa (product code: Exynos 5420), based on ARM Mali-T628 MP6 cores, boosts 3D graphic processing capabilities that are over two times greater than the Exynos 5 Octa predecessor. The newest member of the Exynos family is able to perform General-Purpose computing on Graphics Processing Units (GPGPU) accelerating complex and computationally intensive algorithms or operations, traditionally processed by the CPU. This product also supports OpenGL ES 3.0 and Full Profile Open CL 1.1, which enables the horsepower needed in multi-layer rendering of high-end, complex gaming scenarios, post-processing and sharing of photos and video, as well as general high-function multi-tasking operations. The newest Exynos processor is powered by four ARM Cortex-A15 processors at 1.8GHz with four additional Cortex-A7cores at 1.3 GHz in a big.LITTLE processing implementation. This improves the CPU processing capability by 20 percent over the predecessor by optimizing the power-saving design.


The new family of Exynos 5 Octa is currently sampling to customers and is scheduled for mass-production in August.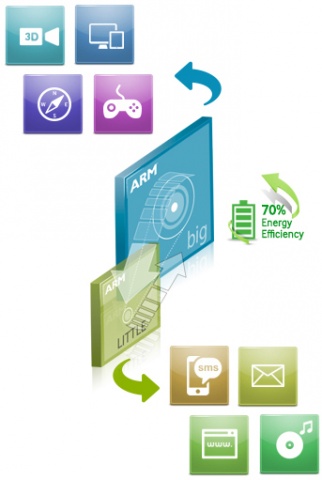 "ARM welcomes the latest addition to the successful Exynos Octa 5 series, which uses ARM's Mali GPU solution to dramatically improve graphics performance," said Pete Hutton, executive vice president & general manager, Media Processing Division, ARM. "ARM big.LITTLE and ARM Artisan Physical IP technologies continue to be at the heart of the Octa series and now complement the new functionality brought by ARM GPU Compute. This combination enables unprecedented capabilities in areas such as facial detection and gesture control, and brings desktop-quality editing of images and video to mobile devices."