TRENDnet today announces the availability of the USB 3.0 to HD TV Adapter, model TU3-HDMI, which extends a Windows-based computer's viewing field to a HD TV, monitor, receiver, or projector with a HDMI port.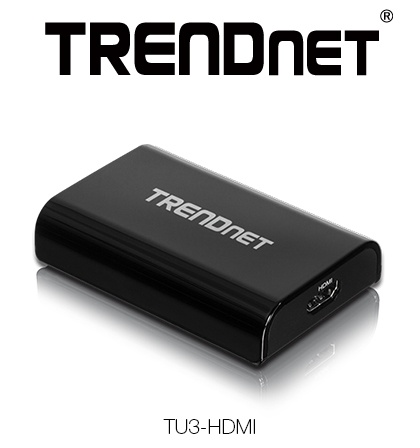 The adapter converts a 5 Gbps SuperSpeed USB 3.0 port on a computer to a HDMI port. It also works with standard USB 2.0 or 1.1 ports. The TRENDnet TU3-HDMI is available now and runs $99.99. For that price you'd be better off buying a new low-end video card that has HDMI already built-in. For example you can buy the EVGA GeForce 8400 GS 1GB video card for $24.99 shipped after rebate and have native HDMI and don't need a dongle. The only real market for this is older laptops that don't have HDMI.
"TRENDnet's TU3-HDMI combines the functionality of your computer with the visual impact of your big screen HD TV," stated Sonny Su, technology director for TRENDnet.