ECS introduces the first Intel 8-Series Motherboards featuring the new 4th Generation Intel Core processor family for their new family of desktop motherboards Pro, Deluxe and Essentials.
The new ECS (Elitegroup Computer Systems) family of motherboards featuring the new Intel 8-series Chipset family with new designed specifically for the new 4th Generation Intel Core processor family of CPUs, which will be available and shipping worldwide in Q2 2013. The new chipset features support for full SATA III 6 Gb/s internal ports and PCI-Express Gen.3 x16 bus design. They also integrate USB 3.0, Thunderbolt, and enable responsiveness technologies like Intel Smart Response, Intel Smart Connect, and Intel Rapid Start.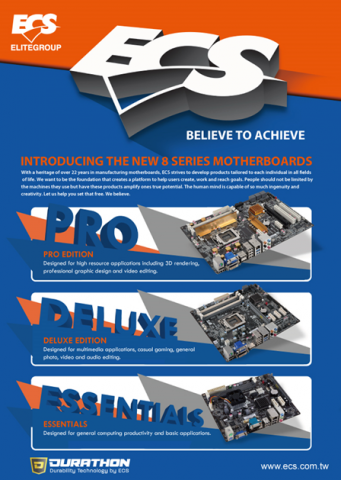 ECS is also introducing a new family of motherboard tiers including: Pro series optimized for power computing, Deluxe series optimized for small office and home, and Essentials series optimized for home and multi-media. The new ECS family of motherboards will feature ECS's new Durathon durability technology which includes a triple density PCB, extreme temperature resistance, 1.5K point marathon testing, and superior solid capacitors designed to greatly improve motherboard quality, stability and longevity.