Toshiba today announced Canvio Connect, a portable external hard drive that offers high capacity storage along with the ability to access and share files directly from the device, making it the first of its kind. Toshiba's Canvio Connect is a portable external hard drive that offers up to 2TB of storage in a new slim and compact form factor and is available in several different colors, including black, silver, blue, red and white. What sets the Canvio Connect apart from competitive storage offerings currently on the market is its ability to access and share files anytime, anywhere. For the first time ever, a product within Toshiba's portable hard drive lineup will allow users to back up videos and photos directly from smartphones, tablets and other mobile devices that are equipped with Toshiba Storage's iOS or Android app to the external hard drive.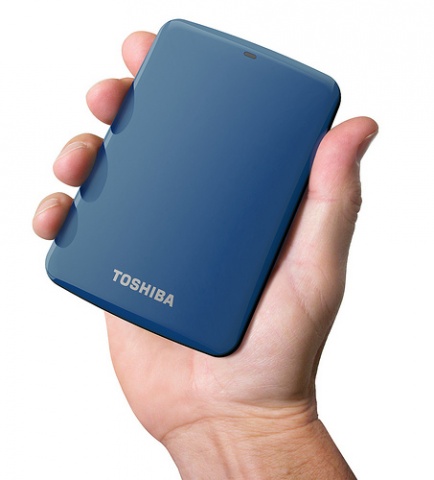 Toshiba's Canvio Connect is pre-formatted NTFS for Windows PC and comes with a NTFS driver for Mac, allowing users to store and access files from their PC and Mac without reformatting. The device also includes two year limited warranty. The Canvio Connect will be available for purchase from select retailers in mid-May. Pricing for the external hard drive will be $99 for 500GB, $109.99 for 750GB, $129.99 for 1TB, $169.99 for 1.5TB and $189.99 for 2TB.
"Toshiba's Canvio Connect represents the next evolution in external portable hard drives," said Maciek Brzeski, vice president of product marketing and development, Branded Storage Products, Toshiba America Information Systems, Inc., Digital Products Division. "With its remote access and file sharing capabilities, users can now share their digital content with friends, family and colleagues from anywhere at any time directly from their Canvio Connect — making it unlike any other portable hard drive on the market."