Debuting at GDC 2013 were new graphics capabilities for forthcoming Intel HD Graphics platforms that are accessible through DirectX extensions. The first of these extensions, called PixelSync, provides access to underlying hardware that allows programmers to properly composite partially transparent pixels without the need for an expensive sorting operation. Game developers have long awaited this 'ray casting' capability in order to more realistically render smoke, hair, windows, foliage, fences and other complex geometry and natural phenomena. InstantAccess, the second new extension, works by allowing physical memory to be written and read from either the CPU or from the built-in Intel HD Graphics.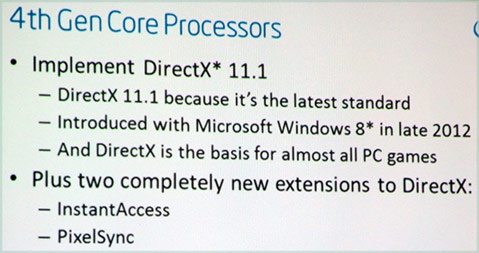 Intel Haswell processors with 4th Gen Intel HD Graphics will fully support DirectX 11.1 along with the aforementioned InstantAccess and PixelSync plugins. These plugins will only work on Intel Haswell processors for the time being, but could be included by Microsoft in future DirectX versions. This would mean that NVIDIA and AMD could support these features on discrete video cards in the future, but for now they are just a feature that Intel supports.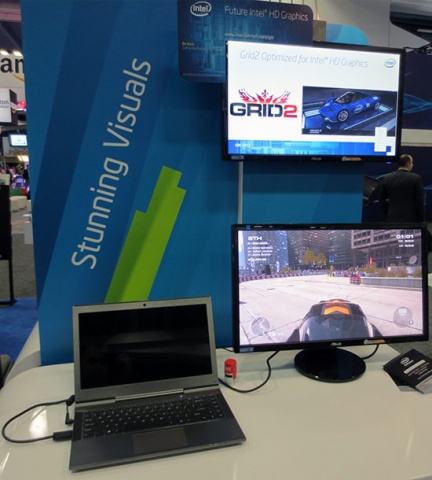 Intel was showing off PixelSync on Grid 2, which is an upcoming racing video game, currently under development by Codemasters.

The game played smoothly at 1920x1080 and when smoke was in the scene it did look good.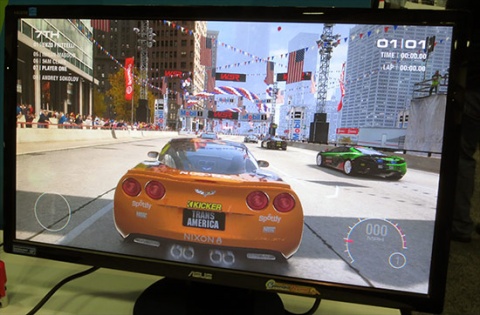 The Intel demo was performed on a laptop, but that is all we really know. Intel was not talking product names, part numbers, performance figures or anything here at the show. So, we now know that Intel Haswell processors have a pair of DirectX extensions that some game companies will be using in upcoming game titles, so get ready for integrated graphics to have features that your discrete card can't do! Never thought we'd ever say that!
"The artists working on 'Grid 2' have been requesting this type of effect for years, and prior to this, it wasn't possible to achieve it at a reasonable cost," said Clive Moody, senior executive producer at Codemasters Racing. "The fact that this capability will be available to millions of consumers on forthcoming 4th generation Intel Core processors is very exciting to us."