Things aren't going too well over at Square Enix right now as the president has stepped down and the company has announced an 'extraordinary' financial loss. This morning it was announced th Yoichi Wada is no longer Square Enix president and representative director. According to Square Enix's announcement, the change is "subject to a resolution" at the company's annual shareholders meeting in June, and a board of directors meeting held afterwards. The news coincides with Square Enix announcing further major revisions to its fiscal year forecasts, which the company attributes to its decision to implement major restructuring in the wake of "the rapidly changing environment of the game businesses." Square Enix expects the changes, which it noted as affecting development policy, organizational structure, and business models, to incur a total "extraordinary" loss of ¥10 billion, or around $106 million. Ouch!
Venture Beat is also reporting the company has sold off its portfolio of free-to-play games to startup Sleepy Giant Entertainment. Square Enix is a video-game publisher and developer best known for its Final Fantasy and Tomb Raider series. The company most recently re-launched the Tomb Raider franchise to critical success.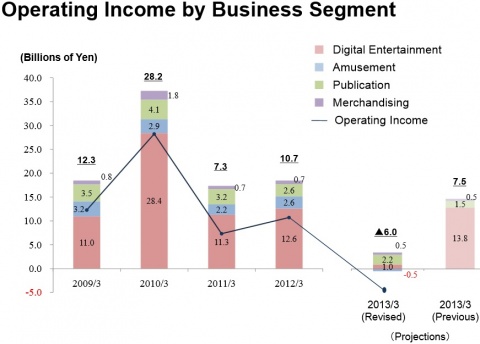 Factors Causing the Revision The Company forecasts that actual business results from its Digital Entertainment Segment substantially fall below its plan primarily due to slow sales of major console game titles in North American and European markets. The Company is also experiencing sluggish performance of its arcade machine business. In addition to these factors, the Company expects to incur extraordinary loss about loss from restructuring in the settlement of the account for its fiscal year ending March 31, 2013...