Samsung recently released its new Magician 4.0 software, which helps users manage their Samsung SSDs' performance by providing vital information on the drives' health status. In addition, Samsung released its new Data Migration 2.0 software designed to help users quickly, easily, and safely migrate all of their data ­ including their current operating system, application software, and user data ­ from an existing SSD or HDD storage device to their new Samsung SSD. The Samsung Magician SSD management and Data Migration 2.0 software utilities are free and work with all Samsung SSD products, including 470 Series, 830 Series, and 840 Series Family SSDs. This software is not compatible with other manufacturer's SSDs, but if you own a Samsung SSD be sure to give them a try!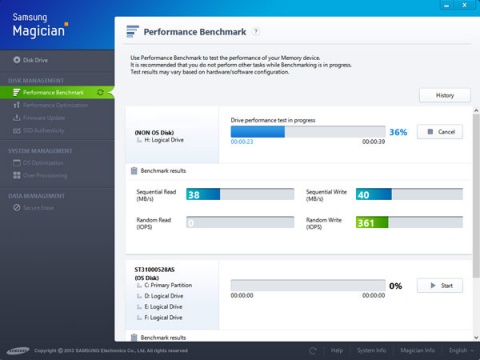 The new Magician 4.0 release features several major improvements:
Redesigned user interface is even easier for new drive owners to use.
Simple, traffic light-style graphics show drives health status and diagnostics.
Total bytes written (TBW) function tracks how much data has been written to the SSD.
At-a-glance configuration information, including SATA interface and AHCI support.
Simpler OS optimization configures SSD for maximum performance, capacity, or reliability.
Authentication feature verifies that

SSDs

are genuine Samsung products.