SteelSeries today introduced a new audio product that fits into its Freedom to Play mobile gaming peripherals category, the SteelSeries Flux In-Ear Headset. Designed for gaming and entertainment on all mobile devices, the headset delivers a powerful audio experience accompanied by a comfortable, sealed-fit that is made possible by its compact, 6mm dynamic drivers. The SteelSeries Flux In-Ear Headset has an MSRP of $49.99.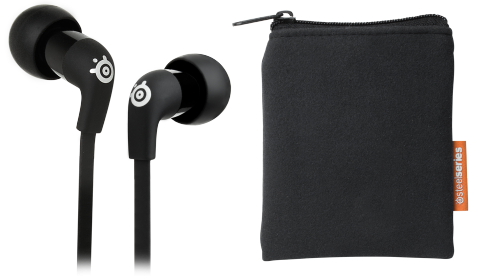 SteelSeries Flux In-Ear headset features:
Comfort and control
through a sealed in-ear fit; 
3 silicone rubber tips sizes to choose from; an in-line microphone; and button to answer/end calls as well as control media.
Incredible audio thanks to advanced 6mm drivers; passive noise cancellation from a more secure, sealed in-ear fit; clear high and mid tones that depict distinct details in-game; and rich bass levels that keep from distorting the details found in higher tones.
A smart, intuitive design
that includes a flat, no-tangle cable; a 3.5mm connection; and a carrying case for convenient storage.
"The Flux In-Ear headsets are designed for mobile gaming and entertainment, which for us means the quality of sound should be as amazing as it is when you're at home on your computer. The fit and feel of in-ear headsets are what makes users love them or can be what stops users from wearing them," said Bruce Hawver, SteelSeries CEO. "By choosing small drivers, it allowed us to make an in-ear headset that showcases powerful audio, but with a noise-reduced, comfortable sealed fit."