AMD has been heavily promoting game bundles recently, but they aren't the only company that can bundle game titles or give away game incentives with new video card purchases. NVIDIA has noticed that many blockbuster games are moving to the free-to-play business model, so for this promotion they are targeting the free-to-play gamer!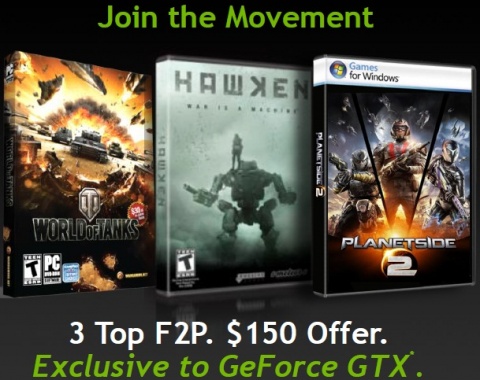 The NVIDIA Gear Up Free 2 Play Bundle will give GeForce GTX video card buyers credit for paid-for extras in some of the most popular F2P available today; Planetside 2, World of Tanks and Hawken.
Planetside 2 – One of the highest scoring game on Metacritic in 2012. The game is demanding, and requires a high end graphics cards (similar to what you would need to play the likes of Crysis 3 or Far Cry 3).
World of Tanks – one of the biggest games out there and a big cultural phenomenon, requiring a mid-range GPU to run the game at 1080p.
Hawken – powered by PhysX, this title also requires high end graphics hardware for 1080p play, in order to receive stunning visuals and ground-breaking gameplay.
From today on, buyers of GeForce GTX 650 or above cards will receive up to $150 (£100) of in-game value to use!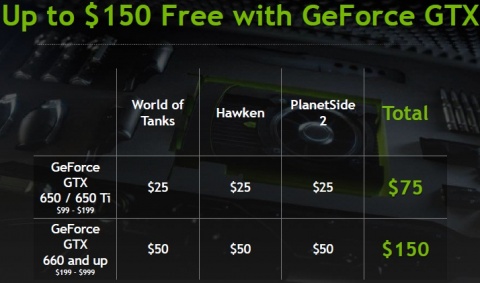 NVIDIA also stated that 36 million gamers don't meet the recommended specs of the games they are playing, which means they are missing out having the best graphical experience around. If you've been putting off buying a new graphics card and are looking for a new one, the NVIDIA Free 2 Play Bundle is aimed to get you buying!