Micron Technology and TE Connectivity announced today the availability of a Single-Sided SODIMM and a low-profile single-sided, DDR3 SODIMM connector solution for Ultrabook devices, convertibles, tablets and other thin and light devices. Aimed at providing a reduced-height memory solution for the ultrathin computing market, the new Single-Sided SODIMM, developed by Micron, has components on either the front or back side of the module, but not both. When paired with the single-sided DDR3 SODIMM connector from TE, the total z-height of the overall solution from the motherboard is just 3mm, a 35 percent savings compared to 4.6mm for a standard SODIMM solution.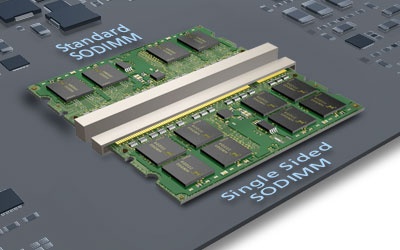 Micron's Single-Sided SODIMM is available in a 4GB, single-rank, x8 configuration. In addition to a reduced height, this new module is built using 30nm DDR3L-RS components that consume less power in standby compared to standard DDR3. Additionally, Single-Sided SODIMMs are pin-to-pin compatible with current DDR3 modules, making them backward compatible with existing DDR3 SODIMM connectors. Single-Sided SODIMM samples are available from Micron now, with mass production scheduled for Spring, 2013.
"Given the depth and breadth of ultrathin devices currently on the market, coupled with consumer demands for sleek, lightweight designs, Micron's objective is to offer solutions that meet the specialized power, portability and battery life needs," said Kris Kido, Micron's Director of Business Development, Computing Devices. "Micron's unique Single-Sided SODIMM form factor meets those requirements and leads the way for future developments in this growing segment."