AMD today announced the arrival of its "Never Settle: Reloaded" game bundle, the sequel to last year's monumental "Never Settle" bundle. "Never Settle: Reloaded" delivers by bundling up to four of this year's most anticipated PC games -- "BioShock Infinite" by 2K Games and Irrational Games, "Crysis 3" by Electronic Arts, "DmC Devil May Cry" by Capcom and "Tomb Raider" by Square Enix -- with select AMD Radeon™ HD 7900 and HD 7800 Series graphics cards.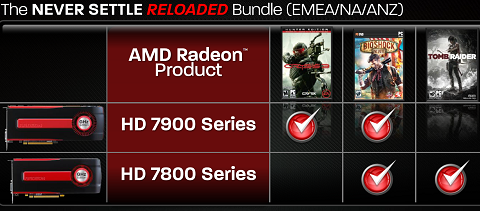 AMD says that the bundle highlights the continued commitment by AMD to ensure an incredible gaming experience on the world's top PC titles optimized for AMD Radeon graphics cards.

If you buy two AMD Radeon HD 7900 series GPUs or a Radeon HD 7990 GPU you are eligible for a bundle that consists of six games titles; Crysis 3, Bioshock Infinite, Tomb Raider (2013), FarCry 3, Hitman Absolution and Sleeping Dogs! Not bad game bundles and something that you should keep in mind when you make your next video card purchase! AMD has without a doubt the best PC game bundles right now! You can find out all the terms and conditions of this game bundle promotion here.
"AMD knows gaming and in 2013 we plan to make a huge mark on the industry. Today we begin that journey by showing the world that the best PC game developers are AMD Gaming Evolved partners," said Matt Skynner, corporate vice president and general manager of AMD Graphics. "The 'Never Settle: Reloaded' bundle clearly stands apart from anything else in the market. Gaming has always been, and will remain, the core of the AMD Graphics strategy and success. In 2013, we plan to forge greater inroads into the gaming industry and it begins with packaging this year's biggest games with the best graphics hardware from AMD."