NVIDIA released GeForce 313.95 beta drivers this morning and they are aimed at gamers that are going to be participating in the Crysis 3 Open Beta! The GeForce 313.95 beta drivers improves multi-GPU performance in Crytek's upcoming sci-fi shooter by up to 35%, and ensures maximum compatibility with the game title.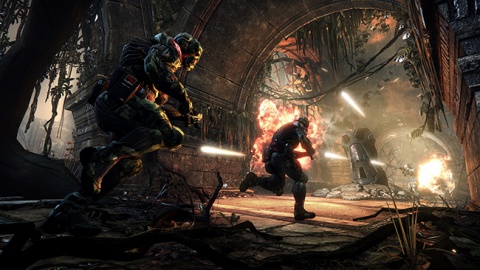 NVIDIA GeForce 313.95 Beta drivers offer pretty good performance increases compared to GeForce 310.90 WHQL drivers as you can see in the test results below that were done on a single GeForce GTX 680 video card. NVIDIA says you can expect sizeable SLI and single-GPU performance gains of up to 27% in Assassin's Creed III, 19% in Civilization V, 14% in Call of Duty: Black Ops 2, 14% in DiRT 3, 11% in Just Cause 2, 10% in Deus Ex: Human Revolution, 10% in F1 2012, and 10% in Far Cry 3. Sounds like these drivers are certainly worth upgrading to! You can download GeForce 313.95 beta drivers here.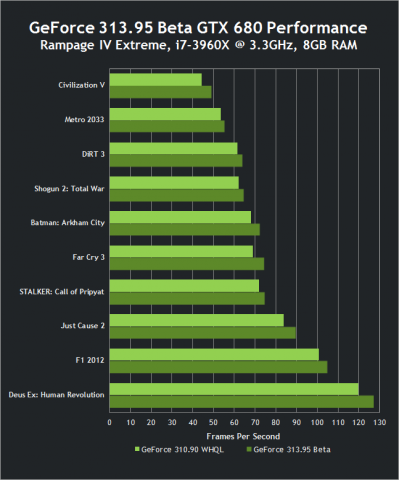 The Crysis 3 Multiplayer Open Beta begins tomorrow, offering gamers their first look at a near-final version of Crytek's latest first-person sci-fi shooter. Featuring two maps, two modes, and the first ten levels of the multiplayer progression system, it's a sizeable slice of Crysis 3 goodness. More importantly, the beta will give gamers a good sense of how the final product will run on their systems – at this stage debug bits and bobs still exist, and final optimization has yet to occur, but in general development is in the final stretch, with graphics settings and features locked down.