Deepcool today announced a new CPU cooler called the GAMMAXX S40. This CPU cooler measures in at 120X81.3X143mm and weighs 610g, which makes it on the smaller side of things according to Deepcool. This U-Type tower cooler features four 6mm heatpipes that directly touch the CPU surface (Core Touch Technology) for better thermal transfer. The heatsink body is fully nickel plated to prevent from oxidation and to keep it looking great for years to come. The 120mm PWM cooling fan is included and spins from 900 to 1600 RPM for a maximum airflow of 55.5CFM at 21dBA. The suggested retail price of this HSF is €25 or $30.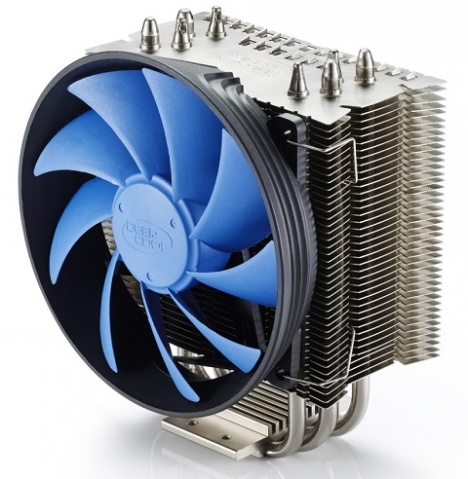 Deepcool GAMMAXX S40 CPU Cooler Features:
Equipped with multiple clips to support Intel 2011/1366/1156/1155/775 and AMD FM2/FM1/AM3+/AM3/AM2+/AM2.
Ф120x25mm fan with PWM function offers a perfect balance between airflow and noise.
Double Airflow Channel(D.A.C.) technology allows more cold air to cool the surrounding components, such as MOS.
4 pieces of Ф6mm heatpipes, Core Touch Technology (CTT) gives perfect contact with the CPU surface.
The whole heatsink set is nickel plated for appealing appearance and also for gaming spirits.
De-vibration design absorbs operating noise maximally.