AMD today launched the AMD Open 3.0 platform (formerly codenamed "Roadrunner,") a radical rethinking of the server motherboard designed to the standards developed by the Open Compute Project. AMD Open 3.0 enables substantial gains in computing flexibility, efficiency and operating cost by simplifying motherboard design with a single base product to address multiple enterprise workloads, including high-performance computing, cloud infrastructure and storage. This innovative design is optimized to eliminate features typically over-provisioned in traditional server offerings.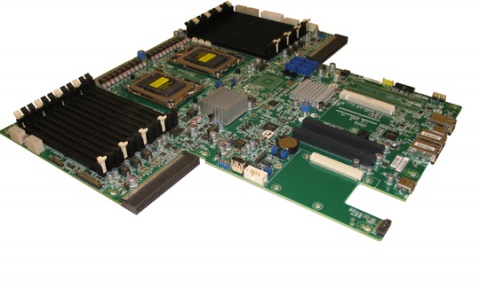 AMD Open 3.0, powered by the recently announced AMD Opteron™ 6300 Series processors, can be installed in all standard 19" rack environments without modification, as well as in Open Rack environments. The AMD Open 3.0 motherboard is a 16" x 16.7" board designed to fit into 1U, 1.5U, 2U or 3U rack height servers. It features two AMD Opteron 6300 Series processors, each with 12 memory sockets (four channels with three DIMMs each,) 6 Serial ATA (SATA) connections per board, one dual channel gigabit Ethernet NIC with integrated management, up to four PCI Express expansion slots, a mezzanine connector for custom module solutions, one serial port and two USB ports. Specific PCI Express card support is dependent on usage case and chassis height.

Pre-production AMD Open 3.0 systems are currently available to select customers. Production systems from Quanta Computer and Tyan are expected to be available through Avnet Electronics Marketing, Penguin Computing and other system integrators before the end of Q1.
"This is a realization of the Open Compute Project's mission of 'hacking conventional computing infrastructure,'" said Frank Frankovsky, chairman of the Open Compute Foundation and VP of Hardware Design and Supply Chain at Facebook. "What's really exciting for me here is the way the Open Compute Project inspired AMD and specific consumers to collaboratively bring our 'vanity-free' design philosophy to a motherboard that suited their exact needs."