Lilliputian and Brookstone introduced us to their revolutionary product called Nectar. This compact and lightweight system was designed to help keep your mobile devices charged.

Basically what you get with this system, is a charging station that has a single USB 2.0 port. You will also have a cable that has mini and micro USB connectors, as well as a standard Apple iPod/iPhone/iPad connector. However, there was no mention of a lightning connector, but I can't imagine them leaving this out come production.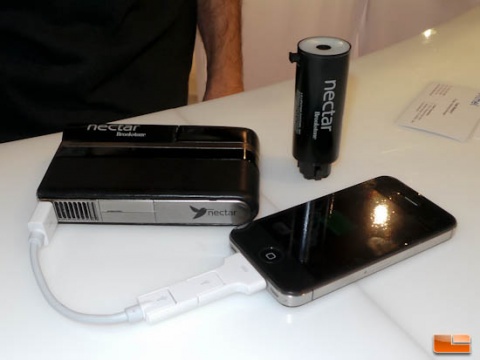 The next part to the kit is the Nectar Pod. This pod is said to provide up to two weeks of power for a mobile phone, all on a single charge! So with this pod and device, you'll be able to charge your smart phone, tablet, digital camera, mp3 player, etc., so long as it complies with USB 2.0 standards. Once the juice runs out of your pod, you just simply insert a new one and you're good to go!

The best part is, this device and its pods have been approved by the UN ICAO (International Civil Aviation Organization) and US DOT (Department of Transportation), so you'll be able to carry them with you on your flight.

The entire Nectar system is currently exclusive to Brookstone stores and Brookstone.com, with the charging unit running you $299.99 and the pods will be $9.99 each. They are currently available for pre-order and will be out by Summer 2013.