QNAP today announced that its recently released Turbo NAS TS-x69L series, available in 2, 4, 5, 6, 8-drive configurations, can now utilize its built-in HDMI port and new HD Station feature, turning the Turbo NAS into a comprehensive media player, allowing users to enjoy high-definition videos, pictures, music, and more right on the big screen TV in the comfort of home.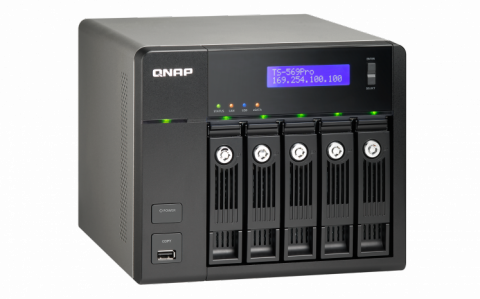 The HD Station supports various remote control options for controlling playback on the Turbo NAS, including QNAP IR remote control, USB wireless keyboard and mouse, or MCE-compatible remote controls. In addition, handy remote control apps are provided for users to use their mobile devices as a remote control for HD Station, including the Qremote app that is available for iOS mobile devices, and the official XBMC Remote app for iOS and Android devices. Whether a physical gadget or a mobile app, users can enjoy full flexibility in choosing a remote control that fits their needs for enjoying the HD Station. The TS-269L, TS-469L, TS-569L, TS-669L and TS-869L are currently shipping. The HD Station is available for the complete Turbo NAS TS-x69 series, with firmware 3.8.1 or newer.
"This amazing new HD Station feature is provided free of charge. Users now can easily enjoy a Full HD experience at home just by connecting the Turbo NAS with an HDMI cable to a big screen TV," said Jason Hsu, product manager of QNAP. The new HD Station, in conjunction with the intuitive XBMC media player, allows users to easily enjoy movies, home videos, photos, and music collections using the Turbo NAS at home.