CyberPower will unveil some PC gaming eye candy at the 2013 International CES when it debuts its new custom gaming notebook, the Fang Book; the console-like Zeus SFF gaming PC, and an all new liquid cooling system designed to take your multi-core gaming rig out of the red zone.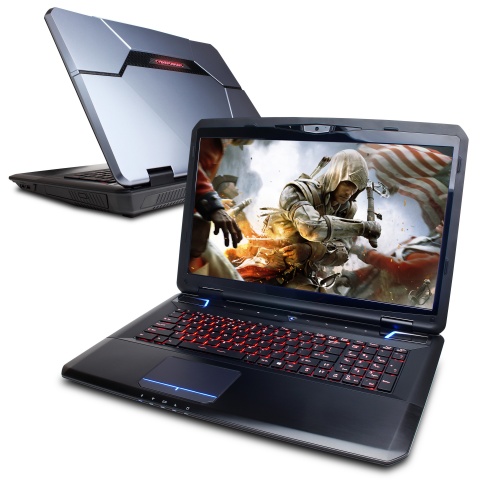 The Fang Book is a uniquely styled notebook with all the performance and eye-candy mobile gamers crave. The Fang Book features the latest Intel 3rd Generation i7 Quad Core Mobile CPU paired with NVIDIA's GTX 675M or GTX 680M Mobile GPUs to deliver uncompromising performance and power-efficient computing. A red back-lit gaming-grade keyboard and sturdy track pad gives you full control of the Fang Book. The Fang Book will feature a 17-inch 1920x1080 LED display; Intel i7-3630QM CPU; NVIDIA GTX 675M 4GB GPU; 8GB of system memory; 750GB 7200 RPM HDD; USB 3.0, Built-in card reader, Optical drive, and HDMI/VGA outputs. MSRP is $1299.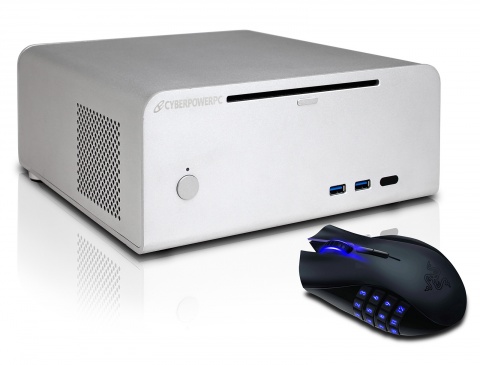 CyberPowerPC's all new Zeus SFF (Small Form Factor) gaming system stuffs everything PC gamers want into a console-sized small form factor. The Zeus SFF is packed with the extreme performance of Intel's Z77 Express Chipset combined with its 3rd Generation Core processors. The system is based on the Streacom F7C EVO brushed aluminum enclosure, which features clean, simple lines. It does not skimp on performance with the ability to support Mini ITX motherboards and larger components such as 3.5" hard drives and low profile expansion cards. The enclosure also provides enhanced thermal dissipation for its internal parts. An 80mm low dBA fan with a nearby side vent keeps ambient system temperatures cool even under maximum system operations. The Zeus SFF offers full-tower features in a compact 9.5 (W) x 9.84 (D) x 3.9-inch (H) enclosure with two USB 3.0 front ports; 300Mbps IEEE 802.11n wireless card; AMD Radeon 7750 GPU, up to 16GB of system memory, and 2TB HDD. The Zeus SFF's base configuration includes: Intel i5-3570K unlocked CPU with an Z77 Express Chipset Mini-ITX mainboard; 16GB 1600MHz system memory; AMD Radeon 7750 Graphics; 2TB 7200 RPM HDD; slot loading DVD/rw. Base price of the Zeus SFF is $799.
Lastly, we have the CyberPowerPC Xtreme Hydro II liquid Cooling Kit. The XSPC RayStorm Chrome CPU Block is designed specifically for multi-core CPUs. The all-new Xtreme Hydro II kit also includes a reservoir equipped with dual D5 pumps, ready to cool down even the hottest components in your tower as well as a new AX240 or AX360 Radiator that has more surface area for better cooling. The kit will be available as an option across CyberPowerPC's Gamer Xtreme, Zeus Thunder and Storm, and Fang III series. The Xtreme Hydro II 240MM kit costs $210 and the 360MM kit $343 as an upgrade option over the standard Intel retail-boxed fan.