ARCHOS, just moments ago announced the retail availability of the highly anticipated GamePad, a new type of tablet that combines physical gaming button controls and an ARCHOS patented mapping tool with a full Android-powered tablet experience.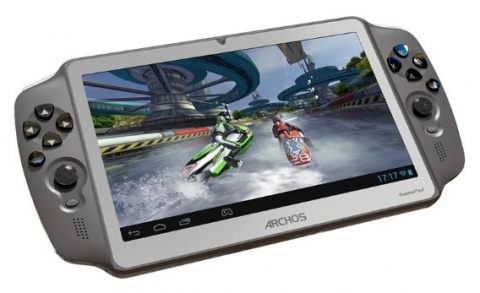 By combining the GamePad's 14 physical buttons and dual analog thumb-sticks with the revolutionary ARCHOS game mapping tool (exclusive to ARCHOS), the GamePad brings the physical aspect back to the gaming experience. Adding to the experience is the 16 million color, seven inch, five point capacitive, 1024 x 600 pixel screen. At only 10 mm (0.3 inch) thin and with a weight of 330g (0.7 lbs), the ARCHOS GamePad is the perfect on the go gaming console. The ARCHOS GamePad is now available in Europe for 149.99€ ($195 USD) with a North American release scheduled for early Q1 2013.
ARCHOS GamePad Features:
Operating System: Google Certified Android 4.1 Jelly Bean
Smooth Gaming Experience with 3D Graphics: Quad-core Mali 400 MP GPU paired with a 1.6GHz Dual-core CPU.
Memory: 8GB of internal memory with microSD slot or up to 64GB of additional space.
Mini-HDMI: Use the mini-HDMI port to connect the GamePad to your TV for a big screen viewing experience.
"Android device users spend more than 9 hours a month gaming on their devices and yet are not completely satisfied with the touch-screen experience," says Henri Crohas, Founder and CEO of ARCHOS. "We feel this area of gaming is proven and will continue to grow. With the introduction of the GamePad we are uniquely positioned to feed the demand of gamers who want a better gaming experience on a tablet."