Sony and Netflix recently announced that the PlayStation 3 (PS3) computer entertainment system is now the primary development platform for Netflix and is the world's most popular device for viewing movies and TV shows from Netflix on a television.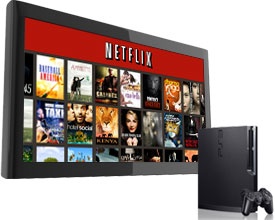 With more than 30 million streaming members globally, Netflix is the world's leading Internet subscription service for enjoying TV shows and movies. PS3 was the first computer entertainment system to offer Netflix in full 1080p video resolution with 5.1-channel Dolby Digital Plus surround sound and to offer post play, second screen controls, on device sign-up, and alternate audio options including subtitles. PS3 is currently the only platform to experience a new voice user interface called "Max" that's currently being tested.
This is great news, but keep in mind that Netflix uses nearly a third of all Internet bandwidth in North America during the peak times. Talk about gobbling up internet broadband!
"PS3 is our largest TV-connected platform in terms of Netflix viewing, and this year, at times, even surpassed the PC in hours of Netflix enjoyment to become our No. 1 platform overall," said Netflix Chief Executive Officer Reed Hastings. "PS3 is a natural fit for Netflix in terms of developing and first deploying our most advanced features. We can transparently update our application with new features on a daily basis, and through the free PlayStation Network, people around the world can sign up for Netflix directly from their PS3."