Nokia today introduced the Nokia Lumia 620, the third and most affordable in its range of Windows Phone 8 smartphones. Alongside the flagship Nokia Lumia 920 and mid-range Nokia Lumia 820, the Nokia Lumia 620 offers a more fun, youthful appeal, and compact design. The Nokia Lumia 620 uses a new dual-shot color technique to deliver a variety of striking color and texture effects.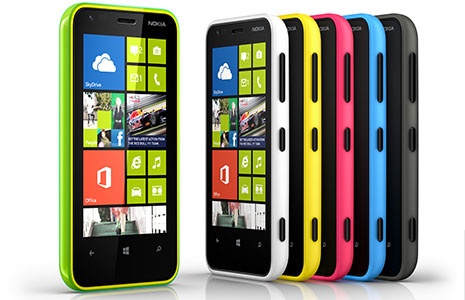 Dual-shot adds a second layer of colored, transparent or translucent polycarbonate on top of a base layer to produce secondary color blends and depth effects. With seven different exchangeable shells to choose from, people can adapt the look of their Nokia Lumia 620 to their own personal taste and style.
The specs on the Lumia 620 are what you'd expect for a budget phone: it has a 3.8" display with a 800x480 screen resolution, a 1GHz Qualcomm Snapdragon S4 Plus dual-core processor and 512MB of RAM. The Lumia 620 has 8GB of built-in storage (expandable up to 64GB if you want to buy a MicroSD memory card), and 7GB of free Microsoft SkyDrive storage. The Nokia Lumia 620 uses a 1300 mAh battery. Not bad considering this phone is estimated to run $250 without a contract and possibly free with a 2-year agreement.
"We continue to execute on our strategy to reach new audiences and new markets," said Jo Harlow, executive vice president, Nokia Smart Devices. "With its innovative design, the latest Windows Phone 8 software and signature experiences from Nokia, like Nokia lenses, Nokia Maps and Nokia Music, the Nokia Lumia 620 is a highly competitive smartphone at this price point."