be quiet! announced this morning that they German component maker will be adding PWM controlled models to complete their existing SilentWings 2 PC case fan lineup. PWM, short for pulse width modulation, is the preferred standard for those who want their PC case fans always to run at the best ratio between performance and quietness. There is no need for hardware fan controllers since the fan is automatically controlled by the computer BIOS. Silent Wings2 PWM also offers the popular and often copied detachable mounting elements for different scopes of usage. Even the very long expected lifespan of the original SilentWings 2 fans remains unchanged at 300,000 hours.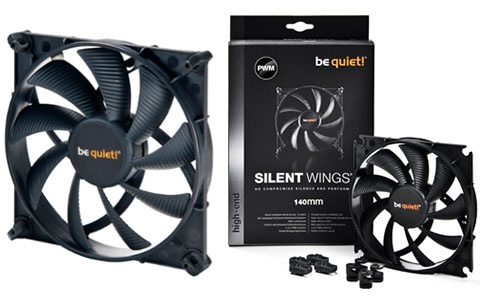 New models will be released in 80, 92, 120 and 140 mm sizes and offer all the unique SilentWings features known from the existing product range such as best-in-class bearings and exchangeable mounting elements. SilentWings 2 PWM will be available later this month with prices that start at 19 Euro for the 80mm SilentWings 2 case fan and top out at 23 Euro for the 140mm SilentWings 2 case fan
"We are really happy to announce this product is shipping now since we've had so many requests from the marketplace to add this functionality to SilentWings 2. We wanted to make it right, and ensure that the PWM models are true SilentWings 2 through and through." said Scott Richards, Global Brand Director at be quiet!.