Trying out an AMD Radeon R9 290 CrossFire Setup
If you are looking for a graphics card for a high-end gaming system that can push a 4K Ultra HD display or triple panel configuration you have a number of choices from both AMD and NVIDIA. More than likely the AMD Radeon R9 290 series and NVIDIA GeForce GTX 780 series are going to be the cards that have the horse power to get the performance you need to accelerate all those pixels at a playable frame rate. If you are looking at AMD cards, the AMD Radeon R9 295X2 is pretty sweet, but it carries a rather impressive $1499 price tag when it releases on April 21st, 2014. If you have a high-end gaming rig and a 4K display you can likely afford that, but what about those that don't want to spend that much money on a graphics card. We recently reviewed the XFX Radeon R9 290 Double Dissipation and had the opportunity to get a second card in for additional thermal testing. Since we had two identical cards sitting on the test bench we figured that we'd flash the BIOS in order for the cards to be identical and run some CrossFire tests with AMD's latest Catalyst 14.4 Beta drivers. 
The XFX Double Dissipation Radeon R9 290 4GB graphics card that we have a pair of is sold under part number R9290AEDFD for $439.99 shipped with a Limited Lifetime Warranty if you register within 30 days of purchase. It is powered by a single 28nm AMD Hawaii GPU that has 2,560 stream processors running at 947MHz and the 4GB of GDDR5 memory on a 512-bit wide bus that is clocked at 1250MHz (5000MHz effective). These clock speeds are fairly standard for a Radeon R9 290 from any brand, so we wouldn't consider this a factory overclocked card. If you were looking for a factory overclocked card there is the XFX Black Edition DD R9 290 that is listed under part number R9290AEDBD for $504.99 shipped. The XFX Radeon R9 290 Black Edition card is factory overclocked up to 980MHz and for that you'll be paying an extra $65.
We are looking at two of the base models, so you are looking at about $880 shipped for a pair of them. This is $619 less than an AMD Radeon R9 295X2, so it will be interesting to see how a pair of these cards will compare.
The XFX DD R9 290 4GB has two 90mm cooling fans (actual fan blade measurement is ~85mm) that each have 9-blades on them. XFX claims that the Double Dissipation GPU cooler with Ghost2 thermal cooling should offer improved cooling and reduced noise versus the AMD Radeon R9 290 reference card. XFX is uses seven 6mm copper heatpipes on this card that measures 11.125" in length. The black PCB measures 10.5-inches, but the GPU cooler extends past the end of the card by more than half an inch. This is a fairly long card, so be sure to measure your case before ordering!
No AMD CrossFire interconnect or bridge is needed on these cards to get setup, so you literally just plug them into your motherboard and enable AMD CrossFireX in Catalyst Control Center to get the desired multi-GPU performance boost. 
The XFX logo on the right side of the card has white LED's behind it that are always on when the system is running. When the system is at idle the second card shuts down in a low power state and the LED light shuts down on that card.
Let's take a look at the test system real quick before we move along to benchmarking!
Test System
Before we look at the numbers, let's take a brief look at the test system that was used. All testing was done using a fresh install of Windows 8 Pro 64-bit and benchmarks were completed on the desktop with no other software programs running. It should be noted that we average all of our test runs. There has been some concern of people testing a cold card versus a hot card, but we've always done out testing 'hot' since the site started back more than a decade ago.
Video Cards & Drivers used for testing:
NVIDIA GeForce 337.50
AMD CATALYST 14.4 Beta
Intel X79/LGA2011 Platform
The Intel X79 platform that we used to test the all of the video cards was running the ASUS P9X79-E WS motherboard with BIOS 1501 that came out on 01/15/2014. We went with the Intel Core i7-4960X Ivy Bridge-E processor to power this platform as it is PCIe 3.0 certified, so all graphics cards are tested with PCI Express Gen 3 enabled. The Kingston HyperX 10th Anniversary 16GB 2400MHz quad channel memory kit was set to XMP Profile #2. This profile defaults to 2133MHz with 1.65v and 11-12-12-30 1T memory timings. The OCZ Vertex 460 240GB SSD was run with latest firmware available. A Corsair AX860i digital power supply provides clean power to the system and is also silent as the fan hardly ever spins up. This is critical to our testing as it lowers the ambient noise level of the room and gives us more accurate sound measurements than the old Corsair AX1200 power supply that we used from 2012 till this year that had a loud fan that always ran.
Here are the exact hardware components that we are using on our test system:
The Intel X79 Test Platform

Component

Brand/Model

Live Pricing

Processor

Intel Core i7-4960X

Motherboard

ASUS P9X79-E WS

Memory

16GB Kingston 2133MHz

Video Card

Various

Solid-State Drive

OCZ Vertex 460 240GB

Cooling

Intel TS13X (Asetek)

Power Supply

Corsair AX860i

Operating System

Windows 8.1 Pro 64-bit

Monitor

Sharp PN-K321 32" 4K
XFX Double D Radeon R9 290 4GB Video Card GPU-Z Info:

Batman: Arkham Origins
Batman: Arkham Origins is an action-adventure video game developed by Warner Bros. Games Montréal. Based on the DC Comics superhero Batman, it follows the 2011 video game Batman: Arkham City and is the third main installment in the Batman: Arkham series. It was released worldwide on October 25, 2013.
For testing we used DirectX11 Enhanced, FXAA High Anti-Aliasing and with all the bells and whistles turned on. It should be noted that V-Sync was turned off and that NVIDIA's PhysX software engine was also disabled to ensure both the AMD and NVIDIA graphics cards were rendering the same objects. We manually ran FRAPS on the single player game instead of using the built-in benchmark to be as real world as we possibly could. We ran FRAPS in the Bat Cave, which was one of the only locations that we could easily run FRAPS for a couple minutes and get it somewhat repeatable.
The CPU usage for Batman: Arkham Origins was surprising low with just 10% of the Intel Core i7-4960X being used by this particular game title. You can see that the bulk of the work is being done by one CPU core.
Benchmark Results: A single XFX Double Dissipation Radeon R9 290 was able to average ~38FPS and when a second card was added to the system we were seeing ~69FPS on our 4K panel at 3840x2160. This represents a solid 81.6% performance improvement by adding in a second card for the 2-way CrossFire setup. The bad news is that the Gigabyte GeForce GTX 780 Ti GHz edition is a single-GPU setup that costs less and performed only 4FPS slower.
Benchmark Results: When you look at performance over time, the XFX DD R9 290 CrossFire setup and the Gigabyte GeForfce GTX 780 Ti GHz Edition card were very close to one another.
Battlefield 4
Battlefield 4 is a first-person shooter video game developed by EA Digital Illusions CE (DICE) and published by Electronic Arts. It is a sequel to 2011's Battlefield 3 and was released on October 29, 2013 in North America. Battlefield 4's single-player Campaign takes place in 2020, six years after the events of its predecessor. Tensions between Russia and the United States have beem running at a record high. On top of this, China is also on the brink of war, as Admiral Chang, the main antagonist, plans to overthrow China's current government; and, if successful, the Russians will have full support from the Chinese, bringing China into a war with the United States.
This game title uses the Frostbite 3 game engine and looks great. We tested Battlefield 4 with the Ultra graphics quality preset as most discrete desktop graphics cards can easily play with this IQ setting at 1080P and we still want to be able to push the higher-end cards down the road. We used FRAPS to benchmark each card with these settings on the Shanghai level.
Battlefield 4 is more CPU intensive than any other game that we benchmark with as 25% of the CPU is used up during gameplay. You can see that six threads are being used and that the processor is running in Turbo mode at 3.96GHz more times than not.
Benchmark Results: In Battlefield 4 with Ultra settings at 3840x2160 we were able to average 26.12 FPS on the XFX DD Radeon R9 290 and that jumped up to 48.42 with the CrossFire setup. This is a solid 85.4% increase in performance and really made BF4 playable at the demanding 4K Ultra HD resolutions we were gaming at. This setup was about 5 FPS slower than the AMD Radeon R9 295X2 that was just released for $1500. The XFX Double Dissipation Radeon R9 290 4GB graphics card that is sold under part number R9290AEDFD for $439.99 shipped, so you are looking at about $880 for a setup like this.
Benchmark Results: The XFX DD R9 290 CrossFire setup ran BF4 great and hardly ever dropped below 40 FPS on our benchmark run at 3840x2160.
Crysis 3
Like the others, it is a first-person shooter developed by Crytek, using their CryEngine 3. Released in February 2013, it is well known to make even powerful system choke. It has probably the highest graphics requirements of any game available today. Unfortunately, Crytek didn't include a standardized benchmark with Crysis 3. While the enemies will move about on their own, we will attempt to keep the same testing process for each test.
Crysis 3 has a reputation for being highly resource intensive. Most graphics cards will have problems running Crysis 3 at maximum settings, so we settled on no AA with the graphics quality mostly set to Very High with 16x AF. We disabled v-sync and left the motion blur amount on medium.
Crysis 3 appeared to run for the most part on just 3 CPU threads and used up about 15-18% of our Intel Core i7-4960X processor with these settings. Notice that the processor speed was at 3.53GHz and we very seldom, if ever, saw the processor go into turbo mode on Crysis 3.
Benchmark Results: The XFX Double Dissipation R9 290 averaged 17.68 FPS on Cysis 3 and with the CrossFire setup this jumped up to 33.39 FPS. This is an increase of 88.9%, which is the most that we have seen yet. Having a pair of Radeon R9 290 cards in CrossFire really made Crysis 3 perform well and got us above the 30 FPS mark on average.
Benchmark Results: It is extremely hard to replicate the same run over and over manually with FRAPs on Crysis 3, but we gave it out best shot. As you can see the XFX DD Radeon R9 290 CrossFire setup had a significant drop below 30 FPS in the middle of the benchmark run, but that was it.
Far Cry 3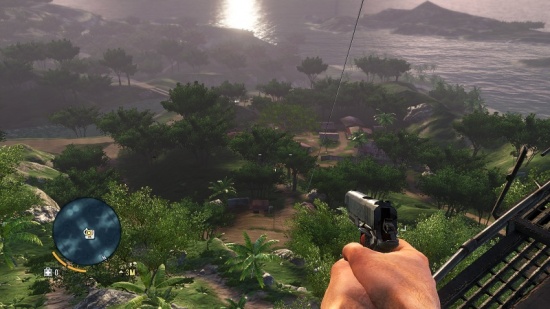 Far Cry 3 is an open world first-person shooter video game developed by Ubisoft Montreal and published by Ubisoft for Microsoft Windows, Xbox 360 and PlayStation 3. It is the sequel to 2008's Far Cry 2. The game was released on December 4th, 2012 for North America. Far Cry 3 is set on a tropical island found somewhere at the intersection of the Indian and Pacific Oceans. After a vacation goes awry, player character Jason Brody has to save his kidnapped friends and escape from the islands and their unhinged inhabitants.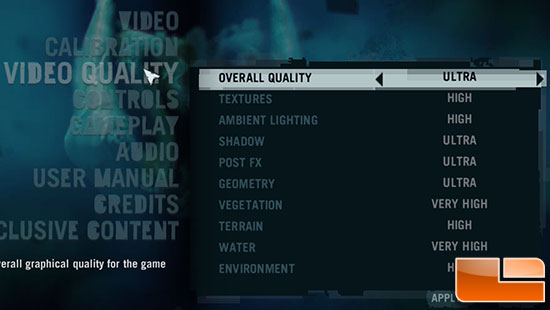 Far Cry 3 uses the Dunia Engine 2 game engine with Havok physics. The graphics are excellent and the game really pushes the limits of what one can expect from mainstream graphics cards. We set game title to 2x MSAA Anti-Aliasing and ultra quality settings.
Far Cry 3 appears to be like most of the other games we are using to test video cards and uses up about 20% of the processor and is running on multiple cores.
Benchmark Results: The XFX DD Radeon R9 290 averaged 22.2 FPS and the CrossFire setup averaged 40.3 FPS in FarCry 3. This represents a 81.5% performance improvement.
Benchmark Results: Our AMD Radeon R9 290 CrossFire setup had a bit of a stutter/hesitation that could be seen at the beginning of the benchmark run where the most frame buffer is used, but other than that it stayed above 30 FPS for most of the run.

Metro Last Light
Metro: Last Light is a first-person shooter video game developed by Ukrainian studio 4A Games and published by Deep Silver. The game is set in a post-apocalyptic world and features action-oriented gameplay with a combination of survival horror elements. It uses the 4A Game engine and was released in May 2013.
Metro: Last Light was benchmarked with very high image quality settings with the SSAA set to off and 4x AF. These settings are tough for entry level discrete graphics cards, but are more than playable on high-end gaming graphics cards. We benchmarked this game title on the Theater level.
We again found around 20% CPU usage on Metro: Last Light.
Benchmark Results: In Metro: Last Light the XFX DD R9 290 came in with an average of 33.47 versus 60.84  FPS with the CrossFire setup at 3840x2160. This is an 81.8% performance gain.

Benchmark Results: The AMD Radeon R9 290 CrossFire setup did have a performance drop about a quarter of the way through the benchmark run, but it barley dipped below 40 FPS and no hesitation was seen or felt in the game when manually running FRAPS.

Thief
Thief is a series of stealth video games in which the player takes the role of Garrett, a master thief in a fantasy/steampunk world resembling a cross between the Late Middle Ages and the Victorian era, with more advanced technologies interspersed. Thief is the fourth title in the Thief series, developed by Eidos Montreal and published by Square Enix on February 25, 2014.
We ran Thief with the image quality settings set at normal with VSYNC disabled.
Thief appears to be running on the six physical cores of the Intel Core i7-4960X processor and averages around 17-24% CPU usage from what we were able to tell from the CPU utilization meter that is built into the Windows 8.1 task manager.
Benchmark Results: The XFX DD R9 290 averaged 38.20 FPS and the 2-way CrossFire setup averaged 67.14 FPS in Thief with normal image quality settings. This is a 75.8% performance increase and oddly enough the lowest performance gain of any title that we looked at today. The performance difference between the AMD Radeon R9 295X2 and AMD Radeon R9 290 CrossFire was less than 2FPS, so it looks like Thief doesn't really scale that well. Thief wasn't mentioned in the AMD Radeon R9 295X2 reviewers guide as well, which was very odd as it is an AMD backed game title and the launch title for AMD TrueAudio technology.

Benchmark Results: The performance over time chart showed that the XFX DD R9 290 CrossFire setup never dropped below 50 FPS during the benchmark run!
3DMark 2013
3Dmark Fire Strike Benchmark Results - For high performance gaming PCs

Use Fire Strike to test the performance of dedicated gaming PCs, or use the Fire Strike Extreme preset for high-end systems with multiple GPUs. Fire Strike uses a multi-threaded DirectX 11 engine to test DirectX 11 hardware.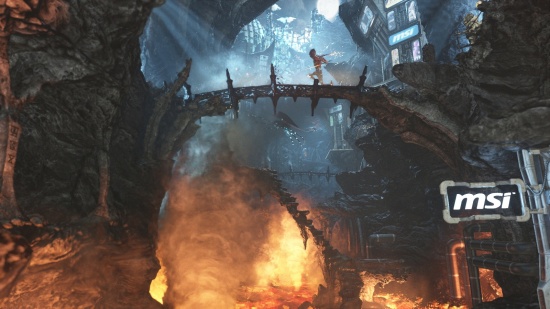 Fire Strike Benchmark Results:
Benchmark Results: The 3DMark Fire Strike benchmark had the XFX Double D Radeon R9 290 4GB video card coming in 8,969 with the CrossFire setup scoring 14,817! This is a performance improvement of 65.2%.
Temperature & Noise Testing
Temperatures are important to enthusiasts and gamers, so we took a bit of time and did some temperature testing on a pair of XFX Double D R9 290 video cards running with CrossFire mode enabled.
XFX Double Dissipation Radeon R9 290 4GB CrossFire Temps:
XFX DD Radeon R9 290 4GB CrossFire Temps in Battlefield 4 for 30 minutes:
XFX DS Radeon R9 290 4GB CrossFire Temps in Crysis 3 for 30 minutes:
At idle we got a respectable 34C on the inside card and 29C on the outside card that was getting cool 'clean' air. At full load we were getting vastly different temperatures on various game titles. For example on Battlefield 4 we were getting 75C/63C and then on Crysis 3 we were getting 82C/68C. At idle the fan speed was at 20% and then at full load we were hitting 67%. GPU-Z shows that the XFX DD Radeon R9 290 video card had an GPU voltage of 0.984V at idle and 1.227V when at full load running 3D games. The VRM temperatures got up to 97C on VRM1 on the hotter of the two cards and 81C on the cooler card. (The AMD Radeon R9 295X2 gets around 90C on the VRM on our test bench and that is with the GPUs being water cooled.) It should be noted that both of our XFX Radeon R9 290 cards are version 3.1 cards that have a more aggressive fan profile than version 3.0 and earlier cards.
With the temperatures averaged out, the XFX DD Radeon R9 290 v3.1 CrossFire setup didn't due that bad. A single XFX DD Radeon R9 290 v3.0 card was much hotter, but that is due to the different fan profile that was being used at the time. If you have a version 3.0 card, you might want to ask XFX to see if they can get a BIOS flash for you.
Sound Testing
We test noise levels with an Extech sound level meter that has ±1.5dB accuracy that meets Type 2 standards. This meter ranges from 35dB to 90dB on the low measurement range, which is perfect for us as our test room usually averages around 36dB. We measure the sound level two inches above the corner of the motherboard with 'A' frequency weighting. The microphone wind cover is used to make sure no wind is blowing across the microphone, which would seriously throw off the data.
The XFX Double D R9 290 CrossFire setup was done with v3.1 cards and was pretty quiet at idle since the fans were running at just 20%, but at full load it became the loudest pair of cards that we have tested to date due to the fans spinning at nearly 70%. It wasn't unbearable, but you'll be able to hear the cards over your case fans.
Power Consumption
For testing power consumption, we took our test system and plugged it into a Kill-A-Watt power meter. For idle numbers, we allowed the system to idle on the desktop for 15 minutes and took the reading. For load numbers we ran Battlefield 4 at 3840x2160 and recorded the average idle reading and the peak gaming reading on the power meter.
Power Consumption Results: The system with the XFX Double Dissipation Radeon R9 290 installed used 119 Watts and idle and 453 Watts when gaming. With the second card added to the system the idle power consumption increased to 134 Watts and the peak gaming load jumped up to 743 Watts. Our Corsair AX860i digital power supply was able to easily handle this CrossFire setup, so we recommend at least an 850W or greater power supply if you plan on doing a CrossFire setup with two AMD Hawaii GPUs.
XFX DD Radeon R9 290 CrossFire Overclocking
How well does the XFX Double Dissipation Radeon R9 290 graphics card overclock? We were wondering the same thing and fired up AMD Catalyst Control Center to find out!
The XFX DD R9 290 comes clocked at 947MHz on the core and 1250MHz on the Elpida GDDR5 memory ICs. Were able to overclock the card up to 1100MHz Core and 1350MHz on the 4GB of GDDR5 memory. This is a 153MHz increase on the core clock and that should yield some nice gains in game titles and synthetic benchmarks!
The XFX Double Dissipation Radeon R9 290 out of the box in 2-way CrossFire with the latest Catalyst 14.4 beta drivers scored 14,817 points in 3DMark Fire Strike.
After our overclock we were able to get a score of 16,462 3DMarks. This is a nice 11.1% performance improvement and shows that you can still easily overclock an AMD CrossFire setup for more performance.
Final Thoughts and Conclusions
The pair of XFX Radeon R9 290 4GB Double Dissipation graphics card ran great in CrossFire mode and really did improve our 4K Ultra HD gaming experience. It isn't easy to run games at 3840x2160, but this setup was able to do just that. Two of these cards should easily power a 3840x2160, 2560x1440, 1920x1080 or on most any AMD Eyefinity setup. The AMD Hawaii GPU with GCN is a very powerful GPU and when you aren't gaming you can give mining litecoins a try.
When it comes to single card versus 2-way CrossFire performance in general, we saw an average performance increase of 82.5 in the six game titles that we tested. This is pretty decent scaling for a 4K Ultra HD setup. Overclocking performance was also stellar as we were able to take the cards in CrossFire from 947Mhz to 1100MHz on the core clock for a significant gaming boost. Performance was so good that we were cussing our 4K 30Hz display more than anything. There are several 4K Ultra HD displays that run 60Hz on the horizon. One of those is the ASUS PB287Q. The ASUS PB287Q is a 28-inch display that runs natively 60Hz with a 1ms response time, so should be great for gaming. And the price isn't bad as it is expected to be around $799. Game titles support 4K and we have video cards that are powerful enough to push 4K worth of pixels, so the only thing missing is an affordable display that is aimed at PC gamers.
We had concerns about VRM temperatures on the XFX Radeon R9 290 4GB Double Dissipation in our original review, but it appears that XFX has been able to remedy that situation by changing the fan speed tables in the cards BIOS. The cards pair of fans now run at ~70% instead of 45% when gaming and that moves enough air to keep the VRM temperatures below 100C on the inside card on our open air CrossFire setup. The only downside to the 'fix' is that you get much more fan noise due to the fans spinning at  greater speeds.
XFX's Radeon R9 290 graphics card with the Double Dissipation cooler is sold under part number R9290AEDFD for $439.99 shipped with a Limited Lifetime Warranty if you register within 30 days of purchase. This means you are looking around $900 for a CrossFire setup. That is a fair chunk of change, but when you look at the performance numbers compared to the $1500 AMD Radeon R9 295X2 it doesn't look that bad.
Legit Bottom Line: A pair of AMD Radeon R9 290 4GB graphics cards offer solid performance for those looking at an Ultra HD setup and the price tag is better than some of the other high-end options out there.