A small overnight UPS package arrived this morning that had what sounded like a medicine bottle inside. I opened it up and it turned out to be a prescription bottle from AMD with 28 doses of Verdetrol 1GHz.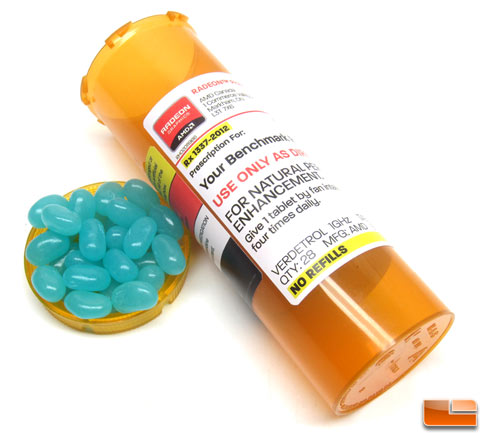 The bottle says that the pills are for natural performance enhancement and that we are to give our video card 1 tablet by the fan intake four times a day. This is obviously a marketing promotion for an upcoming product release of a video card that is clocked at 1GHz. The AMD Radeon HD 7770 (Cape Verde) is said to run at 1GHz, so this could mean that the Radeon HD 7770 is very close to launching. The label on the bottle was well done with 28 doses (28nm manufacturing process), a prescription number of 1337-2012 (if you don't know what 1337 means hit alt+f4) and that the tablets are 1GHz (the core clock speed of an upcoming product). We'll let you guys guess the meaning of Verdetrol, but NVIDIA's colors are green. You can see more pictures of the bottle label by following the link below to the forums.
Never Settle for Average Performance. Get a natural performance enhancement for your PC with Verdetrol! Verdetrol's patented 1GHz fast-release formula delivers strong, vigorous performance when you need it most. Ask your computer specialist if Verdetrol is right for you! REAL RESULTS! Fictional couples everywhere agree that the new 1GHz Verdetrol FR formulation has made the difference when every ounce of performance matters. Man or woman, young or old, Verdetrol is the solution for anyone looking to get an edge when the heat is on!