PowerColor PCS HD7870 MYST Video Card Review – Tahiti LE
Wed, Mar 20, 2013 - 12:00 AM
PowerColor 7870 Myst Retail Box and Bundle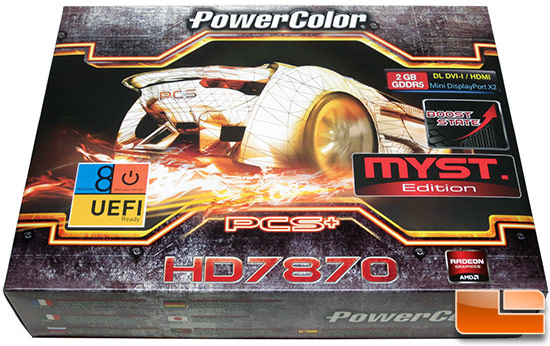 The retail box for the PowerColor PCS HD7870 MYST video card lists the some of the key features of the card and features a number of colors to get your attention on store shelves. One of the stickers on the card also highlights the fact that this video card comes with a full UEFI vBIOS for full Windows 8 compatibility.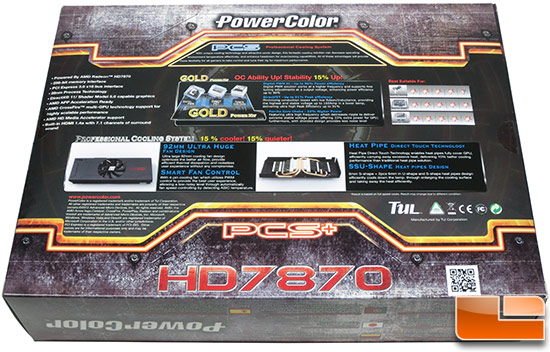 Turning the retail box over, we see even more marketing text that goes into pretty good detail about the features of the card.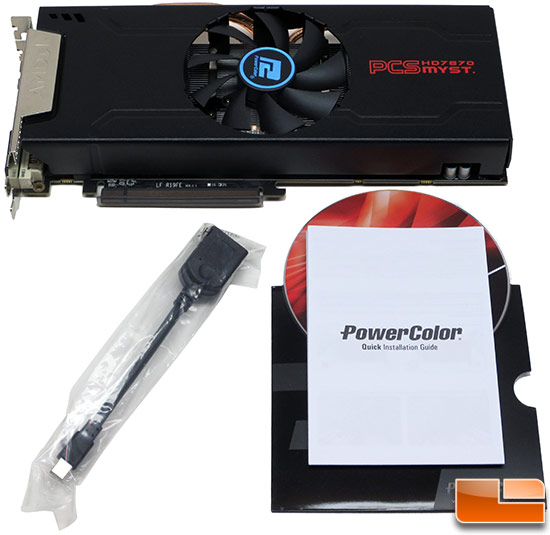 After pulling everything out of the box we laid it all out and took a bundle picture for you. When you buy a PowerColor PCS HD7870 MYST Edition video card this is everything that comes with it. You get a quick installation guide, drivers CD, a mini-DisplayPort to DisplayPort adapter and that is it. When you buy a retail card you also get the AMD Never Settle: Reloaded Bundle right now. That promotion states that if you purchase any qualifying Radeon HD 7870 GHz Edition or 7850 series GPU you will receive an email within 7-10 business days with a download code for a free download of "Bioshock Infinite" and "Tomb Raider." This card isn't a Radeon HD 7870 GHz edition card, but it does qualify for this game bundle promotion.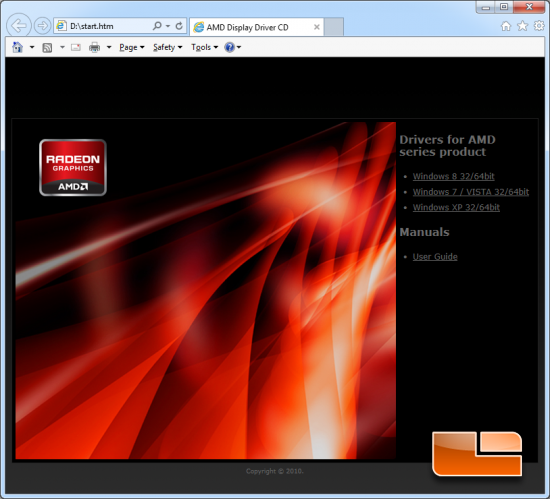 When you fire up the driver DVD that comes with the card you'll find a User Guide written by AMD for the AMD Radeon HD 7800 series in general and drivers for the video card. The drivers on the disc are AMD CATALYST 12.11, which came out on October 23rd, 2012. These drivers are nearly five months old and won't be used by us as we are using AMD CATALYST 13.3 beta 3 drivers that we downloaded this week. The usefulness of a software disc is very questionable in this day and age as it adds cost and usually never gets used because it is usually dated by the time it ships.