PowerColor PCS HD7870 MYST Video Card Review – Tahiti LE
Wed, Mar 20, 2013 - 12:00 AM
Power Consumption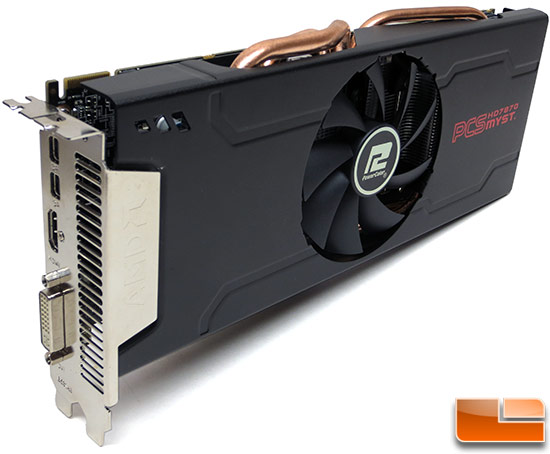 For testing power consumption, we took our test system and plugged it into a Kill-A-Watt power meter. For idle numbers, we allowed the system to idle on the desktop for 15 minutes and took the reading. For load numbers we measured the peak wattage used by the system while four game titles at 1920×1080 by averaging the peak results recorded the highest Wattage seen on the meter for the gaming results.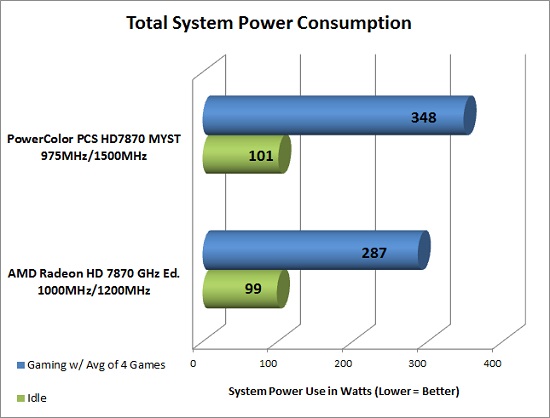 Power Consumption Results: At idle with the PowerColor PCS HD7870 2GB MYST Edition video card in the system the entire system was pulling 101 Watts from the wall. The AMD Radeon HD 7870 GHz edition video card used a little less power at idle. When it comes to power consumption during gaming we were shocked to see that the PowerColor PCS HD7870 MYST uses 348W or 21% more power than the AMD Radeon HD 7870 GHz edition reference card. Why?
The AMD Radeon HD 7870 GHz edition card officially uses the AMD's Pitcairn XT GPU. But this is not the case with this card, as the it uses the Tahiti LE GPU. The AMD Tahiti architecture is used on the AMD Radeon HD 7950 and 7970 GPUs, so this card has a stripped down version of the high-end GPU in it. That might not sound like a big deal, but the Radeon HD 7870 Tahiti LE core has 4.3 billion transistors versus just 2.8 billion on Pitcairn XT! You have to power all those cores and that is why the there is such a huge power difference. Both cards might be in the Radeon HD 7870 series, but they should be.
PowerColor PCS HD7870 MYST Edition GPU-Z Details: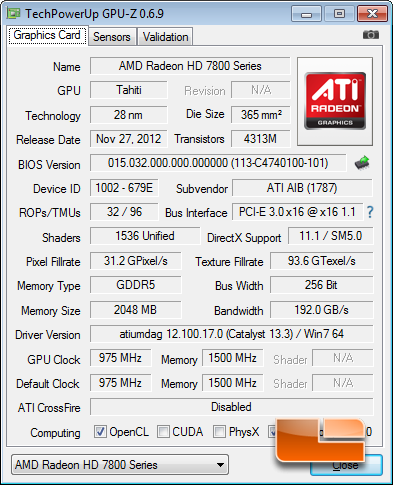 AMD Radeon HD 7870 GHz Edition GPU-Z Details: