PowerColor HD7870 DEVIL 2GB Video Card Review
Mon, Jul 29, 2013 - 12:00 AM
Final Thoughts and Conclusions
The PowerColor Devil HD7870 is one wicked little video card. We love the cards devilish theme, factory overclocking and custom PCB and GPU cooler. When it comes to gaming performance the PowerColor Devil HD7870 worked best on single monitor setup and is ideal for those gaming at 1920×1080. It even overclocked like a bat out of hell with no voltage tuning required!
All is well until you go to purchase this video card. The PowerColor Devil HD7870 runs $259.99 plus $6.14 shipping from Newegg, while the PowerColor AX7870 2GB based off the reference design runs $164.99 shipped after rebate. This means that you are paying 61% more for all the bells and whistles. That alone makes it hard to justify! Who wants to lay down another Benjamin when the core architecture is the same? A $10-$30 price premium for a custom version of a card is one thing, but charging $101.14 more is ludicrous!
The real death blow to the PowerColor Devil HD7870 is the fact that any NVIDIA GeForce GTX 760 reference card can be picked up for $249.99 shipped and will perform better. Heck, you can even buy the MSI GeForce GTX 760 Gaming OC for $249.99 Shipped After Rebate and get a custom cooled and factory overclocked card that is much faster. We had that card in on performance comparison charts, so you can see the difference! Even without the rebate, you can buy custom cooled and factory overclocked NVIDIA GeForce GTX 760 cards for just $10 more than the cost of the reference designs. The NVIDIA GeForce GTX 760 owns the Radeon HD 7870 when it comes to performance.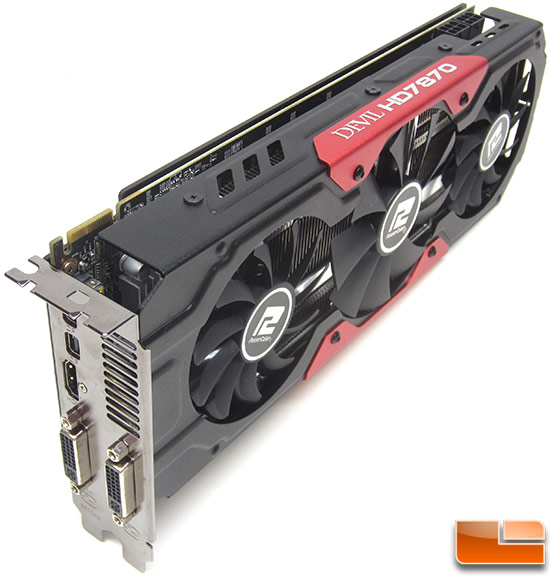 The PowerColor Devil HD7870 is a great card, but it is just late to the game. The AMD Radeon HD 7870 GHz edition came out in March 2012 and the PowerColor Devil HD7870 just came out in July 2013. If this card would have come out in 2012 or before the GeForce GTX 760 arrived it would have done well. Other brands came out with Radeon HD 7870 cards with identical clock speeds back in March 2012 (ie: Gigabyte GV-R787OC-2GD). The PowerColor Devil HD7870 is honestly late to the game and to make matters worse it is overpriced. That is tragic as it is likely the best looking Radeon HD 7870 ever to be made and it has solid performance for what it is. Where was this card in 2012?
Legit Bottom Line: The PowerColor Devil HD7870 is an awesome card, but Powercolor released it 16 months too late and missed the window of opportunity!