PowerColor HD7870 DEVIL 2GB Video Card Review
Mon, Jul 29, 2013 - 12:00 AM
PowerColor Makes The Radeon HD 7870 Devilish
The PowerColor Devil 13 HD 7990 video card was a force to be reckoned with when it came out in 2012 and is still one of the fastest video cards that money can buy. Not everyone could afford that dual-GPU behemoth since it cost $1000, but fear not an affordable card has come to dark side. This month PowerColor announced the Devil HD7870, which has proven to be a great mainstream graphics card.
This video card comes clocked at 1100MHz on the 1280 stream processors of the Pircairn XT GPU and 1250MHz on the 2GB of GDDR5 memory. The AMD Radeon HD 7870 GHz Edition reference card comes clocked at 1000MHz core and 1200MHz memory, so the PowerColor Devil HD7870 is 10% faster when it comes to core clocks and ~4.2% faster on the memory. You also get a custom PCB that uses a 7+1+1 phase Digital PWM, a custom three fan cooler with four heatpipes and a backplate. The kicker is that the PowerColor Devil HD7870 runs $259.99 plus $6.14 shipping from Newegg, while the PowerColor AX7870 2GB based off the reference design runs $164.99 shipped after rebate. This means you are talking about over a $100 price difference between a stock Radeon HD 7870 card and one that has been dressed up and factory overclocked. Jacking the price up over 61% over your base model card is hard to justify, so let's take a look to see what they have done.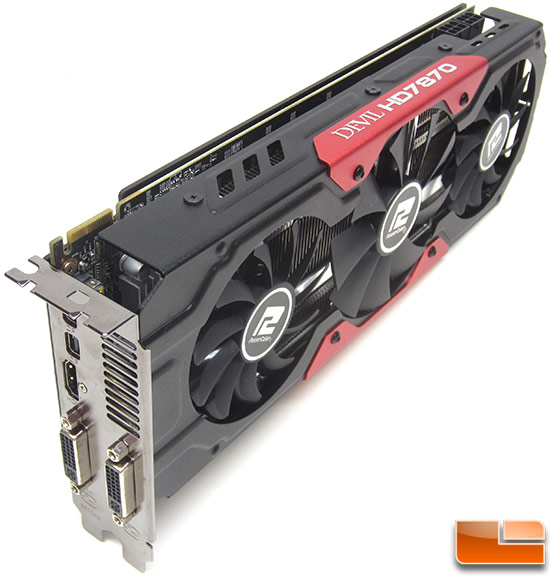 As you can see right off the bat, PowerColor stuck with the black and red infernal color scheme. The original PowerColor Devil 13 (Radeon HD 7990) used a three fan cooling solution and it looks like PowerColor wants to stick with that design as the Devil HD7870 is also equipped with a similar triple fans setup. This GPU cooling solution uses four copper heat pipes that are attached to aluminum cooling fins that sit under the triple fans. PowerColor says that this design keeps things 25% cooler and 18% quieter than the AMD Radeon HD 7870 GHz Edition reference card.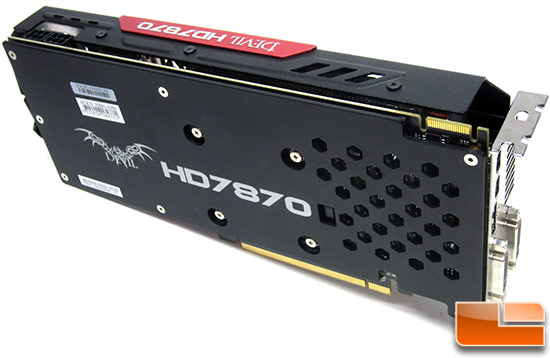 PowerColor placed a backplate on the Devil HD7870 that helps keep the PCB (Printed Circuit Board) straight, dissipates some heat and also protects the back components from being damaged during installation or removal. Most people would agree that makes the card look better and we certainly agree that it helps the aesthetics.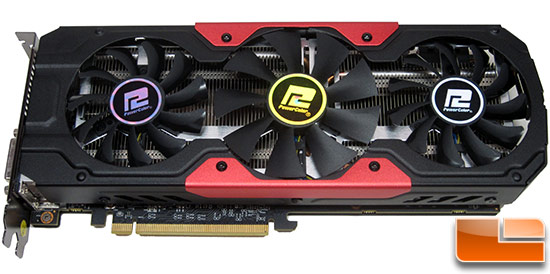 The PowerColor Devil HD7870 2GB is a fairly long graphics card and to make things worse the GPU cooler hangs over the right side of the PCB. On our card the 2GB of GDDR5 SGRAM is made up of Elpida W2032BBBG-60-F memory IC's. This came as a bit of a shock to us as these memory ICs are rated at 6.0Gbps at 1.6V, but this card comes factory overclocked to just 5.0Gbps on the memory. This means there could be a pretty high overclocking potential on this card due to the use of these memory chips.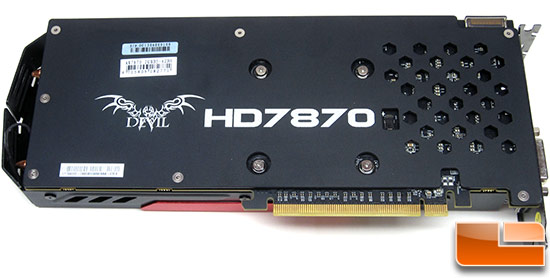 When it comes to dimensions, you are looking at 10″ on the PCB length and nearly 11.25″ in total length due to the GPU cooler overhang. The official measurements on this card are 285mm x 135mm x 45mm. The image above better shows how the GPU cooler extends over the end of the PCB. Notice that this card has one AMD CrossFire interconnect, so it supports dual-GPU Crossfire setups.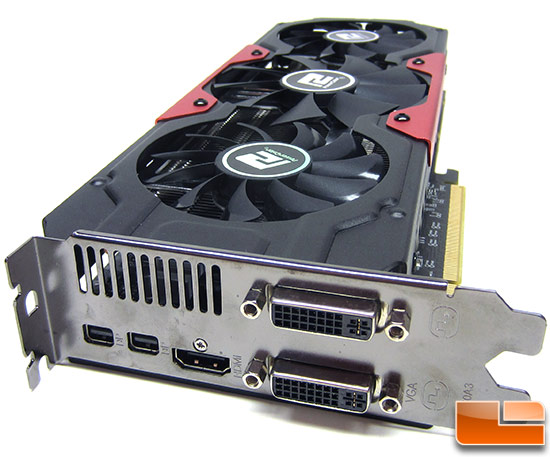 When it comes to video outputs on the PowerColor Devil HD7870 2GB GDDR5 video card you have dual mini-DisplayPort 1.2, HDMI 1.4a, a Dual-Link DVI-I and a Single-Link DVI-D. There is a small grill for some of the fans hot exhaust air to be removed from the chassis.
You might have noticed that the fans used in the triple fan cooler are different sizes. The middle fan is 9cm and the two outer fans are 8cm. The four heatpipes are 6mm in diameter in case you were wondering that as well.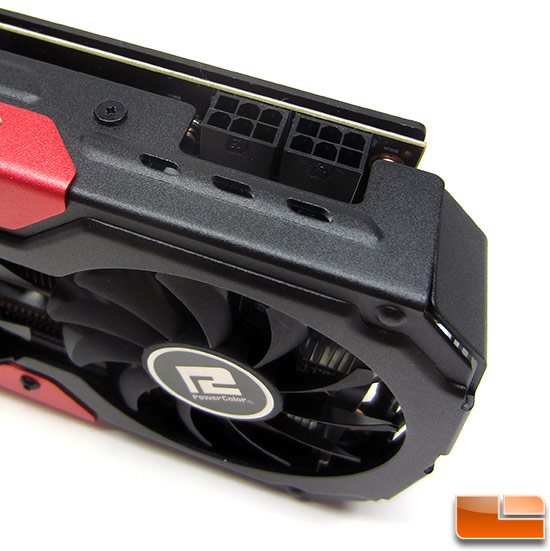 The PowerColor Devil HD7870 2GB features dual 6-pin PCIe power headers. PowerColor suggests that you use a 500 Watt or greater power supply with two 75W 6-pin PCie video card connector for proper operation.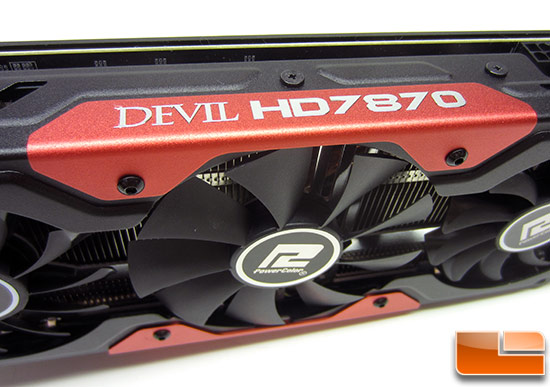 PowerColor says that the Devil HD7870 comes with the Platinum Power Kit that increases the overall stability and reliable power delivery to GPU. This means 7+1+1 phase Digital PWM, Super Capacitors and other components have been beefed to handle what overclockers and enthusiasts will be doing to this card. PowerColor also backs the Devil HD7870 with a 2-year warranty should anything go wrong.
Let's move along and take a look at the PowerColor Devil HD7870 retail package and bundle!