OCZ Vertex EX SSD Update Guide To Firmware v1.20
Wed, Jun 17, 2009 - 12:00 AM
HD Tach v3.0.4.0
HD Tach is a low level hardware benchmark for random access read/write storage devices such as hard drives, removable drives (ZIP/JAZZ), flash devices, and RAID arrays. HD Tach uses custom device drivers and other low level Windows interfaces to bypass as many layers of software as possible and get as close to the physical performance of the device possible.
Brand New OCZ Vertex EX 120GB SLC SSD with Firmware 1.11: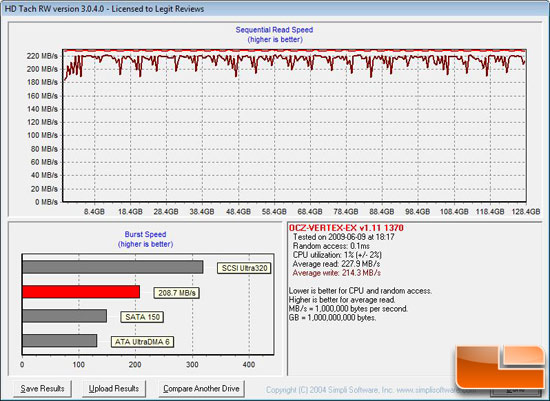 One Week Used Vertex EX 120GB SLC SSD with Firmware 1.11: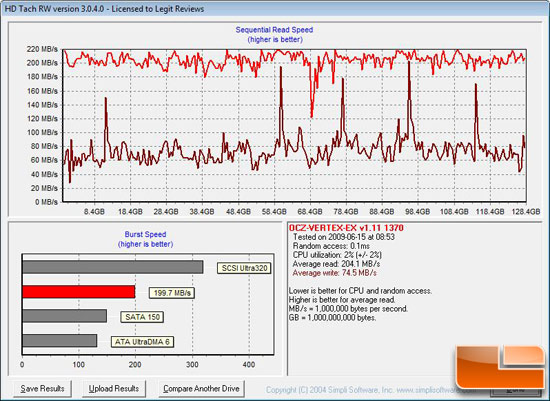 Vertex EX 120GB SLC SSD with Firmware 1.20 Right After Flash: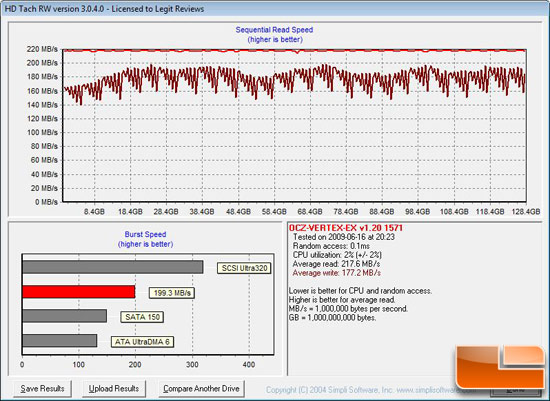 Benchmark Results: When the OCZ Vertex EX 120GB SLC Solid State Drive was brand new and just installed it was seen having 228MB/s read and 214MB/s write averages. After the Vertex EX had been through our benchmark gauntlet the performance decreased down to an average of 204MB/s read and 75MB/s write. By flashing the drive from firmware 1.10 to 1.20 we have been able to restore much of the performance as the drive now has 218MB/s read and 177MB/s write averages. We have run wiper on the drive several times, but it seems that this is as good as it gets for our drive.