NVIDIA SHIELD Goes On Pre-Order For $349
Tue, May 14, 2013 - 9:36 AM
NVIDIA Project SHIELD is now known as NVIDIA SHIELD. This is because the hand-held gaming device is now available to pre-order for $349 for those who signed up for the newsletter at shield.nvidia.com. If you did not register you can still sign up and get in early as the general public pre-order begins on Monday, May 20th. NVIDIA SHIELD will begin shipping in June 2013 and we were told that Newegg, Gamestop, Micro Center and Canada Computers will all carry SHIELD. Here's what you'll get:
Tegra 4 – The world's fastest mobile processor delivers rich graphics and unbeatable performance thanks to 72 GPU cores, four CPU cores and 2GB of RAM
Console-grade controller – Precise control thanks to dual analog joysticks, a full-sized D-Pad, left and right analog triggers, full-sized bumpers and A/B/X/Y buttons
Multi-touch display – 5-inch, 720p retinal multi-touch display for high-fidelity visuals
Integrated speakers – Custom, bass reflex, tuned port audio system – we think this is SHIELD's sleeper feature
Wi-Fi – 802.11n 2X2 MIMO game-speed Wi-Fi for game streaming
Pure Android – Latest Android Jelly Bean operating system from Google, for access to Android games and apps
There's more – We put into SHIELD everything we would want in a premium mobile gaming device: 16 GB memory, GPS, Bluetooth 3.0, a mini-HDMI output, micro-USB 2.0, a microSD storage slot, a 3.5-mm stereo headphone jack. See the full spec sheet, here.
NVIDIA also announced that these five TegraZone games are coming to SHIELD and Tegra 4 devices later this year:
Broken Age, Double Fine Productions
Costume Quest, Double Fine Productions
Flyhunter: Origins, Steel Wool Games
Skiing Fred, Dedalord Games
Chuck's Challenge 3D, Niffler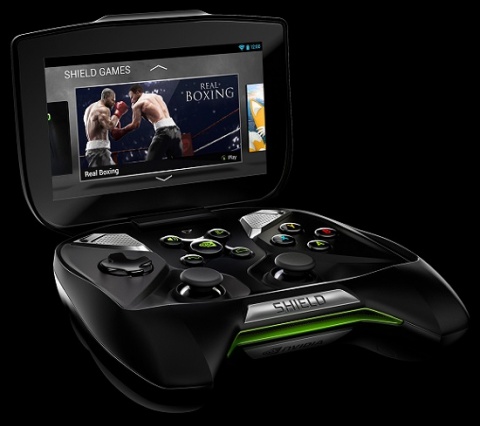 Pre-order will go live on May 20th for the general public on shield.nvidia.com. Fans who have signed up to receive SHIELD updates by clicking "Notify Me" on the SHIELD website will have an exclusive opportunity to pre-order starting today.
If you're an Android gamer, this will fit into your life the moment you open the box. SHIELD is the one device that taps into the planet's largest ecosystem of games — spanning NVIDIA TegraZone, Google Play and Steam. Rediscover your Android games with the mobility, control and performance of SHIELD. Connect to your Google Play account to enjoy your favorite movies, music and apps. And GeForce game streaming, launching as a beta feature, will give SHIELD the power to access your NVIDIA GeForce GTX GPU-powered computer from the comfort of your couch. We're working on streaming your favorite PC games to SHIELD, including great titles from Steam.