NVIDIA Project Shield Ready For Mass Production!
Fri, May 10, 2013 - 2:29 PM
NVIDIA let us know today that the company is very close to launching the NVIDIA Tegra 4-powered Project SHIELD portable gaming console. They also sent along an image of the injection molding frame that is used in the manufacturing process.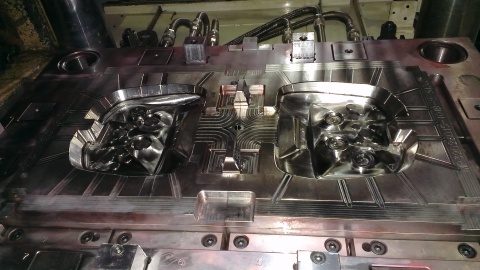 The image you see above shows the production mold that's used to craft the ergonomic casing that houses Project SHIELD's high-powered components: Tegra 4, 5-inch 720p HD retinal touchscreen, Stereo Bass Reflex Speakers, WiFi, accelerometer, gyro, a massive battery, and more.
To create the casing, NVIDIA injects a polycarbonate material into the RHCM (Rapid Heat Cycle Molding) tool at 10,800 PSI and 300 degrees Celsius. They use a polycarbonate mixture comprised of 90% Sabic 500ECR-739 PC and 10% glass. This material and injection molding process ensures a sturdy yet lightweight casing that will deliver hours of gaming with no fatigue. It looks good and we can't wait to see it, but when it is coming and how much does it cost?