NVIDIA GeForce GTX Titan Video Card Review
Thu, Feb 21, 2013 - 9:00 AM
NVIDA GeForce GTX Titan
Two days ago, we were able to show you the features and images of the new NVIDIA GeForce GTX Titan 6GB video card. We were asked by NVIDIA not to release our performance numbers until today. Since we have already covered the key features of the GeForce GTX Titan video card, we invite you to go back and take a get a quick refresh on what the card is.  
NVIDIA sent over one GeForce GTX Titan video card for Legit Reviews to try out this week. We've only had the card five days, but we will be comparing it to the ASUS ARES II (Radeon HD 7990), AMD Radeon HD 7970, NVIDIA GeForce GTX 690 and GeForce GTX 680. If you are looking to spend $500 and above these are the cards you'll be looking at, so they were included in testing. We will be using our Dell 30-inch monitor for some 1920×1080 and 2560×1600 resolution gaming. Down the road we'll be doing some 5760×1080 testing, but for today we'll be focusing at 2560×1600 gaming!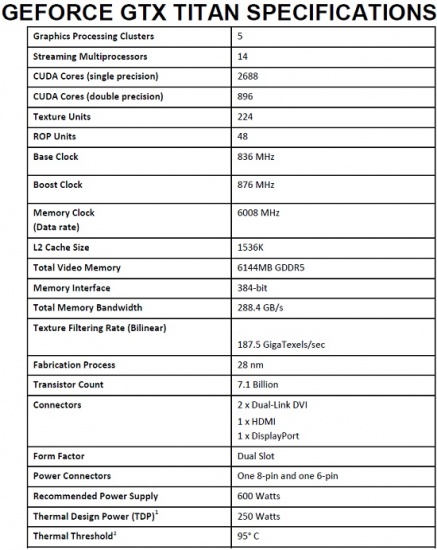 The GeForce GTX Titan has a base clock of 837MHz and a boost clock of 876MHz.  When it comes to the 6GB of GDDR5 memory, it is clocked at 6008MHz. The GK110 features 14 SMX units with 192 CUDA cores per unit, which adds up to 2688 CUDA cores. It has six memory controllers, 1.5MB of L2 cache and is linked to 6GB of GDDR4 memory running on the 384-bit memory bus. With the default clock speeds it puts the theoretical performance, with FP32 performance at 4.5 TFLOPS, FP64 performance at 1.3 TFLOPS, and 288.4GB/sec of memory bandwidth. To put that in perspective, a Core i7-3960X Extreme Edition CPU has six cores, 2.3 billion transistors and 316 Gigaflops.
All these numbers sound great, but how does it perform in game titles?  Let's take a look!