NVIDIA GeForce GTX 760 Video Cards Launch June 25th – EVGA Lineup Leaks
Fri, Jun 21, 2013 - 8:08 AM
It appears that the full lineup of EVGA GeForce GTX 760 video cards have been leaked ahead of the cards expected launch that is set for Tuesday. EVGA will have six NVIDIA GeForce GTX 760 video cards to pick from. All of the cards have 1152 CUDA cores, a 256-bit memory bus and identical video output connectors (HDMI, DisplayPort and a pair of DVI). The cards differ by clock speeds, GPU coolers and the amount of GDDR5 memory they have (2GB or 4GB). TecPowerUp is reporting that these models will likely fill the price gap between the GeForce GTX 760 reference design at $249.99 and the GeForce GTX 770 at $399.99. We are just happy to see the ACX GPU Cooler being used again on some of the GeForce GTX 760 cards!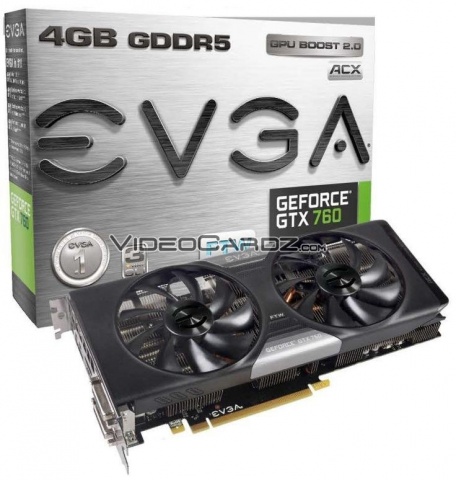 EVGA GeForce GTX 760 FTW 4GB with ACX Cooler
Base Clock: 1085 MHz
Boost Clock: 1150 MHz
Memory Clock: 6008 MHz
CUDA Cores: 1152
Bus Type: PCI-E 3.0
Memory Spec: 2048 MB GDDR5
Memory Bit Width: 256-Bit
Height: 111.15 mm
Length: 241 mm
Display Outputs: 2x DVI, 1x HDMI, 1x DisplayPort
The EVGA GeForce GTX 760 is the new weapon of choice for gamers – a powerful graphics card that gives you the fast, smooth, quiet gaming you're looking for in all your favorite titles.
GTX 760 offers all the 700-family performance features, plus next-gen technology innovations, engineering, and features that let you crank up settings and resolutions in today's most graphics-intensive games.
EVGA is also extending the award winning ACX Cooling to t he EVGA to the GTX 760 Line. With a 40% increase in heatsink volume, the AVGA is more efficient at dissipating heat, allowing for 15% lower GPU temperatures. Even the fan blades are of the highest quality; with a 700% increase in strength, and 25% lower weight when compared to competitors. This makes the fans 20% more efficiently by requiring lower power levels. EVGA is also using double ball bearing fans which offer a 12 year lifespan, 4X longer when compared to competitors.