NVIDIA GeForce GT 640M Review – The First Real Kepler Benchmarks
Tue, Mar 13, 2012 - 9:44 PM
Last week we had a news post about how Acer launched the new Aspire M3 of the Timeline Ultra family at CeBIT. The Acer Aspire Timeline Ultra M3 is an Intel Sandy Bridge powered Ultrabook that is just 20 mm (0.8-inches) thick and uses NVIDIA GeForce GT640M graphics card. NVIDIA hasn't officially announced the GeForce 600 series of GPUs yet, but PC Perspective has performance numbers of this Kepler powered ultrabook already up!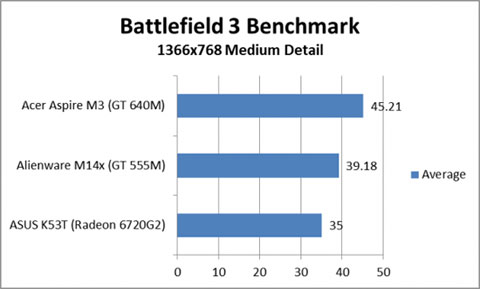 The folks over at PC Per found the new Kepler GT 640M was 15.4% faster than the GeForce GT 555M on Battlefield 3 at a resolution of 1366×768 and was able to average 45 FPS on this specific popular first person shooter game title. We contacted Acer and found out that the Aspire Timeline Ultra M3 ultrabook is not going to see the light of day in the US, so don't get too excited by these numbers or this notebook as you won't be able to buy it. It appears that NVIDIA purchased these units straight from Acer Taipei (Taiwan) for the Kepler launch. It also appears that the Acer Aspire Timeline Ultra M5 won't be using any discrete graphics as the upcoming Intel Ivy Bridge processor with Intel 4000 HD graphics is good enough! PC Perspective fails to mention any of this in their article and give the ultrabook an award. If you look at that sites front page they have
a news post up today that goes in-depth about how NVIDIA is having issues getting companies to use NVIDIA discrete graphics on upcoming products. If you are reading this, you have the whole perspective now!
Overall, the GT 640 appears to offer performance on par with the old GT 555M. This should have the effect of lowering the money you have to spend to buy a laptop with acceptable 3D performance. Our Acer Aspire review unit has an MSRP of $799, which is quite a bit less than systems available with the GT 555M. Intel HD 4000 graphics will, of course, change the balance of this equation somewhat. Thanks to the leaks from Anandtech we already have a decent idea of what that part will provide, and it's not bad.