NVIDIA Game Bundle Starts Today – Metro: Last Light w/ Select GeForce Cards
Tue, Apr 16, 2013 - 3:19 PM
if you are a fan of the Metro 2033 FPS adventure game that came out in 2010, you might be excited about the NVIDIA game bundle offer that started today. NVIDIA will be bundling the game titles sequel, Metro: Last Light with all purchases of a GeForce GTX 660 video card or above. The bundle deal started today, April 16th. Metro: Last Light is the upcoming sequel to 2010's Metro 2033 and is set in the year 2034 beneath the ruins of a post-apocalyptic Moscow. It is expected to release in North America on May 14, 2013 and in Europe on May 17, 2013 on the PC, Xbox 360 and PlayStation 3.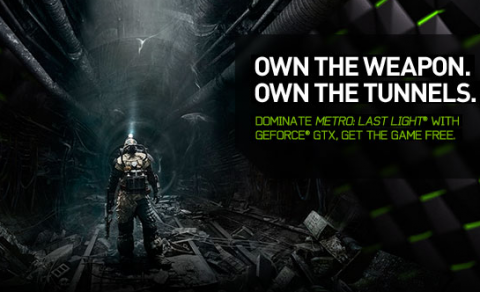 A new survival guide video for Metro: Last Light was also released today, so be sure to check out the clip below.
Metro: Last Light is a true benchmark title for PC gaming. With incredible gameplay and exceptional visuals, this iconic franchise is challenging PC gamers and their systems like never before. Take on the immersive, mutant-ridden Metro catacombs with the ultimate weapon-a GeForce GTX graphics card. Explore thrilling, game-changing technologies only found in GeForce GTX cards, including NVIDIA PhysX effects like smoke and particles and NVIDIA 3D Vision Surround, all brought to life by the NVIDIA Kepler architecture. Now, gear up with a GeForce GTX 660 or above and get the game free. Own the weapon. Own the tunnels.