NVIDIA Announces GeForce 700M Series GPUs for Notebooks
Mon, Apr 01, 2013 - 8:11 PM
Today NVIDIA revealed the GeForce 700M 'Kepler' series of GPUs for notebooks! As is to be expected with other evolutions in their product lines they feature increased performance. Some of the new features included in the 700M series are NVIDIA GPU Boost 2.0, GeForce Experience software, and NVIDIA Optimus technology. All of these new features work seamlessly so this line won't require as much tinkering as previous serious to get the most out of your GPU right out of the box.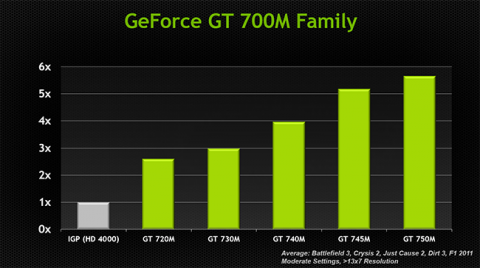 The new lineup of NVIDIA GeForce 700M GPUs includes GeForce GT 750M, GeForce GT 745M, and GeForce GT 740M GPUs for the performance segment, as a well as GeForce GT 735M and GeForce GT 720M GPUs for the mainstream segment. All of NVIDIA's discrete GPUs in the 700M series over at least 2.5x more performance than the Intel HD 4000 Graphics that is integrated into higher-end Intel Ivy Bridge processors.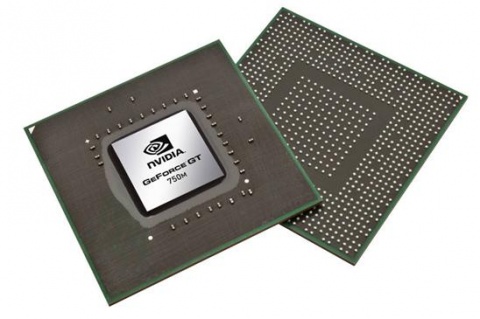 NVIDIA states that at medium detail levels the 700M Kepler GPUs increast notebook performance greatly. NVIDIA States that they were able to achieve 90 frames per second in StarCraft II: Heart of the Swarm along with many other impressive results in other top tier games. Yes, those of you with GeForce 600M 'Fermi' GPUs are now using 'old' technology and NVIDIA hopes this new product line will entice you to upgrade!
"GeForce 500M and 600M were each class leaders, introducing sizeable performance gains, new features, and increased efficiency. 700M is poised to continue this trend, but instead of delivering just raw performance, NVIDIA is delivering a solution that makes your notebook more powerful, easier to use, and more fun. By automatically giving you boosted performance, optimized gaming, and long battery life, you'll discover that GeForce notebooks are the best notebooks you'll ever own."