NVIDIA and EVGA GeForce GTX 650 Ti BOOST Video Card Review
Tue, Mar 26, 2013 - 7:00 AM
3DMark 11
3DMark 11 is the latest version of the world's most popular benchmark for measuring the 3D graphics performance of gaming PCs. 3DMark 11 uses a native DirectX 11 engine designed to make extensive use of all the new features in DirectX 11, including tessellation, compute shaders and multi-threading.
We ran 3DMark11 with both the performance and extreme presets to see how our hardware will run.
3DMark11 Performance Benchmark Results: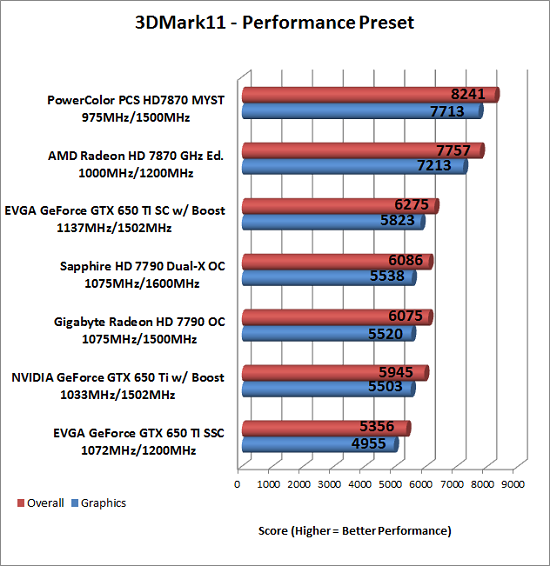 Benchmark Results: The Sapphire Radeon HD 7790 Dual-X OC scored P6086 3DMarks and that was able to beat the NVIDIA GeForce GTX 650 TI BOOST reference cards P5945 3DMarks, but not the EVGA GeForce GTX 650 Ti BOOST SC's score of P6275 3DMarks. It is very close between these mainstream cards, which is a bit odd as the real games showed a rather large difference most the time.
3DMark11 Extreme Benchmark Results: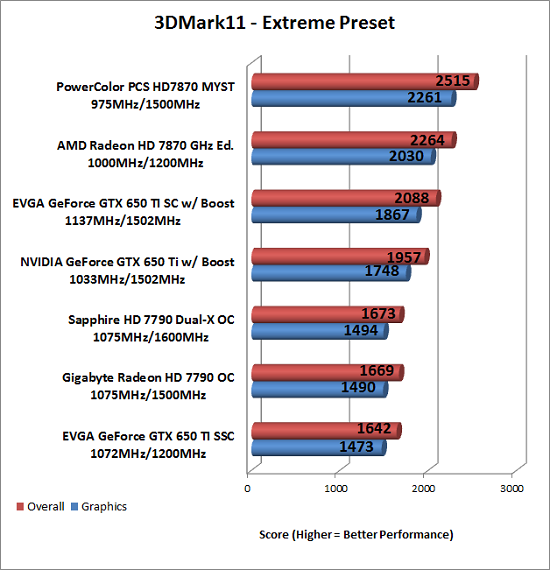 Benchmark Results: 3DMark11 with the Extreme Preset uses more of the video cards memory and runs at a higher resolution, so it shouldn't come as a surprise that the GeForce GTX 650 Ti BOOST cards start to pull away here. The EVGA GeForce GTX 650 TI BOOST SC finished with X2088, which isn't too far off that of the AMD Radeon HD 7870 GHz edition card!