Nokia Lumia 920 Windows Phone 8 Smartphone Review
Fri, Nov 30, 2012 - 12:00 AM
Final Thoughts & Conclusions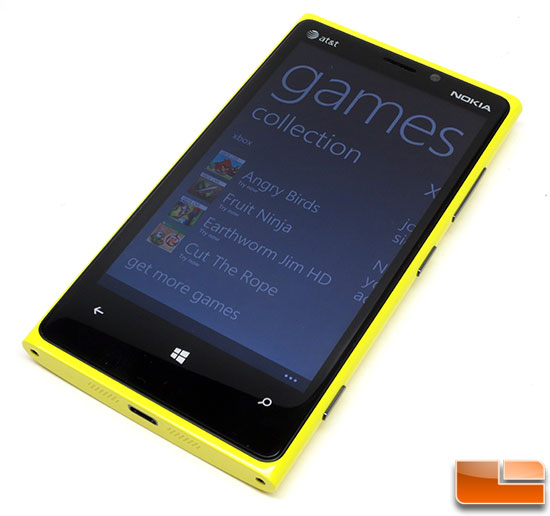 At the end of the day the Nokia Lumia 920 was found to be a great Windows 8 smartphone. The Lumia 920 is pretty heavy, but we loved the minimalist design, bright color options and smooth rounded corners. Once you got over the weight this phone feels good in your hand and that is critical for something you use so much.
This is our first use of a Windows Phone 8 device and we have to say that Microsoft did a good job with this operating system. It felt very responsive and was easily on par with the iPhone 5 and the Galaxy S III that we use around here daily. Many people are afraid to change operating systems due to all the learning that needs to be done, but it doesn't take too long to get adjusted. At the end of the day Android, iOS and Windows Phone operating systems all do basically the same things, so the core features are very similar. The only thing that felt slow with the Lumia 920 was the startup times, but that is something you don't do daily!
The battery life of the Lumia 920 was good, but be sure to turn off GPS as it loves to eat up the 2,000mAh battery. The audio quality and cellular service with the AT&T network was excellent. Hard to complain when you are getting 20MB/s download speeds and 10MB/s upload speeds! Surfing the web and downloading content on the AT&T 4G LTE network is a breeze, so if you life in a city that has 4G LTE then you should really take advantage of it!
If you are getting sick of Android, iOS or Blackberry as your operating system and want to try something new, then be sure to give the Nokia Lumia 920 a closer look. If you aren't put off with the weight of the Lumia 920 then it is highly possible that you'll really like it.
The AT&T Nokia Lumia 920 that we reviewed today can be found for $99.99 with a 2-year contract or for $449.99 with no-contract at all. Considering that this is a flagship Windows Phone 8 smartphone we have no reason to argue with the price and it will only come down as time goes on.
Legit Bottom Line: The Nokia Lumia 920's biggest downfall is the fact that it weighs nearly half a pound, but if that doesn't matter then you should give Microsoft Windows 8 a try!