Nokia Lumia 920 Windows Phone 8 Smartphone Review
Fri, Nov 30, 2012 - 12:00 AM
The Nokia Lumia 920
AT&T has been heavily promoting Windows Phone 8 devices this month due to the launch of Nokia's Lumia 920 and Lumia 820 smartphones. These phones retail for $449.99 and $399.99 without a contract or $99.99 and 49.99 with a 2-year contract. The flagship Lumia 920 hasn't even been out a month and is already make some serious shock waves in the smartphone market, selling out on both Amazon.com and AT&T for some color choices (yellow and cyan are the most popular). Nokia is all about bold colors with these devices and you have the choice between black, white, red, yellow and the cyan (AT&T exclusive). The finish on all of the colors is high-gloss with the exception of the black, which has a matte finish.
The Nokia Lumia 920 is powered by a Qualcomm Snapdragon S4 dual-core 1.5GHz processor, 1GB RAM, 32GB of storage space (non-expandable) and the Windows Phone 8 mobile operating system. If you would like to use Nokia SkyDrive you can gain access to 7GB of additional cloud storage. The phone features an impressive 4.5-inch HD IPS display with 332 pixels per inch (pixel density), an 8.7-megapixel PureView camera and a front-facing video chat camera. The Lumia 920 camera that is said to take excellent night shots and has a stabilizing feature for video recording.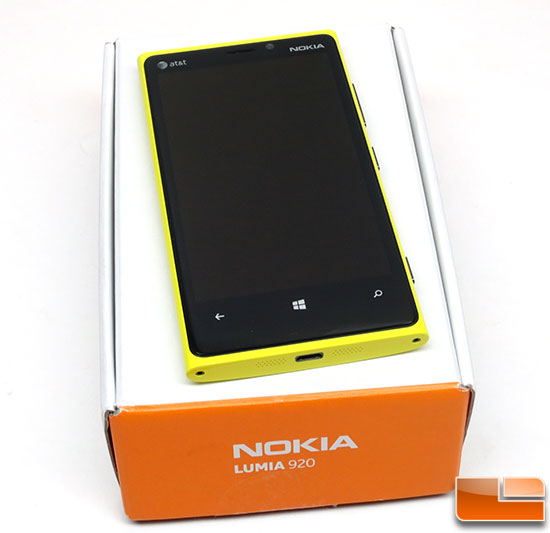 We were sent the AT&T Nokia Lumia 920 smartphone in yellow to review. The Lumia 920 weighs in at 6.5 ounces and measures 5.13 x 2.79 x 0.42 inches (HxWxD) or for those using the metric system it weighs 185 grams and measures 130.3 x 70.8 x 10.7 mm (HxWxD).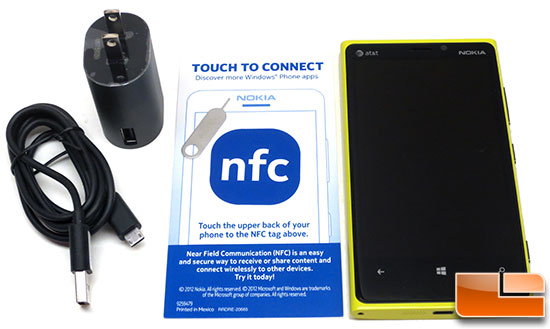 Inside the retail packaging you'll find the Nokia 'Fast USB' wall charger, USB cable, quick start guide, warranty guide and the SIM door key. The Nokia Lumia 920 uses the monoblock form factor, so there is not a battery cover to take off. This means the battery is non-removable! Locked inside the smartphone is a 2,000mAh battery that is said to last up to 13 days on standby and up to 9 hours when talking.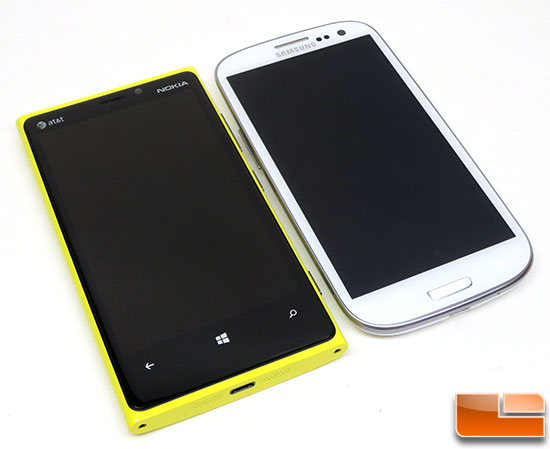 The Nokia Lumia 920 is pretty comparable in size to the Samsung Galaxy S III as you can see in the image above. The Lumia 920 follows the design of the Nokia Lumia 800 and Lumia 900, so the phone is rather thick and has some weight to it. That might be an understatement though as the Lumia 920 is 65% heavier than the iPhone 5 and 39% heavier than the Galaxy S III. After using the Lumia 920 for a bit and get used to the phone, it doesn't feel too heavy, but it has a rather nice solid feel in your hand. Some might call that feel quality as this smartphone isn't going to flex or twist when sat on. Heck, it might even double as a pry bar if you were every in a jam.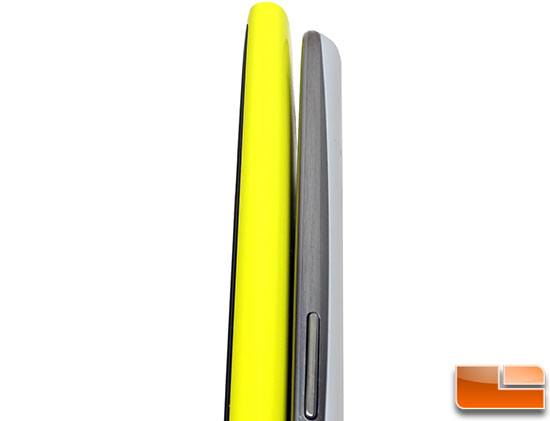 When it comes to thickness the Nokia Lumia 920 is 10.7mm and the Samsung Galaxy S III is just 8.6mm. This doesn't sound like a major difference, but it makes the Lumia 920 nearly 25% more girth than the Galaxy S III and 40% more than the iPhone 5! Now that we know the basics of what the Nokia Lumia 920 are, let's take a closer look at the phones features.