Nick Shih Overclocks AMD A10-5800K APU To 7.93GHz
Tue, Dec 11, 2012 - 9:43 PM
Nick Shih used an ASRock FM2A85X Extreme6 motherboard to overclock the AMD A10-5800K APU To 7.93GHz, which places him on the top of the HWBOT chart once again. You can see the detailed information of the new world record captured by CPU-Z here. Reaching 7930.69 MHz on an AMD A10-5800K APU is pretty phenomenal!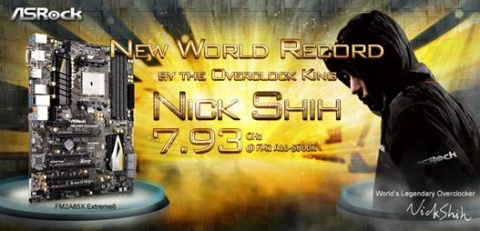 There is a video clip of Nick Shih below that is certainly worth watching below.
"I absolutely love having fun with some of the best gizmos around, such as the new socket FM2 APUs and ASRock FM2A85X Extreme6. You can always expect amazing results when you are dealing with these reliable hardware. For me, 7.93 GHz is merely a warm up. 8 GHz ready or not, here I come!" exclaimed the much excited Nick Shih.