Legit News
Biostar Announces Hi-Fi A85X Motherboard for AMD FM2 Users
BIOSTAR has officially launched their latest edition to their high-end motherboard lineup, the Hi-Fi A85X. This newest ATX form factor motherboard supports all AMD Socket FM2 CPUs and offers native support for SuperSpeed USB 3.0 and dual-channel memory up to DDR3 - 2400 in over-clocking mode. Socket FM2 is a CPU socket used by AMD's upcoming Trinity Fusion APU's which will also utilize AMD's new A85X chipset. The Hi-Fi A85X has also received the official Windows 8 hardware certification from Microsoft.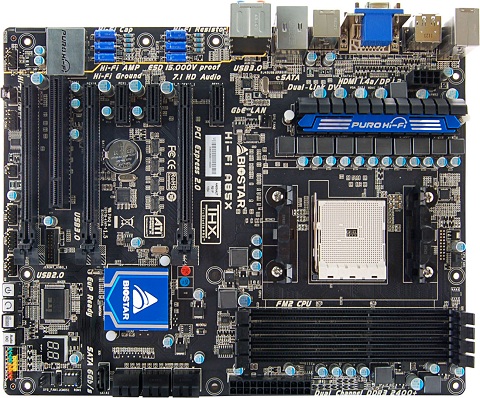 One feature set that sets the BIOSTAR Hi-Fi A85X apart from other motherboards is the integrated BIOSTAR Hi-Fi audio technology called "
Puro Hi-Fi Technology". BIOSTAR is pushing that this board has full THX support and true 7.1 surround sound support. It looks like audio features and quality are going to be the what Biostar is going to focus on with this generation of motherboards.
"It's pretty cool how we have put a unique power delivery system just for the audio aficionados out there, like me" explained Eric. "With our professional quality sound and video capabilities on this board, a user can set up a full PC based home theater system with full THX support and true 7.1 surround sound…I mean the real thing, this isn't simulated. You have to hear it to believe it", he enthused. Targeting audiophiles, HTPC enthusiasts and high-end gamers alike, Puro Hi-Fi sports an integrated independent audio power design with a built-in amplifier. The technology utilizes audio components with an independent power design for a significant reduction in electronic noise producing superb sound quality. The unique noise-blocking multi-layer PCB layout is conducive for an exceptionally clean signal. That design feature, together with a sampling rate of 192kHz/24-bit, delivers a high quality audio through an analog connection to your home theater system, multi-channel speakers or high-end headphones allowing you to enjoy true high-definition 7.1-channel surround sound.
Posted by | Wed, Sep 19, 2012 - 07:43 AM
---
---