Legit News
ioSafe Announces the N2 Private Cloud
ioSafe aims to tackle data vulnerability and security in the private cloud market with the ioSafe N2, a disaster proof network attached storage (NAS) appliance powered by Synology DiskStation Manager (DSM) aimed at the SOHO, SMB and Remote Office Branch Office (ROBO) markets. The high performance 2-bay N2 will provide up to 8TB of storage capacity and be equipped with a 2GHz Marvel CPU and 512MB memory.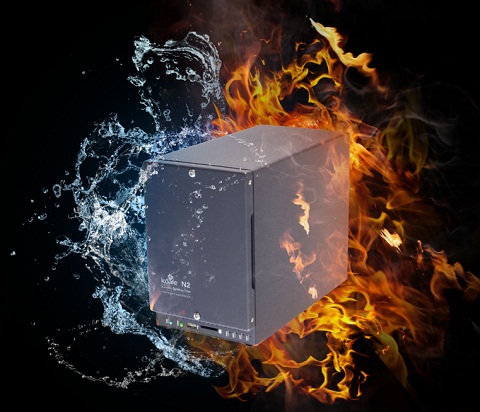 The N2 will use redundant hard drives as well as ioSafe's patented DataCast, HydroSafe and FloSafe technologies to protect data from loss in fire up to 1550°F and submersion in fresh or salt water up to a 10 foot depth for 3 days.
The ioSafe N2 will begin shipping during January 2013 and will be available in capacities up to 8TB. Introductory pricing for the ioSafe N2 diskless version will start at $599.99. The NAS project is to be funded via crowd-funding site Indiegogo and you can find out more about it
here.
"As a privately held small business, Indiegogo allows us to jump past typical startup funding models and rapidly accelerate this ambitious product to market," says Robb Moore, ioSafe CEO. "The N2 is a game-changer for anyone who demands absolute control, security and speed to manage terabytes of critical business data or precious digital pictures and videos. At the end of the day, you are the only one that truly hurts if your data is lost or compromised – nobody else cares as much about your data as you."
Posted by | Tue, Sep 18, 2012 - 01:52 PM
---
---