Legit News
MAINGEAR Solo 21 All-In-One PC - New Looks and Hardware!
MAINGEAR announced a redesigned version of the Solo 21 all-in-one PC. The MAINGEAR Solo 21 builds upon MAINGEAR's pedigree of upgradeability, no bloatware, and excellent service and support that they are known for. The original Solo 21 used the Intel H61 chipset with the Intel 2nd Generation Core i7/i5/i3 'Sandy Bridge' processors. The new and updated version uses the Intel Q77 chipset along with the Intel 3rd Generation Core i7/i5/i3 'Ivy Bridge' processor series. The Maingear Solo 21 also has a fresh new look. The predecessor had an easel-like stand that looked cheap, but now there is an L-shaped stand that is reminiscent of Apple's iMac. The MAINGEAR Solo 21 certainly looks better and is more powerful thanks to the hardware improvements!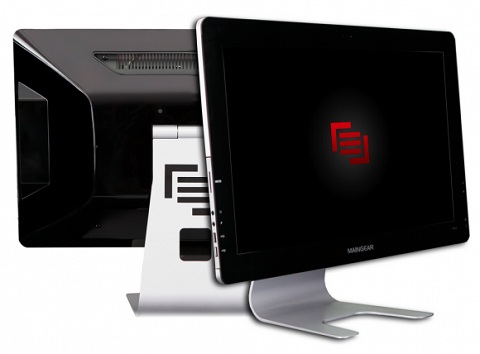 MAINGEAR Solo 21: (Default specs)
Intel Core i3 2125 3.3GHz, upgradeable to Intel Core i7 3770S
Intel DH61AG motherboard supporting USB 3.0, SATA 6G, 32nm and 22nm processors
Optional Intel DQ77KB motherboard support USB 3.0, SATA 6G, Intel SRT and vPro
4GB DDR3-1333, upgradeable to 16GB DDR3-1600 memory
Up to 256GB Crucial M4 mSATA SSD
500 GB HDD, up to 1TB SATA HDD
DVD burner, with Blu-ray optional
Intel 802.11n, Bluetooth wireless adapter
Windows 7 Home Premium 64-bit
Starting at $899
The Solo 21 can be equipped with the Intel Q77 chipset, bringing vPro and other Intel technologies to the table for enterprise professionals that need stability, reliability, and manageability in an all-in-one factor. The Solo 21 with the Q77 chipset option supports the latest AMT 8.0 and is equipped with Intel Identity Protection Technology, as well as Intel Anti-Theft Technology. It also features a dual gigabit Intel LAN subsystem to enable link aggregation to improve Ethernet throughput, and Intel Smart Response Technology for optional SSD caching. The Solo 21 outfitted with the Q77 chipset also supports the Stable Image Platform Program and Extended Life Program.
Posted by | Tue, Aug 28, 2012 - 09:03 AM
---
---