Legit News
Graphics Shipments in Q2 Increased 5.5% Over Last Year
Jon Peddie Research today announced estimated graphics chip shipments and suppliers' market share for Q2'12. The news was good, for most. Intel had gains in both desktop (13.6%) and notebook (3.8%) led mostly by Sandy Bridge. NVIDIA gained in the notebook discrete segment (6%), and AMD saw gains in the discrete desktop category (2.5%). This was a good, if not a great quarter for the suppliers. We found that graphics shipments during Q2'12 bucked the downward PC trend and rose 2.7% from last quarter as compared to -1.5% for PCs overall. GPUs are traditionally a leading indicator of the market, since a GPU goes into every system before it's shipped.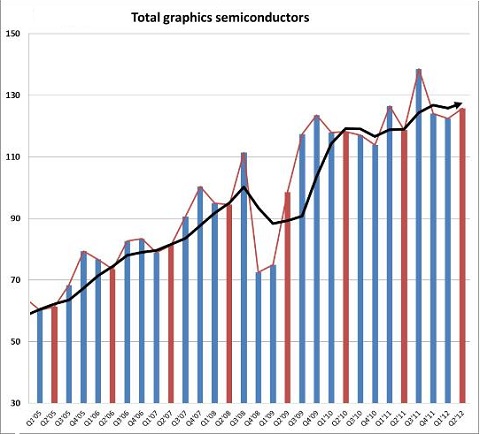 The quarter in general

AMD's total shipments of heterogeneous GPU/CPUs, i.e., APUs dropped 13.8% in the desktop from Q1, and 6.7% in notebooks. Ironically the company had a 55.8% increase in notebook IGPs, but it was only 300 k units.
Intel's desktop processor-graphics EPG shipments increased from last quarter by 6.3%, and Notebooks showed double-digit growth of 13.9%.
Nvidia's desktop discrete shipments dropped 10.4% from last quarter; however, the company increased mobile discrete shipments 19.2% largely due to share gains on Ivy Bridge which included Ultrabooks. The company will no longer report IGP shipments.
Year to year this quarter AMD shipments declined 1.6%, Intel shipped almost 20% more parts, Nvidia shipped fewer parts (-22.0%) but that was because they exited the IGP segment and VIA saw their shipments slip by 18.2% over last year.
Almost 126 million graphics chips shipped, up from 122 million units in Q1 quarter, and up from 118 million units shipped Q2 2011.
Total discrete GPUs (desktop and notebook) increased a modest 0.5% from the last quarter and were down 7% from last year for the same quarter due to the same problems plaguing the overall PC, continued HDD shortage, macroeconomics, softness in western European market, and the impact of tablets. Overall the trend for discrete GPUs is up with a CAGR to 2015 of 5%.".
Ninety percent of Intel's non-server processors have graphics, and over 68% of AMD's non-server processors contain integrated graphics.
Posted by | Thu, Aug 16, 2012 - 09:36 AM
---
---