Legit News
AMD Radeon HD 7950 Gets BIOS Update To Counter NVIDIA's GeForce GTX 660 Ti
It looks like AMD is preparing to update the Radeon HD 7950 before the NVIDIA GeForce GTX 660 Ti launches. The update increases the GPU's core clock via an updated BIOS that only works on AMD reference-design HD 7950 graphics cards. This update should make the Radeon HD 7950 more competitive at its price point in the sub-$400 market. A review by TechPowerUp is showing what the performance benefits will be like with this new BIOS.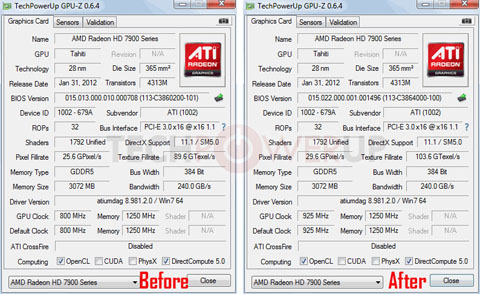 AMD will accomplish this by increasing the GPU's core clock from the standard 800 MHz to 850 MHz while also introducing PowerTune with Boost which debuted on the HD 7970 GHz Edition. The PowerTune Boost clock is where the performance gain is seen with the GPU's core getting bumped up to 925 MHz, giving the Radeon HD 7950 a 125 MHz higher clock speed than the original reference design at launch. Specifications that remain unchanged include stream processor, TMU and ROP counts, along with the memory clock which remains at the stock speed of 1250 MHz. That said, all future AMD Radeon HD 7950 graphics cards that are manufactured from mid-August onward will receive the new BIOS. Meanwhile prices will remain unchanged. For those out there comfortable with flashing their GPU's BIOS and own a reference AMD Radeon HD 7950 can flash the GPU to the newest BIOS located
here, by simply setting the BIOS selector switch on the card itself to "1" and then updating. Keep in mind that flashing the GPUs BIOS is at your own risk.
AMD is preparing to update the specifications of its Radeon HD 7950 graphics processor to make it more competitive in the sub-$400 market segment, particularly against NVIDIA's upcoming GeForce GTX 660 Ti graphics processor. The update is much like that of the Radeon HD 7750, which got its core frequency increased from 800 to 900 MHz in a specifications update. The company released a new BIOS ROM image file which works on all AMD reference design Radeon HD 7950 graphics cards, which implements the new specifications.
Posted by | Tue, Aug 14, 2012 - 01:01 PM
---
---